Wednesday was the calm before the storm. Only one ticket was punched last night, and only 12 total games were played. That all changes today, as all the major conferences begin their conference tournaments this afternoon and tonight. College Basketball Talk has Championship Week on lockdown. @RobDauster and @RaphielleJ are holding it down from their "home offices", (See: couches), and @TroyMachir (Me) and @DanielJMartin_ will be in New York City covering the A-10 and Big East tournaments respectively. @CBTonNBC will have all the bases covered.
Let's hit the links.
 
 
Top Stories:
Late Night Snacks: Bucknell was the lone team to punch a ticket to the Big Dance on Wednesday and only a handful of other games were on the docket. Get caught up on all of last night's action with Late Night Snacks.
Brandon Triche, No. 19 Syracuse find shooting touch in win over Seton Hall: James Southerland and Brandon Triche sparked the Syracuse offense Wednesday and pulled Syracuse out of its recent slump in the Orange's 75-63 win over Seton Hall.
Speculation about Jim Boeheim's retirement isn't going to go away: If Syracuse prolongs their stay in New York City for the Big East tournament this weekend, you can expect to hear more and more about Jim Boeheim's potential retirement.
Shane Larkin: "I definitely see myself coming back": All-ACC guard Shane Larkin helped carry Miami to their best season in school history. While he has strong NBA aspirations, and will likely be in the league some day, he knows that at this point his best option is to return to school next year.
NCAA Tournament Cheat Sheet: Getting to know Bucknell: The Bison are back in the NCAA tournament and have the makeup of a team that can spring an upset or two.
 
 
Observations & Insight:
– Grambling State lost last night in the first round of the SWAC tournament, moving their final 2012-2013 record to a perfectly imperfect 0-28. (The Dagger)
– A lot of people are underestimating just how close La Salle is to locking up an at-large bid. A strong showing at the A-10 tournament this weekend could do the trick. The problem for the Explorers is that the deck is stacked against them. (Philahoops.com)
– Georgia's Kentavious Caldwell-Pope was named as the SEC Player of the Year, and according to coaches within the conference, it was an easy choice. (Eye on College Basketball)
– West Virginia's first season in the Big 12 ended in horrific fashion, losing on a buzzer-beater to lowly Texas Tech. (Fox Sports)
– An excellent cheat sheet providing everything you need to know about the ACC tournament and its competitors. (Wilmington Star-News)
– What does Iowa need to do to win the Big Ten tournament? Umm, well for starters, they need to play A+ basketball against the best competition in the country. After that, they still have to win games against the best competition in the country. (Rush the Court)
– If, and that's a big if, Steve Lavin can keep his roster in tact, St. John's is poised for a bright future. (New York Daily News)
– This continues to be really, really weird: Denver officials don't like their mascot and think it's polarizing, but won't explain why they don't like it or why it's polarizing. (Mile High Mids)
– Ranking the conferences based on their names. I'm actually kinda shocked that I never thought of this. Pretty good stuff here. (USA Today)
 
 
Hoops Housekeeping:
– VCU reserve center D.J. Haley is leaving the Rams program in order to pursue academic interests. (VCU Rams Nation)
– Colorado State will be without their starting point guard Dorian Green for their MWC semifinal game against UNLV. Green played 127 consecutive games prior to Wednesday's game against Fresno State, in which he sat out with an ankle injury. (The Dagger)
 
 
Picture of the Day:
Jim Boeheim picking his nose. Priceless.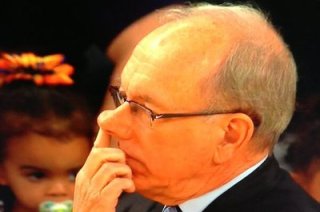 Video(s) of the Day:
A tour of the New York City barber shop owned by the father of Louisville's Russ Smith. (Courier Journal)

 
 
Do you like the new Morning Mix? Hate it? Have a suggestion or want something featured? Troy Machir will take all your praise, insults and inquiries via Twitter (@TroyMachir