No. 5 Georgetown lost. No. 6 Miami lost. No. 13 Oklahoma State lost. No. 16 Saint Louis lost. No. 23 UCLA lost. Ten ranked teams were in action last night and half of them lost. Oh, and for the second straight night punches were thrown on the hardwood. Yup, just another typical Wednesday night of college basketball.
Let's hit the links.
Thursday's Top games:
7 p.m. – Virginia @ Florida State
7 p.m. – Butler @ Massachusetts
9 p.m. – No. 19 Oregon @ Colorado
9 p.m. – No. 22 Wisconsin @ No. 10 Michigan State
9 p.m. – Louisiana Tech @ New Mexico State
9 p.m. – UT-Arlington @ Denver
Read of the Day:
All I have to say about Dana O'Neil's story about Rick Majerus' tragic death is this: READ IT! (ESPN)
Top Stories:
Late Night Snacks: Miami takes bad loss, A-10 proves to be wild: Get caught up with all the craziness from Wednesday night.
VIDEO: Georgia Tech beats Miami at the buzzer: Miami was supposed to celebrate a ACC regular season championship tonight. Instead of that, they were on the wrong-end of a buzzer-beating tip-in.
Villanova all but punches ticket to NCAA tournament with win over No. 5 Georgetown: The win moves the Wildcats to 19-12 overall and 10-8 in the Big East with quality wins over Louisville, Syracuse, Marquette, and now the Hoyas. Of the teams currently on the bubble, few if any boast the slate of victories that Villanova does.
Georgetown loses, meaning those four No. 1 seeds are even more wide-open: With the Georgetown loss at Villanova last night, all four No.1-seeds will be earned over the next week and a half. We're ten days from Selection Sunday and all four No.1-seeds are completely up in the air.
Travis Wear re-injures foot in UCLA's loss to Washington State: UCLA forward Travis Wear was cleared to play Wednesday against Washington State, but played just fifteen minutes in the Bruins' 73-61 loss, appearing to have re-injured the same foot that has limited his availability in recent weeks.
No. 16 Saint Louis fails to clinch share of A-10 title with overtime loss to Xavier: The Cintas Center is not an easy place to get a road win. Bilikens forward Cody Ellis went 0-15 from the field, including 0-11 from beyond the arc. Ouch.
Iowa State lands huge bubble win over No. 13 Oklahoma State: Iowa State is not yet a lock for the NCAA tournament, not when they have an RPI in the 50s, exactly one road win in the top 200, but a win against a top-15 team certainly helps their case.
CBT Podcast: Debating the B1G Championship and National PoY award: Host Troy Machir (That's me) is joined by Nicole Auerbach of USA Today, who is also braving the latest meteorological whiff, "Winter Storm Saturn" to discuss the final days of the Big Ten season, as well as the National PoY award. I throw Rob Dauster under the bus too. Everybody has fun.
Observations & Insight:
– Wednesday night was crazy. Six ranked teams lost. Buzzers were beaten. Streaks were ended. Senior nights were ruined. (One and One)
– Four coaches were ejected from the Cal-Stanford game last night because they tried to break up a skirmish. (Business Insider)
– RUMOR ALERT. RUMOR ALERT. Jim Boeheim is being forced to retire. RUMOR ALERT. RUMOR ALERT. (Did You See That?)
– Syracuse has refuted the above claim. (Yahoo Sports)
– Nebraska played their final game inside the Devaney Center last night. They sent the arena out in style. (Lincoln Journal-Star)
– Georgia Tech knew that Miami was planning a championship celebration following the game last night, so the Jackets set out to destroy the plans. They succeeded. (South Florida Sun-Sentinel)
– Indiana is in danger of losing their spot on the No.1-seed line. You may not think it's much, but the no.1-seed does matter. (Sporting News)
– Kansas State hasn't got much attention considering they are currently a top-10 team. But that won't stop them from making a deep run in March. (Rush The Court)
– North Carolina was in dire straits just a month ago. But Roy Williams reinvented his team and the Tar Heels now look like a team that I would not want to draw in the NCAA tournament. (The Dagger)
– The NCAA lifted their ban on hosting postseason events in New Jersey following the decision to bar sports betting in the state. (New Jersey Star-Ledger)
– The Vegas odds for Player of the Year. I'll take Otto Porter at 9-2. Straight Cash, homey. (Mid-Major Madness)
– A pretty awesome-read from C.J. Moore on how Ken Pomeroy revolutionized college basketball. (Bleacher Report)
.GIF of the Day:
This flop is what set of the scuffle between Cal and Stanford last night. (The Mock Session)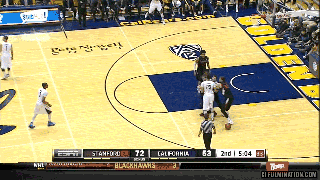 Do you like the new Morning Mix? Hate it? Have a suggestion or want something featured? Troy Machir will take all your praise, insults and inquiries via Twitter (@TroyMachir