Championship Week has begun and already we've witnessed a fairly shocking upset. Longwood (7-24) knocked off UNC-Asheville (16-16) in the first round of the Big South Tournament. In non-Championship Week action, Ohio State beat Indiana in Assembly Hall, and punches were thrown at the end of the St. John's-Notre Dame game.
Let's hit the links.
Tuesday's Top games:
7:00 p.m. – No. 5 Georgetown @ Villanova
7:00 p.m. – No. 7 Michigan @ Purdue
7:00 p.m. – No. 13 Oklahoma State @ Iowa State
7:00 p.m. – North Carolina @ Maryland
8:00 p.m. – Richmond @ No. 21 VCU
9:00 p.m. – No. 16 Saint Louis @ Xavier
11:00 p.m. – Stanford @ Cal
 
 
Top Stories:
Stifling defense leads No. 14 Ohio State to win over No. 2 Indiana:Aaron Craft is known for his relentless defense. But the junior guard got some help on Tuesday night from Shannon Scott, as the guards thwarted the Hoosiers en route to a 67-58 road win.
Indiana flirting with losing grip on top seeds in NCAA, B1G tourneys: All of a sudden, Indiana, who many believed to be the best team in the country heading into Tuesday night, no longer has themselves locked into a No. 1 seed thanks to a disappointing loss on Senior Night to Ohio State.
Ejections made after fight breaks out between Notre Dame, St. John's (VIDEO): Sir'Dominic Pointer and Cam Biedscheid got into a fight as Jack Cooley was heading to the bench for the final time at the Joyce Center. It was an ugly way to end Senior Night.
Illinois hits bad shooting slump in loss to Iowa: Shooting slumps have plagued Illinois for much of their recent losing streak. The Illini shot just 29 percent from the floor during last night's 63-55 road loss to Iowa.
Arkansas made their statement to the committee: we stink: It's not just that Arkansas is bad on the road. They're just not very good in general.
DJ Cooper does something that's never been done before: The Ohio senior guard became the first person in NCAA history to register a career stat line eclipsing 2,000 points, 900 assists, 600 rebounds, and 300 steals.
NBC Sports Network to broadcast opening round of A-10 tournament: The NBC Sports Network will broadcast the opening round of the Atlantic 10 conference tournament from the Barclays Center in Brooklyn, N.Y. Opening round games will take place on Thursday, March 14.
Hoops Housekeeping:
– As expected, Lehigh's C.J. McCollum will not play against Colgate in the Patriot League quarterfinals. (SB Nation)
– Any rumors of Tim Floyd possibly leaving UTEP for USC appear to be untrue. (Miner Rush)
– According to Dennis Dodd of CBS, federal laws may have been broken during the investigation of Jim Calhoun and Nate Miles. (CBS Sports)
 
 
Observations & Insight:
– Indiana lost at home on Senior Night, but still got to cut down the nets. Wait. That doesn't make any sense. Pat Forde explains. (Yahoo Sports)
– The state of the bubble is starting to get interesting now that Selection Sunday is just 11 days away. (Sports Illustrated)
– Eric Prisbell ranks the conference tournaments. (USA Today)
– This read on Ben McLemore and what his back story can teach us about poverty in America is really intriguing. CBT's own Rob Dauster wrote a similar piece last week. (Think Progress)
– Cincinnati is in a weird place with realignment. But the Bearcats should like what they got from the Big East settlement. (Down the Drive)
– The ACC Player of the Year award could go to one of a handful of players, and it all depends on your definition of the award. (Wilmington Star News)
– Doug McDermott one his second straight MVC Player of the Year award. (Omaha World Herald)
 
 
Odds & Ends:
– Maryland will be wearing their special "White-Ops" uniforms. I don't know about you, but I don't see anything very special about these uniforms. (CSN Washington)
 
 
Picture of the Day:
This folks, is the "Circle of March". It's gotten a slight face-lift, but I love it. As teams continue to fall out of the NCAA Title picture, the circle will get smaller and smaller, until only one team remains. (Rush The Court)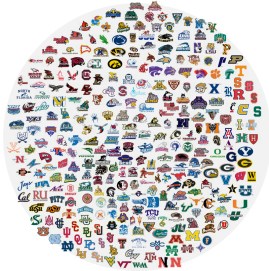 Video of the Day:
As Jack Cooley was leaving the court at the Joyce Center for the final time, a fight broke out between Sir'Dominic Pointer and Cam Biedscheid.
[youtube http://www.youtube.com/watch?v=WNf0IKHn0Us&w=560&h=315%5D
 
 
Do you like the new Morning Mix? Hate it? Have a suggestion or want something featured? Troy Machir will take all your praise, insults and inquiries via Twitter (@TroyMachir