What a weekend.
What a season.
Savor these moments folks, because we may never see another college basketball season quite like this one. The regular season comes to an end this week, and if this season has been any indication, Championship Week is going to be bonkers. But that's seven days away. We got a lot of ball left to be played.
Let's hit the links.
Monday's Top games:
7:00 p.m. – Texas Tech @ No. 6 Kansas
7:00 p.m. – Cincinnati @ No. 10 Louisville
9:00 p.m. – Baylor @ Texas
 
 
Read of the Day:
A tremendous story from Geoff Calkins on a JuCo player in Memphis who was accused of crimes he did not commit. But thanks to a strong will and a bond with his public defender, Marshaun Newell is now the star player for Southwest Community College. (Memphis Commercial Appeal)
Read of the Day:
If you have the time, I highly suggest you sit down with this New York Daily News article about Steve Konchalski, known throughout North America as "The Canadian Coach-K". He's like Coach-K, only with much better stories. (New York Daily News)
 
 
Top Stories:
Trey Burke leads No. 4 Michigan past No. 9 Michigan State: The Wolverines went 0-12 from beyond the arc, yet were still able to get past the Spartans on Sunday, and it was due in large part to the play of National Player of the Year candidate Trey Burke.
Virginia adds another line to baffling resume with loss at Boston College:The Cavaliers have more good wins and bad losses than any team in the country. Their loss on Sunday to Boston College is one of the many reasons why.
Miami's loses to Duke by three at Cameron? Meh.: Ryan Kelly had a sensational performance, but shouldn't we give Miami some credit? Duke needed a somewhat-fluky performance to beat the Hurricanes in Durham.
Ryan Kelly's career day shows why he makes Duke a title contender:Ryan Kelly scored 36 points in his first game back from a foot injury, and he reminded all of us why Duke was and is still a legitimate national Championship contender.
Let's keep VCU's blow-out win over No. 20 Butler in perspective: It's easy to overreact considering what VCU did to Butler on Saturday. But considering how Butler has made its living this season, a blowout loss to a high-octane team like VCU shouldn't be too surprising.
Doug McDermott scores season-high 41, Creighton wins first MVC title since 2001: McDermott's best performance of the season kept him alive in the National Player of the Year debate and helped the Bluejays to their first MVC title in over a decade.
Kentucky loses, but its NCAA tourney hopes aren't dead yet:Kentucky could have benefited from a road win at Arkansas, but those are hard to come by. The Wildcats are still on the bubble, but that's better than not being on it at all.
Ben Howland: Shabazz Muhammad headed to the NBA draft after season: It's no shock at all to hear that Muhammad is going pro. It is a bit bizarre however that their head coach would make that known to the public. The Bruins are in a position to contend for the Pac-12 Regular Season Championship and are a near-lock to make the NCAA tournament. But that's UCLA for ya.
Towson sets NCAA record, goes from 1-31 to 2nd place in CAA: The Towson Tigers have been the laughing-stock of college hoops for the past two seasons. But led by head coach Pat Skerry and Georgetown-transfer Jerrelle Benimon, the Tigers now own the most impressive turnaround in NCAA history.
Grambling State finishes regular season winless at 0-27:You just hate to see this happen. But at least Towson had provided even the slightest amount of optimism.
 
 
Observations & Insight:
– This is just awesome: The ultimate fantasy college basketball broadcasters draft. (Sports Illustrated)
– Is New Mexico worthy of a no.1-seed in the NCAA Tournament? Their resumes suggest that they are. (The Catch and Shoot Blog)
– Loyola (Md.) head coach Jim Patsos continues to have success because he does things his way. (Baltimore Sun)
– Akron's 19-game winning streak is now over thanks to a lackluster performance against Buffalo. Louisiana Tech now holds the nation's longest winning streak with 17 in-a-row. (Hustle Belt)
– The race for the Big-Ten title is still up for grabs. It's quite possible that a tiebreaker will have to be used to determine a champion. (Columbus Dispatch)
– Northern Kentucky did Senior Night right. The Norse eased a 13-point deficit in the final three minutes of the game and earned a thrilling victory over Jacksonville. (AllKYhoops.com)
 
 
Odds & Ends:
– If only we all could be as strong as 9-year old UCLA superfan Jeffrey Hughes, Jr. (Los Angeles Times)
– Great video footage of Pittsburgh seniors Dante Taylor and Tray Woddhall following Senior Day. This is what it's all about. (Panther Lair)
 
 
Picture of the Day:
Best.Photobomb.Ever (Twitter)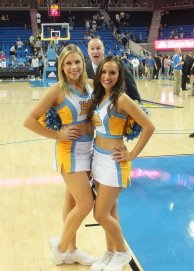 Video of the Day:
This is the most incredible buzzer-beater I have ever seen. And I've seen a lot of buzzer-beaters.
[youtube http://www.youtube.com/watch?v=lIMFvCYBXCM&w=560&h=315%5D
 
 
Dunk of the Day:
I have very little to say about this dunk because my jaw is currently dropped.
[youtube http://www.youtube.com/watch?v=aUpdEdePn5Y&w=560&h=315%5D
 
 
Do you like the new Morning Mix? Hate it? Have a suggestion or want something featured? Troy Machir will take all your praise, insults and inquiries via Twitter (@TroyMachir