It's March 1st. "Madness Season" is officially here.
And it makes sense that on the first day of "Madness Season" we bring news of hideous uniforms, new basketball conferences and Duke moving to 0-4 in games where the opposing fans storm the court.
Let's hit the links.
Friday's Top games:
7:00 p.m. – Harvard @ Princeton
7:00 p.m. – Loyola (Md.) @ Iona
9:00 p.m. – Fairfield @ Manhattan
Read of the Day:
What if Jay Bilas ran the NCAA? If there's a guy who could fix the problems with college athletics, it's Jay Bilas. Ever wonder how Bilas would solve the hot mess involving University of Miami and Nevin Shapiro? Click here. (Deadspin via Bloomberg View)
Top Stories:
Late Night Snacks: Joe Harris leads Virginia past No. 3 Duke: Morehead State and and Tennessee State put on a thriller in the OVC, and Gonzaga survived BYU and Virginia stormed the court again Duke.
Virginia bolsters NCAA tournament resume with win over No. 3 Duke: With as many bad losses as Virginia had, they desperately needed to secure a win over a top-5 team. Joe Harris led the Wahoos over the Blue Devils, scoring a season-high 36 points.
Duke lost, but don't go getting all panicked just yet: This is almost exactly the same as what I wrote when Duke lost at Maryland two weeks ago. Sure they lost on the road, but trust us. Don't panic.
Report: 'Catholic 7′ to split following current academic year, keep Big East name: Thursday afternoon it was reported that the Catholic-7 members will break away from the current conference at the end of this academic year, and will keep the Big East name. This is big news.
Bubble update: Tennessee making a push for NCAA consideration: CBT's resident bracketologist Dave Ommen provides the latest updates on the tournament bubble.
Bubble Banter: Who helped and who hurt their tourney chances? North Carolina continues to play their way back into the field of 68, and Temple's win over Detroit keeps the Owls in discussion for an at-large bid.
NCAA grants St. John's forward Orlando Sanchez one year of eligibility: Sanchez's eligibility had been under questioned all season because of three minutes of playing time for the Dominican National team in 2010.
 
 
Hoops Housekeeping:
– NCAA will release their decision on the Saint Mary's basketball investigation. The Gaels have been subject of an NCAA inquiry since last summer, looking into the recruitment of some of their previous Australian players. (San Jose Mercury News)
– Notre Dame's Scott Martin has decided to call it a career after six years. The forward will undergo career-ending knee surgery. (Sporting News)
– Wisconsin forward Ryan Evans, he of the "jump shot free throw" fame, injured his knee in practice yesterday. The severity of his status is still undetermined. (Milwaukee Journal-Sentinel)
 
 
Observations & Insight:
– Ugliest. Uniforms. Ever. (Bruins Nation)
– There was an ugly scene during Virginia's court-storming against No. 3 Duke. Duke has been involved in four court-stormings this season. Coach-K is spot on with his concerns. (Wilmington Star News)
– Expansionocalypse struck again yesterday, with the Catholic-7 taking the Big East name and adding Butler and Xavier. The "Big East v.2.0" is going to screw up things for a lot of other leagues. (USA Today)
– Creighton officials remain mum about inclusion in the new Catholic-7. (Omaha World Herald)
– Andy Katz on the brand victory earned by the departing Big East schools. (ESPN)
– Connecticut has had a rough nine months or so. Things got worse yesterday with the news that the Catholic-7 would be breaking away from the Big East at the end of the year. No school has lost as much from conference realignment as UConn has. (Eye on College Basketball)
– Think about it. In just under a decade Butler has gone from 6th place in the Horizon League the new era of Big East basketball. (Indianapolis Star)
– Bill Self was not thrilled with the Big-XII's decision to release a statement of officiating in regards to the controversial ending to Monday night's thriller against Iowa State. (Wichita Eagle)
– Is a good win better than a bad loss? No team better typifies this ongoing debate than the Virginia Cavaliers. (The Backboard Chronicles)
– By defeating Hartford last night, Stony Brook captured the America East regular season championship. (Mid-Major Madness)
– Although UConn is not eligible for postseason play, Big East games against the Huskies will count towards determining Big East Tournament tie-breakers. (Syracuse Post-Standard)
– Just how far ahead is Otto Porter from the rest of the Big East PoY competition? (Big East Basketblog)
– This is crunch time for a handful of tournament hopefuls. Mike DeCourcy details the three-week long trek through the pressure cooker. (Sporting News)
 
 
Odds & Ends:
– The new Adidas March Madness uniforms are so ugly, a petition has been sent to the White House. Normally, I'm not big on petitions. But I'd sign this one twice. (The Pitch)
– Kansas head coach Bill Self received a letter of apology from the Iowa State student government for the incidents that took place following the Jayhawk's stunning comeback win at Iowa State. (Fox Sports)
In honor of Chane Behanan's monstrous dunk over Worrel Clahar, here are the ten best dunks in Louisville history. (Card Chronicle)
– Kenny Kadji replicated LeBron James' between-the-legs warm-up dunk during the pregame shootaround against Virginia Tech. (The U Hoops)
– James Fraschilla is easily my favorite walk-on in the country. (Fox Sports Southwest)
 
 
Picture of the Day:
No caption necessary. (H/T @ThomasBeisner)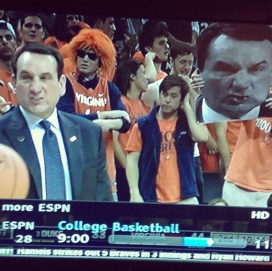 Dunk of the Day:
[youtube http://www.youtube.com/watch?v=aZz-fkzXaa8&w=560&h=315%5D
 
 
Do you like the new Morning Mix? Hate it? Have a suggestion or want something featured? Troy Machir will take all your praise, insults and inquiries via Twitter (@TroyMachir