Indiana and Florida lost on the road last night. Minnesota and Tennessee both picture up resume-boosting wins. Wednesday features a bevy of games with serious tournament implications.
It might be Hump Day, but we have a lot to get to and a lot to look forward to.
Let's hit the links.
Wednesday's Top games:
6:30 p.m. – No. 4 Michigan @ Penn State
7:00 p.m. – Virginia Tech @ No. 5 Miami
7:00 p.m. – No. 7 Georgetown @ Connecticut
7:00 p.m. – Akron @ Ohio
8:00 p.m. – Saint Joseph's @ No. 18 Saint Louis
9:30 p.m. – No. 11 Arizona @ USC
10:15 p.m. – San Diego State @ No. 14 New Mexico
11:00 p.m. – Colorado @ Stanford
Read of the Day:
Dana O'Neil sheds some light on Orlando Sanchez's NCAA eligibility situation. It's a shame the NCAA doesn't operate with common sense, because that's really what is needed here. (ESPN)
Read of the Day:
A fantastic read from Dave Roth on the cult of the coach. A tremendous piece of writing. Read it. (Sports on Earth)
Read of the Day:
Andy Glockner provides the latest installment of "Bubble Watch". You know what to do with this. Read it. (Sports Illustrated)
 
 
Top Stories:
All it took was the first 6:05 for Trevor Mbakwe to beat Indiana: Minnesota big man Trevor Mbakwe shot out of the gates last night, scoring 10 points and making big stops in the games' first six minutes. That was the momentum boost that the Gophers needed to get them over the top.
Cody Zeller tentative in No. 1 Indiana's loss to Minnesota, raises concern for Hoosiers: Cody Zeller finished with just nine points on 2-of-9 shooting last night in the Hoosiers' road loss to Minnesota. Victor Oladipo might be the National Player of the Year, but Indiana won't win the National Championship if Zeller is tentative.
Bus carrying Maine women's basketball team reportedly involved in 'serious accident': A charter bus reportedly carrying members of the Maine women's basketball team was involved in a serious crash along Interstate 95 in Georgetown, Mass.
Big 12 admits error was made near end of Kansas' win over Iowa State:the Big 12 admitted that mistakes were made by the officiating crew at the end of regulation of the Kansas-Iowa State game from Monday, though the conference would not point to a specific play or sequence.
 
 
Hoops Housekeeping:
– The 30 finalists for Naismith Player of the Year were announced yesterday. (Card Chronicle)
– Oregon desperately needs freshman point guard Dominic Artis back on the court. The Ducks have been a different squad while he's sat out with a foot injury. It looks like Artis will be to return this Thursday when Oregon faces Oregon State. (Oregon Live)
 
 
Observations & Insight:
– It appears that the Catholic-7 is very close to making an announcement regarding the league's future. (A Jersey Guy)
– As Jason McIntyre suggests, use defensive efficiency numbers when determining which teams you think will make the Final Four. (The Big Lead)
– Duke forward Ryan Kelly is expected to return to the hardwood for the Blue Devil's Senior Night game against Miami. Duke was a different team with Kelly in the lineup, but what exactly should we expect from him now that he's back? (Duke Hoop Blog)
– Memphis has been steamrolling through a weak Conference-USA. But the Tigers always seem to come up short when they play a step up in competition. (Eye on College Basketball)
– Mike DeCourcy explains why the Akron Zips are built to succeed in the NCAA Tournament this year. (Sporting News)
– Seth Greenberg breaks down his list of the top-ten "match-up nightmares". Indiana's Victor Oladipo is the obvious choice, but his no. 2 selection might throw you off. (ESPN)
– I'm still confused as to why former Red Sox manager Bobby Valentine would take the job as Athletic Director at Sacred Heart. (New York Daily News)
– Jim Boeheim snapped at CBS Sports' Jeff Goodman following Syracuse's loss on Monday at Marquette. HEre is Goodman's response, and it's on point and completely valid. (Eye on College Basketball)
– Ohio vs. Akron is the mid-major game of the night. If Ohio is able to beat Akron, ending the nation's longest active win streak, the no. 1 seed for the MAC tournament could get determined via coin flip. (Hustle Belt)
– Georgetown is in first place in the Big East and will head to Storrs, Conn. tonight to play UConn in the Gampel Pavilion. Surprisingly enough, Georgetown has never won inside Gampel Pavilion. (Hartford Courant)
– North Carolina State has had its share of ebbs and flows this season. The same can be said of star forward Travis Leslie. If the Wolfpack want to have any postseason success, they will need Leslie to step his game up. (Wilmington Star News)
– Making the case for Gee McGhee as SoCon Freshman of the Year. (Mocs Mania)
– In his latest "Tuesday Truths" entry, Jon Gasaway takes a look at how BCS-conference teams are doing against league opponents on a per possession basis. (Basketball Prospectus)
– It does not appear as if Mike Krzyzewski will be returning to the sidelines as the head coach of the US Olympic team. (USA Today)
 
 
Odds & Ends
– This might just be the most disturbing thing Twitter conversation I've ever read. Seriously, people like this need to get punished for their words. (Busted Coverage)
– A pretty awesome timeline of all the upsets No. 1 teams have suffered this year. (USA Today)
– It looks like Cincinnati, Louisville, Baylor and a few other schools will be getting camouflage uniforms, similar to what they wore last year during the post season. (Bearcats Blog)
– The following link takes you to an actual video of a Division I college basketball player taking a jump shot on a free throw attempt. Ryan Evans has been absolutely plagued by free throw issues this season. He's got a serious case of the "yips". I suppose this is the last resort. (The Big Ten Network)
 
 
Picture of the Day:
Jordan McRae did just about everything last night against Florida. And yes, I mean EVERYTHING. (H/T @WesRucker247)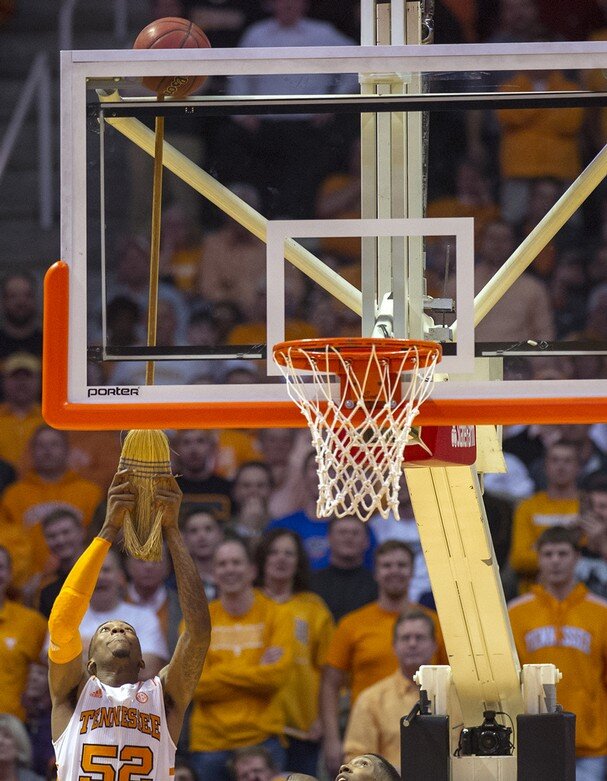 Video of the Day:
Trevor Mbakwe crumples Cody Zeller with A TREMENDOUS BLOCK!
[youtube http://www.youtube.com/watch?v=JU_gIZtbuYQ%5D
 
 
Do you like the new Morning Mix? Hate it? Have a suggestion or want something featured? Troy Machir will take all your praise, insults and inquiries via Twitter (@TroyMachir