Big Monday delivered last night. There were only 15 games on the schedule, but the marquee games delivered. Kansas and Iowa State played in the game of the night. Elijah Johnson went for 39 points, and scored 12-straight points down the stretch. Some will say Iowa State got jobbed. Others will say that last night belonged to Elijah Johnson. Neither group is wrong.
Let's hit the links.
Tuesday's Top games:
7:00 p.m. – No. 1 Indiana @ Minnesota
7:00 p.m. – No. 19 Memphis @ Xavier
7:00 p.m. – Towson @ George Mason
9:00 p.m. – No. 8 Florida @ Tennessee
9:00 p.m. – Nebraska @ No. 17 Wisconsin
 
 
Read of the Day:
Jabari Parker is the most heralded recruit in the class of 2013. The Chicago Grid details how Nike got the inside track towards obtaining the exclusive rights to Parker's feet. Read it. (Chicago Grid)
Read of the Day:
Using the two marquee games from this past weekend, Georgetown-Syracuse and New Mexico-Colorado State, Matt Brown explains why over-analyzing certain college basketball games is a futile process. (Sports on Earth)
 
 
Top Stories:
For Elijah Johnson, Monday's comeback was about more than just one win: Elijah Johnson has had his share of struggles this season. But on Monday night, he had all the confidence in the world and was able to put the Jayhawks on his back and carry them to victory. They will need him to play with confidence more often down the stretch. He's tough to stop when he's confident.
Iowa State loses to Kansas, but don't disregard their three-point shooting: Iowa State may have lost last night, but they provided a lot of entertainment thanks to their wide array of long-range marksmanship.
Syracuse's back court struggles becoming a major concern: Syracuse lost to Marquette last night 74-71, marking the first time the Orange have lost back-to-back games all season. Syracuse's backcourt has been the key concern in the two recent defeats.
Marquette gets 26 from Gardner in victory over Syracuse: The Marquette big man had himself a big time performance against Syracuse, scoring from inside and outside.
Andrew Wiggins named Naismith High School Player of the Year: Wiggins is the one of the top three unsigned recruits in the class of 2013 and will choose between Kentucky and Florida State.
The Big East's new TV deal could include a name change:The Big East signed a television deal with ESPN last week and one of that may be made is to change the name of the conference. I think we can all agree that this is the right decision.
 
 
Hoops Housekeeping:
– Former-USC basketball player Brandon Martin has been named Athletic Director at Cal State Northridge. (Yahoo Sports)
– The 25 finalists were announced for the Lou Henson Award, given to the top mid-major player of the year. (College Insider)
– Memphis' Antonio Barton is no longer in a walking boot and may be able to return for the postseason. (College Basketball Talk)
 
 
Observations & Insight:
– This is what the NCAA Tournament bracket would look like if teams were seeded based on storylines. (Wilmington Star News)
– You're probably already aware that March has the potential to be absolutely bonkers, but in case you need more convincing, Mike Lopresti previews what may be in store. (USA Today)
– In case you forgot, the USC Trojans are looking for a new head coach. The opening should command some quality attention when the season ends, and according to Doug Gottleib, who knows the SoCal area very well, believes the hiring could set off a chain reaction of events. (CBS Sports)
– Mississippi State has just six scholarship players available for use and are sitting at the bottom of a weak SEC. But regardless of his teams struggles, head coach Rick Ray doesn't want people to feel sorry for him. (Clarion Ledger)
– La Salle is one of the more interesting bubble teams to watch for as the regular season comes to a close. They have four good wins and only one bad loss. They have the looks of a team that can solidify their NCAA tournament status with a strong run in the A-10 Tournament. (Hoopville)
– At the beginning of the season, the balance of power in the Mountain West was geared towards UNLV and San Diego State, but as the season has progressed, the balance of power has shifted towards Fort Collins and Albuquerque. (College ChalkTalk)
– Memphis will put two large winning streaks on the line tonight when they face Xavier tonight in a rare late-February non-conference showdown. (Memphis Commercial Appeal)
– Saint Mary's still has some work to do in order to make the NCAA tournament, but their win over Creighton showed that they deserve to be considered. (Rush The Court)
– Blake Griffin advises college players to not rush their pro career. (Eye on College Basketball)
– Andy Katz provides a bevy of thoughts on the hoops world, including his choice for some conference Player of the Year awards. (ESPN)
– LeBron James, the pride of Akron, OH, returns home during the offseason to reunite with Akron Zips head coach Keith Dambrot, who coached LeBron at St. Vicent-St. Mary's High School. The Zips are currently riding an 18-game winning streak and are ranked inside the top-25. (USA Today)
– Washington State dismissed Reggie Moore back in September, and well, I think it's safe to asusme that they really missed his services this season. (Coug Center)
– A month ago, it looked like the Missouri Valley may get three teams into the NCAA Tournament, but with Creighton and Wichita State's recent struggles, it's quite possible that The Valley only sends one team to the Big Dance. (Eye on College Basketball)
 
 
Odds & Ends
– Two weeks after snapping at ESPN's Andy Katz, Syracuse head coach Jim Boeheim was back at it again, barking at CBS' Jeff Goodman. (Fox Sports Wisconsin)
– Denver mascot sparks controversy. Weirdest headline of the day. (Mile High Mids)
– Your "stat of the day": Illinois has gone 5-1 since John Groce banned Twitter. (The Big Lead)
– In case you're in to this sort of thing: Karl Hess has worked more games this season than any other referee. (Run The Floor)
– A bizarre story on Junior College hoops in Iowa. A brawl broke out after a game, one player got arrested. The School President bailed the player out, and the team got punished. Just read it. (Deadspin)
– A top-10 list of the ugliest college basketball uniforms of all time. (Lost Letterman)
 
 
Tweet of the Day:
ISU fans should get off Elijah for his dunk. When your school colors are ketchup & mustard you should expect a little hot-dogging. #kubball

— Fake KU Compliance (@NotKUCompliance) February 26, 2013
 
 
Picture of the Day:
No words necessary. (H/T @MattMumISU)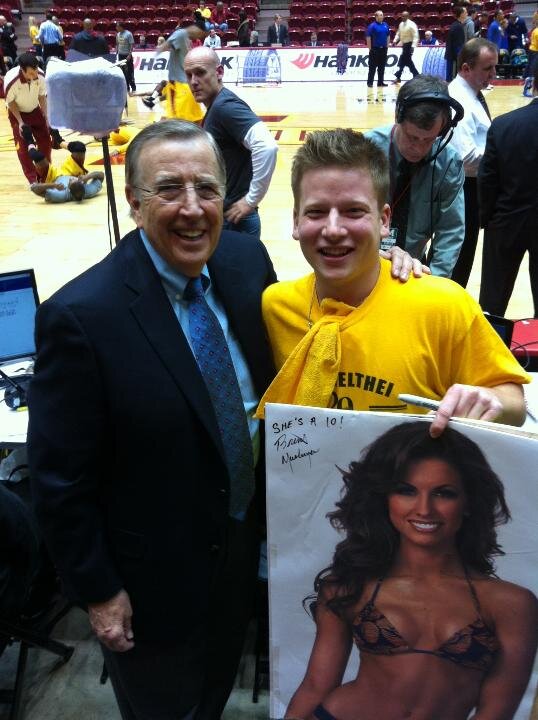 Video of the Day:
Ball State recruit Franko House drills a 3/4 court buzzer-beater.
[youtube http://www.youtube.com/watch?v=TvzNbCSZ59Y&w=580&h=415%5D
 
 
Do you like the new Morning Mix? Hate it? Have a suggestion or want something featured? Troy Machir will take all your praise, insults and inquiries via Twitter (@Tro