Arizona State kept their momentum going in the right direction on Wednesday night.
Three days after picking up a big win at Colorado in overtime, Carrick Felix went for 23 points and 11 boards and Jahii Carson chipped in with 21 points and five assists as the Sun Devils knocked off Washington State 69-57.
The win itself isn't a huge importance to Arizona State's resume, but given their lack of strength in the non-conference portion of their schedule, this was quite simply a game that the Sun Devils could not afford to lose.
ASU plays Washington at home and then finishes the regular season with a three-game road trip — at UCLA, at USC and then at Arizona. I'd recommend winning at least three of those four games, if not all four.
But back to the more important issue: the Sun Devils won on James Harden Beard Night. To honor their former star, the first 1,000 students to show up to the game received a beard bandana (pictures below). They also decided to remain silent until Arizona State managed to score their 13th point; 13 was Harden's number when he was in Tempe. The only problem was that it took about ten minutes for the Sun Devils to reach that number, which created quite an awkward situation, playing in front of a silent arena.
After the game, Herb Sendek said that he didn't realize what the students were planning until after the game, and kept thinking about how quiet the gym was.
Maybe the ASU student section should scrap the whole "let's be quiet for 13 minutes" plan. Once the students came alive, after a jumper from Felix, the Sun Devils went on a 22-8 run to close the half.
Anyway, since I know you were asking, here are the Arizona State cheerleaders in Beard Bandanas: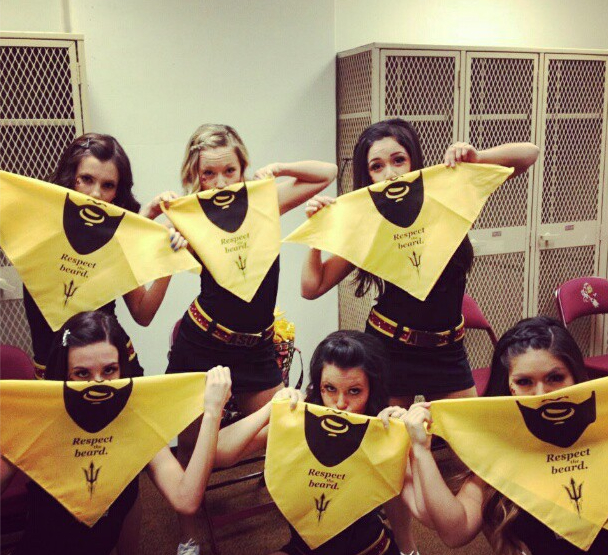 Oh, I should probably mention that James Harden went for 46 points in a win over the Oklahoma City Thunder last night.
(Photo via @krissylindas)
You can find Rob on twitter @RobDauster.