League standings have nothing to do with NCAA tournament seeding: I spent 16 hours over the course of two days last week locked in a room with 19 other writers as we traversed our way through the NCAA tournament selection process. And one thing that I can tell you with utter certainty is that league records don't mean a single thing to the committee. It's not just that we don't mention what the record for a team is in conference play, it's not even available on the nitty gritty profiles used to compare teams.
Illinois and Ohio State are a perfect example of this. The Illini currently trail the Buckeyes by two games in the Big Ten standings, but if the season were to end today, Illinois may actually have a higher seed in the NCAA tournament than Ohio State.
Why?
Well, Ohio State's resume is bolstered by the simple fact they have played a lot of good teams. They did beat Michigan and they do have a win over Wisconsin at home, but their best road win is at Nebraska. Illinois has won at Gonzaga and won at Minnesota. They beat Indiana at home and they have wins over Butler and Ohio State, the latter of which was a 19 point victory to kick off Big Ten play.
Sure, those losses to Northwestern and Purdue are ugly, but is that really enough to outweigh the fact they have four wins over the RPI top 20, three of which were away from home? It's worth arguing, but I'd probably seed Illinois higher.
Kentucky's struggles should only emphasize just how impressive last year's team was: This is what a team filled with freshmen and newcomers is supposed to do. They're supposed to struggle to find their roles and they're supposed to have issues with leadership and playing consistently. The transition from high school and AAU ball to playing at the highest level of collegiate hoops isn't supposed to be easy.
And just because it was for Michael Kidd-Gilchrist and Anthony Davis last season doesn't mean it will be for any other crop of freshmen that John Calipari brings in.
All things considered, Archie Goodwin and Alex Poythress have had decent freshmen seasons. If they were on any other team or in any other programs, they wouldn't be considered failures as much as they would be thought of as freshmen that are being freshmen. So Goodwin shoots to much and has a bit of a temper. So Poythress struggles with consistency and gets overwhelmed by the moment. So Willie Cauley-Stein is raw. They're supposed to be.
Don't let the fact that Coach Cal landed a series of players that never should have set foot on a college campus blind you to the fact that this year's freshman class looks an awful lot like what freshmen are supposed to look like.
Eli Carter fractured his fibula, and came away lucky: The Rutgers guard will be out the rest of the season after fracturing his right fibula in an ugly fall against DePaul on Saturday. He isn't expected to need surgery — and he even tried to convince the Scarlet Knight medical staff to let him back into the game — but the sophomore won't be suiting up again this season.
But watch how he fell: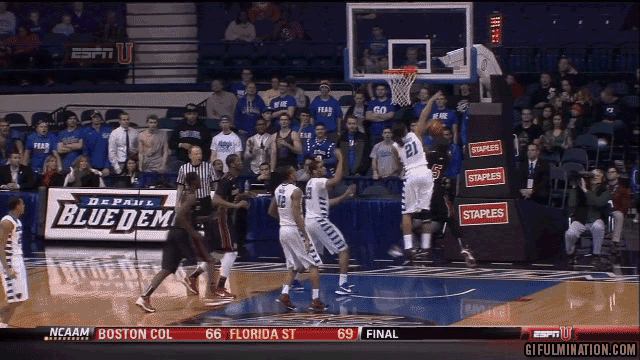 He's lucky that his leg is still attached. That could have been so much worse.
(GIF via @bubbaprog)
NC State played it right, but got robbed by the refs: Up by three with just eight seconds left, NC State decided to foul Virginia Tech point guard Erick Green. Green made the first free throw and missed the second, and Jarell Eddie was there to tip-in the miss and send the game to overtime.
NC State made the right call, because if the officials had made the right call, the game never would have made it to overtime. Watch Eddie's feet:
[youtube=http://www.youtube.com/watch?v=VsyUk8_RNvI]
He's well past the three point line before the ball hits the rim. That's a clear violation. The basket should have been waived off.
The bigger issue is that this was the third last-second bucket that was scored on NC State because of the lack of a box out. It cost them against Maryland, when Richard Howell and CJ Leslie both tried to block Pe'Shon Howard's shot and no one boxed out Alex Len. It cost them against Miami, when Richard Howell missed a box-out on Reggie Johnson. Luckily for Wolfpack fans, all this shot did was force overtime.
Johnathon Loyd has played well of late: Oregon lost three games in a row because of their point guard play. We noted that fact. So we should also not that that point guard has played much better of late. With Dominic Artis out with a foot injury,  Loyd struggled in his first couple of games running the show. But in the last three, he's scored 22 points, handed out 11 assists, and, most importantly, turned the ball over just four times. It's no surprise that Oregon won games at Washington and Washington State this week.
You can find Rob on twitter @RobDauster.