Game of the Night
Maryland 83, No. 2 Duke 81: This win meant so much to Mark Turgeon, it apparently got a little dusty up in the postgame press conference. It meant so much to Maryland fans, they attempted to destroy their own campus.
Street light down in college park twitpic.com/c4ejkr

— Darcy Spencer (@darcyspencer) February 17, 2013
Joking aside, this was a big win for the Terps. Potentially season-saving. Alex Len outplayed Mason Plumlee, and Maryland as a team somehow survived a vintage Seth Curry shooting night. With Virginia failing to seize the day in a loss at UNC today, there's still room for a hungry team to move up in the ACC.
Meaningful Results
No. 14 Kansas 73, Texas 47: We all remember Kansas' three-game losing streak. Well, it's definitively over, with the Jayhawks swamping K-State and Texas at home, and seeming a bit more relaxed. Relaxed enough to put out absolutely bat-poo insane gifs of themselves in bizarre outfits dancing in the locker room.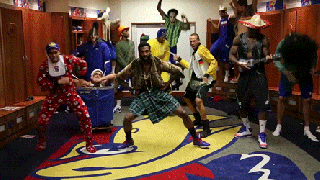 That… that has to be some kind of NCAA violation. Right?
No. 23 Oregon 79, Washington State 77 (OT): The Cougars had this thing tied up. E.J. Singler was bringing the ball up the floor in the extra period, ready to try for a game-winner with 3.8 seconds to go. Then, in the fog of battle that strikes so many college-age players, WSU's Dexter Kernich-Drew – a sophomore from Australia – fouled him intentionally. Singler sank the free throws, and Oregon avoided a possible resume-killing loss in Pullman. That wasn't the only wacky moment from the game. Oregon center Tony Woods got tossed in the first half for elbowing Brock Motum in the head. At this point, everyone involved is probably just glad this game is in the history books.
N0. 10 Kansas State 81, Baylor 61: The Wildcats looked sharp in this easy win over a team once considered to be a serious Big 12 contender. Bruce Weber has some dangerous parts at his disposal, and when Angel Rodriguez is on, as he was tonight, the Wildcat machine is sharp and on-target. It may be time for K-State to seize their first-ever Big 12 title.
No. 24 Colorado State 89, Air Force 86: Huge game for Air Force cadet Michael Lyons. He scored 45, but the Rams stayed in the hunt for the MWC title, overcoming Lyons' incredible individual effort with all five starters in double figures.
N0. 19 New Mexico 60, Boise State 50: The Lobos stayed one step ahead of the Rams, surviving a feisty group of Broncs to win again in the Pit, and stay a half-game ahead of CSU.
Starred
Michael Lyons, Air Force: Can't argue with 45 points, though the paucity of the rest of his stat line (two rebounds, no assists, two turnovers) probably isn't ideal.
Royce Woolridge, Washington State: His team lost, but Woolridge had a career night, scoring 36 points to go with five assists and three steals. The talented sophomore will give Ken Bone something to build on as he attempts to get the Cougars back into the top echelon of the Pac-12.
The Memphis Tigers: Josh Pastner's squad is back in the national spotlight, sporting an 11-0 record in C-USA after downing Marshall in Huntington. Adonis Thomas was big in this one, with 23 points and 10 boards.
Struggled
Eli Carter, Rutgers:
Rutgers announces that Eli Carter will miss the rest of the season with a fractured right fibula….

— Jon Rothstein (@JonRothstein) February 17, 2013
The Scarlet Knights are 4-9 in league play, and nobody likes to see an athlete get hurt. Very unfortunate news.
Maryland: Yeah, they won, but 26 turnovers? Ouch. That will get you an L more often than it will a W.
The Longhorns: Texas had some bad numbers against Kansas: 21.8 percent from the floor, 9.5 percent from deep, and 65.6 percent from the line. They must have used some kind of quantum math to somehow turn that into 47 points.
Eric Angevine is the editor of Storming the Floor. He tweets @stfhoops.