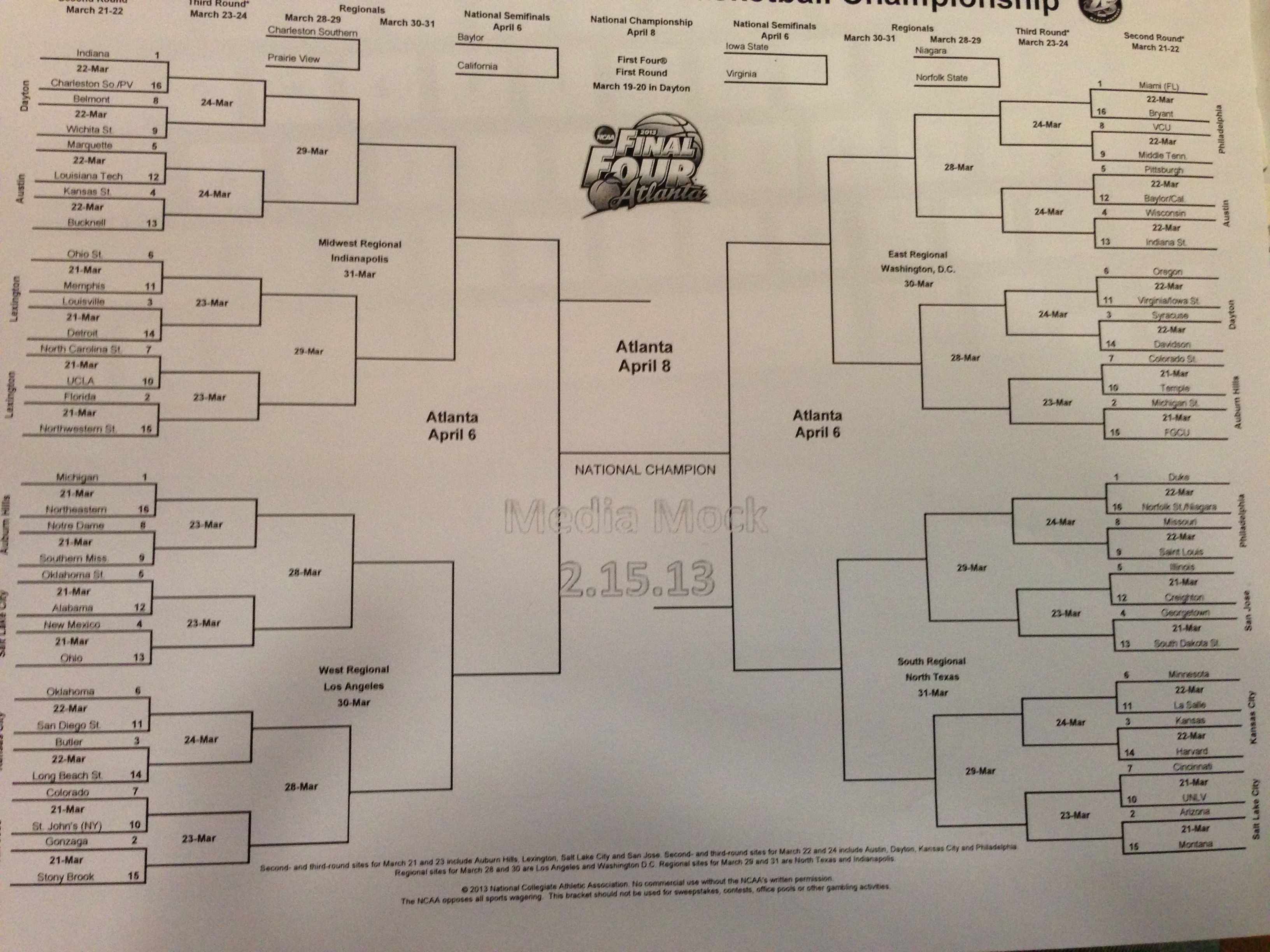 (Click on the bracket to enlarge it)
I spent 15 hours over the past two locked in a room with 19 other writers going through the (expedited) process that the NCAA Tournament Selection Committee goes through to build the country's most anticipated bracket.
To avoid driving home the same points that have been made by every writer that has attended the construction of the mock bracket over the eight years it has been in existence, I'm not here to pound home the point that the RPI is forever going to be intertwined with the NCAA Tournament or harp on the fact that, yeah, the bubble is GROSS this season.
I know this and you know this.
But there were a couple of interesting things that I learned during the process that I believe are worth sharing:
1. Bracketing is a nightmare. You know all those conspiracy theories about the NCAA grouping mid-major teams together to get them out of the bracket? Well, it's a natural result of the process. Teams from the same conference can't play each other before the Sweet 16, which severely limits where some of them can be placed in the bracket. Mid-major programs and teams from one or two bid leagues have it easier because they don't get locked into or blocked from certain spots in the bracket. For example, in our bracket, Wichita State ended up being paired with Belmont because of difficulties we had slotting some of the ten seeds.
2. There is no such thing as an S-Curve. It's called the "seed list". And it doesn't matter whether or not the top No. 1 seed and the top No. 2 seed get put into the same region. It's all about location and distance to the tournament sites.
3. The timing of the four tournament title games on Sunday are a real pain for the committee. The Big Ten's title game ends less than an hour before the bracket is unveiled on CBS. What that means is that they build contingency brackets throughout the day on Sunday. Mike Bobinski, the Athletic Director at Xavier and the Chair of the Selection Committee, said that one year the committee had to build six contingency brackets at the same time. That sounds fun.
4. Everything in the process is based on facts, but how much different members of the committee value different aspects of a profile is incredible. Some want to see a strong schedule and consistent performance. Some value big wins and are willing to look off bad losses. You're looking at the nitty gritty reports, but everyone sees something different.
You can find Rob on twitter @RobDauster.