GRUESOME INJURY ALERT!
Kentucky's Nerlen Noel, the likely No.1 draft pick in the 2013 NBA Draft, suffered a gruesome knee injury last night.
Don't worry. I made sure everything remains behind a link wall.
But to be honest, it's not THAT gross. It's not even close to being as bad as leg injury Texas A&M's Derrick Roland suffered two years ago. Now THAT was gnarly.
But yeah, it's still pretty bad.
Anyways, Let's hit the links.
Wednesday's Top games:
7:00 p.m. – Nebraska @ No. 1 Indiana
7:00 p.m. – No. 3 Miami @ Florida State
7:00 p.m. – No. 6 Syracuse @ UConn
7:00 p.m. – Charlotte @ No. 11 Butler
7:00 p.m. – No. 17 Oklahoma State @ Texas Tech
7:00 p.m. – DePaul @ No. 21 Notre Dame
7:00 p.m. – Delaware @ Northeastern
7:00 p.m. – Ole Miss @ Texas A&M
7:00 p.m. – La Salle @ St. Bonaventure
8:00 p.m. – Central Florida @ No. 22 Memphis
8:00 p.m. – Iowa State @ Texas
8:00 p.m. – Creighton @ Northern Iowa
9:00 p.m. – North Carolina @ No. 2 Duke
9:00 p.m. – West Virginia @ Baylor
9:00 p.m. – UNLV @ Air Force
10:00 p.m. – No. 19 New Mexico @ Fresno State
10:00 p.m. – San Diego State @ No. 24 Colorado State
11:00 p.m. – No. 23 Oregon @ Washington
11:00 p.m. – Cal State Fullerton @ Long Beach State
 
 
Read of the Day:
A powerful story about Chicago basketball icon Larry Butler and the murder that took place following the Simeon vs. Morgan Park high school game back in mid-January. Read this. (Chicago Side)
Read of the Day:
A fantastic profile on Ben McLemore's older brother, who is serving a 15-year jail sentence for his role in a 2008 armed robbery. (Kansas City Star)
 
 
Top Stories:
VIDEO: Kentucky's Nerlens Noel injures knee vs. Florida:The future first round draft pick went down in a heap of pain after his knee buckled in the wrong direction halfway through the second half of the Wildcats' 69-52 loss at Florida.
What does it mean for Kentucky if Noel is out for a long time? 24 hours ago we were talking about a Kentucky team that nobody would want to face as a lower seed at-large NCAA Tournament team. But one knee injury later and the letters N.I.T. start to reappear.
Florida beat Kentucky, but it wasn't exactly impressive: The Gators have been steamrolling SEC opponents at home this year, which is why you can understand why we might not think a 17-point win against Kentucky is that impressive.
No. 8 Michigan State claims sole possession of Big Ten with blowout win over No. 4 Michigan: The Spartans ran all over their in-state rivals, dismantling the Wolverines 75-72 in front of a raucous crowd at the Breslin Center. This is Tom Izzo doing work. Spartans don't look like title contenders in November, but they do in February. That's why Izzo is Izzo.
Is it time to reevaluate how we view Michigan? Nearly every marquee Big-Ten game this season has been decided by ten points or less. So we must at least reevaluate our stance on the Wolverines following their trip to the woodshed at the hands of Michigan State.
Maryland to honor ex-coach Lefty Driesell this month: Maryland will honor former coach Lefty Driesell at the Terrapins' home game against Clemson on Feb. 23 and will unveil a bronze bas-relief to commemorate his time at the school later this year.
Georgetown's 'Stonewalls' unveil soccer-style banner supporting Catholic 7: There is no denying that the Georgetown student section is sub-par. But the university's young alumni section is growing in numbers, and showed off this phenomenal Catholic-7 banner on Monday night against Marquette.
 
 
Hoops Housekeeping:
– Texas sophomore Jonathan Holmes has been cleared to play tonight against Iowa State. The forward has been out of action since January 21st when he suffered a broken bone in his right hand against Oklahoma. (Sporting News)
– St. John's head coach Steve Lavin is questionable to return to the sidelines tonight as he continues to mourn the loss of his father, who passed away over the weekend at the age of 83. (SNY.tv)
– Northwestern forward Jared Swopshire will miss the rest of the season after suffering a knee injury over the weekend. Swopshire missed the entire 2011-2012 season with a groin injury while at Louisville. (Chicago Tribune)
– North Carolina freshman Joel James will miss tonight's rivalry game against Duke due to a concussion he suffered against Wake Forest last week. (Fayetteville Observer)
– Oregon guard Dominic Artis has already missed five games due to a foot injury, and the dynamic freshman guard isn't likely to return this week. The Ducks are 2-3 without Artis in the lineup. (Sporting News)
– Matthew White, a member of the 1979 UPenn team that made the Final Four, was stabbed to death by his wife early Monday morning. (Philadelphia Inquirer)
 
 
Observations & Insight:
– Nerlens Noel's knee injury has people wondering if future NBA players even need to go to college. (Yahoo Sports)
– Michigan State big-man Derrick Nix told Trey Burke that he's soft. (MLive.com)
– Only seven BCS-conference teams have won six or more road games this season. Miami is the only BCS-conference team to have won more than seven road games. (Eye on College Basketball)
– Copious amounts of sage advice for Golden Gopher fans starting to come around to the idea that maybe Tubby Smith should get fired. P.S. He's not getting fired. (From The Barn)
– Carrick Felix for Pac-12 Defensive Player of the Year? I'll certainly buy it. He's one of the most underrated players out west and has shut down nearly all the big time stars he has gone up against. (Pitchfork Posts)
– As long as we understand that "Running through March Madness" could mean different things for different teams, yes, this is a pretty solid list of five teams that could run through March Madness. (Sports Blitz)
 
 
Odds & Ends:
– I'm not exactly sure why this matters, but Iowa State head coach Fred Hoiberg has never smoked marijuana in his entire life. (Deadspin)
– Jay Williams contract at ESPN is up at the end of March. Will he leave? Does anybody really care? (The Big Lead)
– We want student sections to be creative, right? We all get upset when they chant "overrated" at the end of a big game, correct? Well, I think the Izzone got it right with this one. (The Dagger)
– "The Harlem Shake" is spreading like wildfire. The college basketball world could not avoid it. (ACC Sports Journal)
– I hate giving Jeff Borzello credit for anything, I really do. And while this isn't exactly critical acclaim, for somebody like Jeff Borzello, this is as big as it gets: Ke$ha liked something he wrote. Yup, that Ke$ha. She approved of the Wisconsin Badgers' use of her music for their postgame celebration. Borzello wrote about the celebration. In Jeff's world, he's now the most popular kid in high school, and that's a big deal for him. (Madtown Badgers)
 
 
Photo of the Day:
Well done Izzone, Well done. (The Dagger)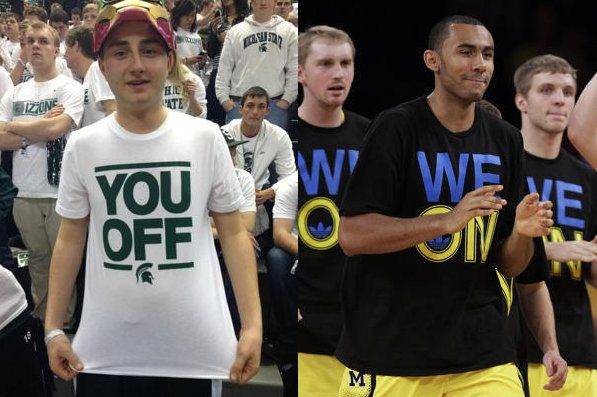 Video of the Day:
Well done Sparty. Well done. (H/T@WorldofIsaac)

 
 
Dunk of the Day:
Nice dunk. Better sequence. (H/T @RunTheFloor)
[youtube http://www.youtube.com/watch?v=EtY4yDwokiw&w=560&h=315%5D
Dunk of the Day:
Come for the No. 1 dunk, stay for Ernie Kent's analysis. (Pacific Takes)
 
 
Do you like the new Morning Mix? Hate it? Have a suggestion or want something featured? Troy Machir will take all your praise, insults and inquiries via Twitter (@TroyMachir)