Miami's basketball program has made it.
For the entirety of their existence, The U has been a football school first and a baseball school second. Basketball was a non-entity. For more than a decade during the 70's and 80's, that was literal, as the school cut the hoops program.
But after becoming the first team since the early 1950's to beat both Duke and North Carolina by more than 25 points in the same season, Jim Larranaga's club has taken a two-game lead over the rest of the ACC and climbed to No. 3 in the AP poll, a ranking that many believe is actually too low.
It's the high-water mark for the program, even if this particular hasn't even reached the peak of their success this season.
Which is why I can understand the excitement around the program. But they really need to come up with a better idea than this: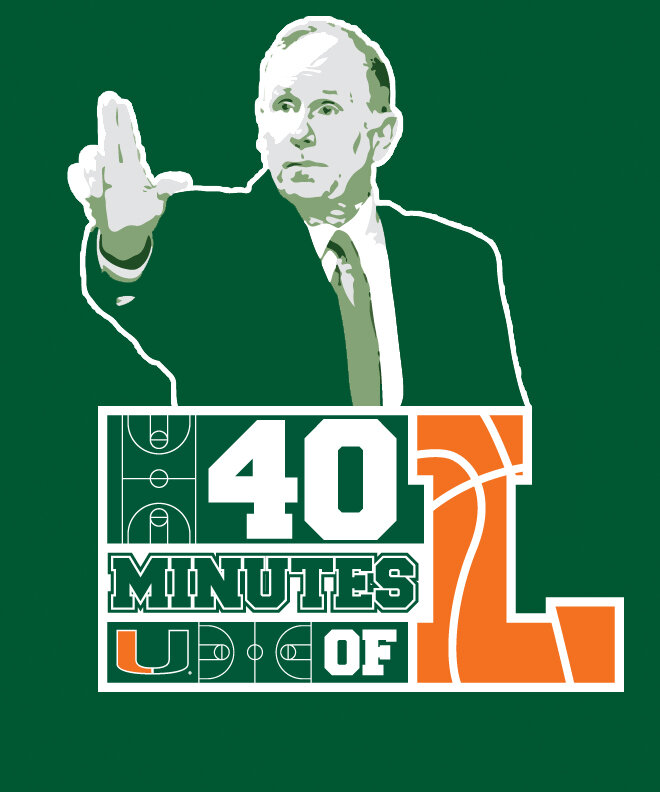 That's the logo that will be emblazoned on shirts given to the first 1,000 fans that show up for Miami's game with Virginia, according to Miami's twitter feed.
"40 Minutes of L".
I get it. Coach Larranaga is Coach L. It's a play on the "40 Minutes of Hell" style that Nolan Richardson made popular at Arkansas in the early 90's. There's a picture of Coach L holding up an L.
But every sports fan in the world associates 'L' with a loss. I'm not sure that is the slogan you want associated with your team, because I'm not sure there is a slogan that is more easily mockable:
Sorry, Miami. Virginia Tech has already used "40 minutes of L" as their basketball slogan.

— Ben Swain (@thedevilwolf) February 13, 2013
You can find Rob on twitter @RobDauster.