Georgetown isn't exactly known for their raucous home court atmosphere.
They play their home games at the Verizon Center, an NBA arena that seats 20,000 and is located almost four miles from campus. Seeing as the Georgetown neighborhood in DC doesn't have a metro stop, it can be quite a pain to get from campus to the arena. Half-full NBA arenas feel spacious, empty and sterile, even if Georgetown does draw a solid number of fans to their games.
The Georgetown Stonewalls are looking to change that.
An alumni group looking to provide ample fan support, the Stonewalls "lead organized cheers, create large banners, proudly display our Georgetown scarves and always wear gray on game day!" Their goal is to provide support in the same vein as a European soccer club would receive.
And on Monday night, they did just that, creating a 20′-by-25′ 'tifo' that they spread out across section 118 prior to tip-off against Marquette: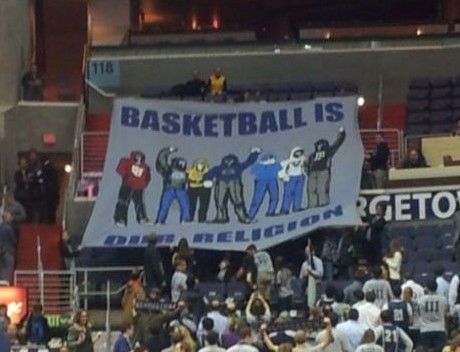 If you can't tell from the picture, the tifo depicts seven-hooded and masked figures, each wearing a sweatshirt emblazoned with the logo of a member of the Catholic 7. The writing says, "Basketball is our religion."
I don't think I need to elaborate on just how awesome this is. Not just the fact that the Stonewalls made this incredible tifo or the message that the tifo depicts, but the fact that there is now at least one confirmed "European soccer-style fan group" in college hoops.
Well done, Stonewalls.
If you want to check out a Flickr gallery of how the tifo was made, click here.
(Image via @benstandig)
You can find Rob on twitter @RobDauster.