Thursday night was a good night to be invested in college basketball.
Nate Wolters scored 53 points in a single game, Belmont suffered their first OVC loss of the season, UCLA's Larry Drew hit a buzzer-beater to defeat Washington AND Illinois' Tyler Griffey hit a running lay-up at the buzzer to stun the No.1 Indiana Hoosiers in dramatic fashion.
But what if I told you that wasn't all? What if I told you that somewhere up in soon-to-be-covered-in-snow New Rochelle, NY, the game of the night was being put on display by Iona and Marist.
I can understand if you watched the Illinois-Indiana game and are having difficulty understanding how a game could have been any better than what took place in Champaign on Thursday night. But I assure you it happened.
Marist beat Iona 105-104 in double overtime.
This is the shot that sent the game into double overtime.
[youtube http://www.youtube.com/watch?v=nFy_UBBKr5w&w=560&h=315%5D
Yup. That's video of Marist's Chavaughn Lewis drilling a 55-footer at the buzzer to tie the game at 94. But in the 18 seconds leading up to that shot Marist had turned the ball over, fouled twice, and scored on a lay-up with four seconds left to cut the lead to three.
In double overtime both teams eclipse the century mark and MoMo Jones nearly sent the game in to a third overtime with a 3-pointer, but his foot was on the line.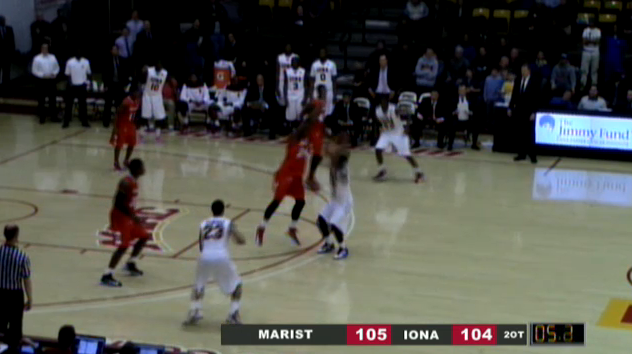 (Via @RyanRestivo)
But that's not where the game ended. No, not a game that featured 209 total points, 50 minutes of basketball and a 55-footer at the buzzer.
All Marist had to do was run out the clock. But there's a reason why the Red Foxes entered the game with a 1-10 MAAC regular season record.
Following the Jones' field goal, Marist's Jay Bowie turned the ball over, giving Iona a chance to end things once and for all. But once again Chavaughn Lewis came to the rescue, blocking Sean Armand's 3-point attempt at the buzzer.
Jones finished with 37 points in the losing effort. Adam Kemp led the way for Marist with 29 points, and both Jay Bowie and Chavaughn Lewis finished with 21 points. Lewis also played the entire game, all 50 minutes, as did his teammate Isaiah Morton.
Game of the night?
I just wrote 400 words about a game featuring Marist, a 5-19 team from the MAAC.
Game of the night.