Marshall Henderson got his first real taste of the big time last night, and while he finished with 21 points, his Ole Miss squad dropped their first SEC game of the season to a Kentucky team that actually looked pretty good. But I guess that will happen when Nerlens Noel blocks 12 shots.
We got a lot to discuss and a lot on tap for today.
This is January basketball for ya, folks.
Let's hit the links.
Wednesday's Top games:
6:00 p.m. – Villanova @ Notre Dame
6:30 p.m. – Northwestern @ No. 1 Michigan
7:00 p.m. – Rutgers @ No. 24 Cincinnati
7:00 p.m. – Richmond @ Temple
7:00 p.m. – Oklahoma @ Baylor
8:00 p.m. – No. 17 Missouri @ LSU
8:00 p.m. – No. 5 Duke @ Wake Forest
8:00 p.m. – Texas @ No. 18 Kansas State
8:00 p.m. – Maryland @ Florida State
8:00 p.m. – Iowa State @ Oklahoma State
8:00 p.m. – South Carolina @ No. 4 Florida
8:00 p.m. – Missouri State @ No. 21 Creighton
8:30 p.m. – No. 3 Indiana @ Purdue
9:00 p.m. – No. 14 Miami @ Virginia Tech
9:00 p.m. – No. 20 New Mexico @ Wyoming
9:00 p.m. – Boise State @ Colorado State
9:00 p.m. – Dayton @ Xavier
10:00 p.m. – USC @ UCLA
11:00 p.m. – No. 10 Oregon @ Stanford
 
 
Read of the Day:
Some excellent points are made here about the talent drain in college hoops and the lack of shooting acumen. Read it. (Basketball Predictions)
Read of the Day:
Andy Glockner's "Bubble Watch", ya'll. Git some. Read it. (Sports Illustrated)
 
 
Top Stories:
Kentucky quites Marshall Henderson, beats No. 16 Ole Miss: We all expected the Ole Miss sharpshooter to put on a performance for the ages, instead we got a glimpse of what Kentucky could look like if they decide to click. Kyle Wiltjer logged a career-high 26 points and Nerlens Noel set the Kentucky single-game record for blocked shots.
Poor shooting sinks No. 15 Wichita State in loss to Indiana State: The Shockers shot 27 percent from the floor and did not score a field goal in the nearly the final nine minutes of the second half, on their way to a 68-55 loss to Indiana State on Tuesday night. This ISU win moves the Sycamores to 7-3 in league play, one game behind Wichita State and half a game behind Creighton.
Road struggles continue for No. 19 NC State, Wolfpack fall to Joe Harris and Virginia: The Virginia Cavaliers, by focusing on a slow half-court offense, outlasted No. 19 NC State late to secure a big 58-55 win. NC State had four straight opportunities in the final three minutes to tie or take the lead and could not capitalize, culminating in a final three-point heave from guard Scott Wood in the final seconds that was off the mark to give Virginia the win.
New Mexico State's Tyrone Watson lone suspect in gruesome assault case: New Mexico State senior Tyrone Watson is at the center of a police investigation after allegedly beating fellow 19-year-old NMSU student Miguel Rascon, leaving him with facials fractures, a broken nose, and 10 stitches.
Arizona running back Ka'Deem Carey reportedly removed from basketball arena after incident with campus police: All-American Arizona running back Ka'Deem Carey was ejected from last week's UCLA-Arizona game after a confrontation with campus police. Amid the confrontation with campus police, the running back dropped the "Do you know who I am" line. Classic.
UCLA freshman Shabazz Muhammad 'day-to-day' with illness: UCLA freshman Shabazz Muhammad did not practice Tuesday and is listed as "day-to-day" as he battles a gastrointestinal illness. His status for the Bruin's game tonight against USC is undecided.
Jordan Morgan is somehow not seriously injured: Look at this picture and tell me that you wouldn't be on the shelf for 4-6 weeks. But some how, some way, Michigan big-man Jordan Morgan is not seriously injured following this ghastly ankle injury.
Erick Green doesn't need your lousy scoring title: The Virginia Tech wing is one of the top scorers in the country yet gets very little credit or recognition. But that seems to be just fine with him.
Florida grabs No. 1 seed in East in latest bracket: Dave Ommen, College Basketball Talk's resident bracketologist, is back with another bracket breakdown. He's got Kansas as the top No.1-seed and Kentucky, Saint Louis, Iowa State, Indiana State, and Arizona State as the last five in.
 
 
Hoops Housekeeping:
– North Carolina guard P.J. Hairston was taken off the court on a stretcher last night against Boston College after suffering a pretty nasty concussion. (Sporting News)
– Missouri's Laurence Bowers is expected to return tonight against LSU. Bowers hasn't played since injuring his knee against Alabama on January 6. (Eye on College Basketball)
– New Mexico State center Tshilidzi Nephawe was cleared to practice yesterday for the first time since undergoing surgery in December. (Las Cruces Sun-News)
 
 
Observations & Insight:
– Nerlens Noel finished with just two points last night against Ole Miss, but was pivotal in the Wildcats' signature road win, as he set the Wildcats' single-game record for blocked shots. Murphy Holloway said after the game that Noel was the best shot blocker he has ever played against. (Kentucky Sports Radio)
– A fan at the Ole Miss-Kentucky game threw ice on to the court. As he is one to do, Marshall Henderson picked up the ice and threw it back. This.Guy.Is.Awesome. (The Big Lead)
– Indiana's use of the 2-3 zone against Michigan State this weekend, a game they won 75-70, was heavily scrutinized by the media. But Dustin Dopriak explains why the zone wasn't actually that bad. (Hoosier Scoop)
– Virginia's win over North Carolina State last night will certainly help people forget about the Cavaliers' loss to 2-17. The Cavaliers are going to be one of the more interesting teams come Selection Sunday. (The Dagger)
– I for one though Washington State's Brock Motum was going to have a Pac-12 PoY-type year. But the Australia-native has struggled to regain his 2012 form. That has, however, opened up the door for Mike Ladd to emerge as a scoring option. (Coug Center)
– Minnesota got back on track following a four-game losing streak by drubbing Nebraska. (Minneapolis Star-Tribune)
– Federal Judge Claudia Wilken made a ruling on Tuesday that may allow NCAA athletes to legally pursue TV money. (ESPN)
– Joe Lunardi is starting to pop up more frequently, which means March Madness is just around the corner. The world-class bracketologist provides his list of teams that may or may not be in good shape come Selection Sunday. (ESPN Insider)
– Some good press on Oklahoma State freshman Phil Forte, who is often overshadowed by his high school teammate and current Cowboy teammate Marcus Smart. (The Oklahoman)
– Deshaun Thomas scored 25 points last night in the Buckeye's 58-49 win over Wisconsin and is playing as well as anybody in the country. (Columbus Dispatch)
– With Indiana State beating Wichita State, a team who beat Creighton, is the Missouri Valley Conference a three-team race? (Catch and Shoot Blog)
 
 
Video(s) of the Day:
Just one of the many faces of Marshall Henderson. (The Big Lead)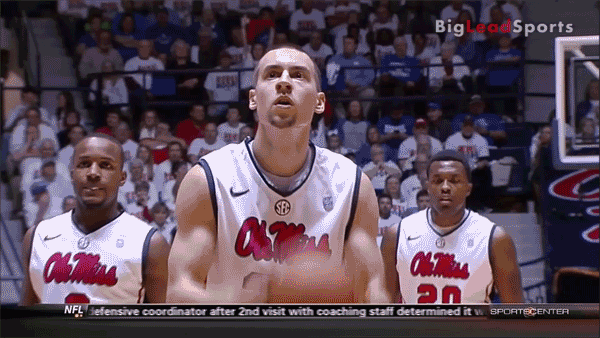 Dunk(s) of the Day:
Ra'Shad James from Northwood University (D-II) needs to be in the NCAA Dunk Contest. Dude can soar. Somebody book this kid a trip to Atlanta.
[youtube http://www.youtube.com/watch?v=pnAUYl1syv0&w=560&h=315%5D
 
 
Do you like the new Morning Mix? Hate it? Have a suggestion or want something featured? Troy Machir will take all your praise, insults and inquiries via Twitter (@TroyMachir)