Look at this picture (well, if you're squeamish, don't):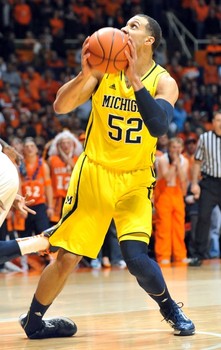 What's your first thought?
Because mine was, 'Have a nice offseason, Jordan. Hopefully, you'll be back to 100% by the time next season starts.'
There's no way that an ankle that rolls that far — seriously, his foot is at a 90-degree angle and the side of his shoe is touching the court while he's standing up — and there's nothing seriously damaged in there, right?
Wrong. At least according to John Beilein:
"We don't think there's any break (in his ankle) from the X-rays," Beilein said Monday night on his weekly radio show. "It's a sprain."

[…]

Beilein said Morgan went in for X-rays on his ankle Monday morning, and added that if he's able to play Wednesday when No. 1 Michigan hosts Northwestern, then he'll be in the lineup.

He did not hint that he'd sit Morgan just for the sake of resting him against a Wildcat team the Wolverines beat by 28 points earlier this month.

If he can play, he'll play. But if he's still hurt, he won't.
That's good news for the Wolverines, as Morgan is their best big man. But it should be comforting for Big Blue fans to know that they can survive just fine with Morgan on the bench with a bum ankle. Against Illinois on Sunday, Mitch McGary and Jon Horford combined for 13 points and 12 boards — five offensive — in 33 minutes. And when they got in foul trouble, Max Bielfeldt popped in and added four points and a pair of offensive boards.
You can find Rob on twitter @RobDauster.