How can we really begin to describe this past weekend? A bat got loose at the Bradley Center. Northern Illinois scored 4 points in a single half. Marshall Henderson almost got bum-rushed by the Auburn student section. North Carolina got trounced. UCLA got trounced. Syracuse lost, Louisville lost. Heck, Lehigh lost at home to Lafayette by 21 points.
Were the games great? Ehh, not really.
But was it another entertaining weekend of hoops?
Unequivocally yes.
Let's hit the links.
Monday's Top games:
7:00 p.m. – Pittsburgh @ No. 5 Louisville
7:00 p.m. – Delaware @ Drexel
9:00 p.m. – No.3 Kansas @ West Virginia
9:00 p.m. – South Florida @ Marquette
Top Stories:
Ryan Arcidiacono's heroics help Villanova beat No. 3 Syracuse in overtime thriller: No team had a better week than the Villanova Wildcats. They defeated No. 5 Louisville on Tuesday and followed it up with a thrilling 75-71 overtime victory over No. 3 Syracuse on Saturday. Jim Boeheim decided to against fouling up three, and Villanova freshman guard Ryan Arcidiacono hit a big 3-pointer to send the game in overtime.
Georgetown's improvement showing in upset win over No. 5 Louisville: Georgetown finished up a strong week of work with a 53-51 win over No. 5 Louisville. The Hoyas are one of the most puzzling teams in the country, having lost to Pittsburgh by 28 points just 18 days ago. But the Hoyas continue to improve, and it showed.
Louisville benches Russ Smith, but offensive issues persist in third straight loss: It's been a tough week for the Cardinals. Rick Pitino tried to provide a spark by having Russ Smith come off the bench on Saturday against Georgetown. But nothing seemed to work offensively for the Cardinals. The teams offense has been off of late and will need to be addressed if they hope to recapture their top-5 ranking.
Loose bat at Bradley Center delays Marquette-Providence: A bat got loose in the Bradley Center on Saturday and disrupted the Providence vs. Marquette game. Seriously. A Bat caused havoc during a basketball game. Check it out.
What was Jordan Adams thinking with steal at end of UCLA's loss to Arizona St.? UCLA's Jordan Adams wouldn't let Arizona State dribble out the clock despite the Sun Devils 18-point lead. Unfortunately for the freshman, his fast-break layup was cut short thanks to a ferocious block from Carrick Felix. This is how you close out a game.
No. 12 Minnesota loses fourth straight game, falls at Wisconsin 45-44: The Gophers have not won since smacking Illinois on the road 17 days ago, and many believed Minnesota was ready to contend with Michigan and Indiana for the Big-10 Championship. But in just 17 days the Gophers have slid back to the middle of the pack thanks to turnovers, shooting woes and a lack of depth.
VIDEO: No. 15 New Mexico loses their first Mountain West game to SDSU: No. 15 New Mexico entered Saturday's at San Diego State as the only undefeated team remaining in the Mountain West. 34 points later, the Lobos left with a 55-34 loss to the Aztecs in a game that should give you a sense of just how tough that conference is going to be this year.
Rotnei Clarke scores 24 to help beat Temple in first game back from neck injury: After missing the Bulldogs last three games due to injury, Rotnei Clarke returned to action and outdueled Temples Khalif Wyatt as Butler got a bounce-back win over the Owls.
Observations & Insight:
– What you are about to read is not an error a mistake. Northern Illinois scored 4 points in the first half of their game on Saturday against Eastern Michigan. Final score was 42-25. Yuck. (The Dagger)
– The legendary "Blue II" Butler bulldog will be retiring at the end of the season and will turn his collar over to his protege "Trip". (The IndyChannel.com)
– Teams from the Big-5 had been struggling this year. Temple is inconsistent, Saint Joseph's hasn't lived up to expectations and Drexel has been plagued with injuries. but thanks to the huge weeks from La Salle and Villanova, Philly is back on the hoops map. (USA Today)
– Mike DeCourcy's "Full Court Press" covers a lot of topics, including whether or not a coach should foul when his team up three. (The Sporting News)
– No one does a "Weekend Stock Report" as good as Jeff Eisenberg. No team saw their stock skyrocket as much as La Salle. OK, maybe Villanova. (The Dagger)
– Eammon Brennan's observations from the weekend are spot on: Keep an eye on Arizona State, Kentucky isn't a tournament team, Minnesota's losses are starting to accumulate and much more. (ESPN)
– John Gasaway has some solid thoughts as well: North Carolina is firmly on the bubble and there's a reason why VCU has to play HAVOC on defense. (ESPN Insider)
– Seth Davis breaks down the best of the week in his "Fast Break". Nice to see Stony Brook's Tommy Brenton get a shoutout. the do-everything wing logged the first triple-doulbe in program history over the weekend. (Sports Illustrated)
– North Carolina had a shot at making a comeback against NC-State on Saturday, but Roy Williams got too "cute" with his bench and the Tar Heels could never close the gap. (Busting Brackets)
– Deshaun Thomas has been putting up some big numbers this season. Here's a statistical breakdown of where he ranks up against other recent Buckeyes. (Eleven Warriors)
– Victor Oladipo propelled the Indiana Hoosiers to a hard-fought victory over Michagan State on Sunday. Following game, Tom Izzo referred to Oladipo as "The Ray Lewis of college basketball". (Inside the Hall)
– Louisville commit Terry Rozier scored 68 points in a high school game this weekend. Get them out of your system now. The highest single-game total this season is 47, set this week by Oakland's Ryan Bader. (Card Chronicle)
Video of the Day:
Marshall Henderson is turning in to the most hated player in the country. He's extremely fun to watch unless you are a fan of his opposition. He's got some J.J. Reddick in him. (College Basketball Talk)
Video of the Day:
Aaron Bowen's circus shot put-back sealed a huge home victory for the Hoyas this weekend over Louisville. (H/T @CasualHoya)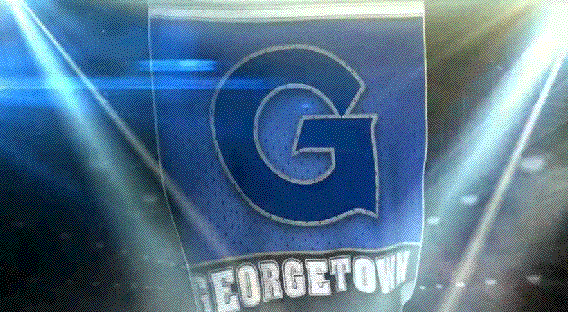 Dunk of the Day:
James Madison's A.J. Davis posterized Nick Wright so hard that the Old Dominion forward got knocked out of the game. The Dukes won 56-46. (JMU Sports Blog)
[youtube http://www.youtube.com/watch?v=3XEznfyW8rs%5D
Dunk of the Day:
Are you kidding me Mason Plumlee? We may not see another dunk this season with a degree of difficulty as high as this one. Impressive.
[youtube http://www.youtube.com/watch?v=ouviemuMvf4%5D
Dunk of the Day:
Ivy League kids know how to dunk too. Wow. That's a legitimate banger right there.
[youtube http://www.youtube.com/watch?v=XMmV0lYaf6E&w=560&h=315%5D
Do you like the new Morning Mix? Hate it? Have a suggestion or want something featured? Troy Machir will take all your praise, insults and inquiries via Twitter (@TroyMachir)