This is one of those special days in college basketball. What we might have missed out on with marquee Top 25 matchups, we can make up for with bizarre on-court events.
Take, for example, this scene at the Bradley Center in Milwaukee, where a loose bat delayed play because it caused panic every time it flew across the court. The GIF below shows Sidiki Johnson doing a nice Matrix-like move to avoid the oncoming bat. It's so chuckle-worthy that it's worth watching a few times.
Facility managers at Bradley Center even turned the lights out to try to catch the bat with 7:36 left in the game, creating this eerily gorgeous scene: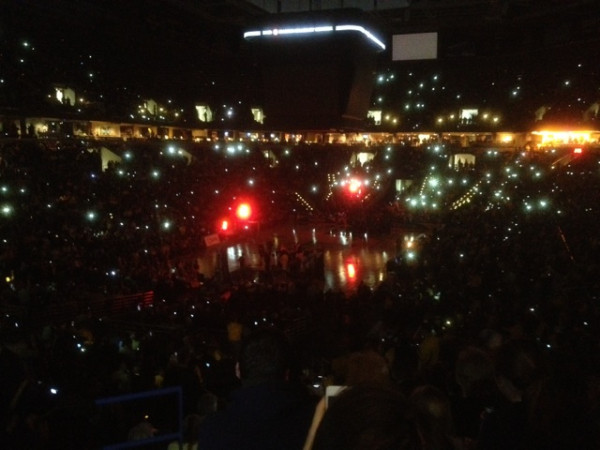 The goal was to try and get the bat to settle in the rafters. The theory was that it was attracted to the brightness of the court.
[youtube=http://youtu.be/O5uhMnwrQXs]
"It was funny to begin with," Marquette coach Buzz Williams told the Milwaukee Journal-Sentinel. "But after awhile, it was, 'Damn the bat. We have to win.' There is going to be a winner and a loser. There's not going to be an asterisk that said a bat was in the building."
But there will be this blog post.
And if you'll notice, I didn't once mention who won the game. (Until now, Marquette did. ""There were no bright spots in the game except for Batman and Robin in the damn building," Providence coach Ed Cooley said. "Actually, it was pretty funny. I thought the officials were more afraid than anybody.")
(h/t @ bubbaprog and @anonymouseagle)
(Image via screengrab of the broadcast)
Daniel Martin is a writer and editor at JohnnyJungle.com, covering St. John's. You can find him on Twitter:@DanielJMartin_