"Upset Week" continued last night on the college hardwood. Minnesota lost to Northwestern, Creighton lost to Drake, Butler lost to La Salle and Miami absolute demolished Duke. There were also at least six other games that can be classified as upsets as well.
Oh, and Drexel's Frantz Massenat hit a 50-foot buzzer-beater to beat Hofstra.
Lets hit the links.
Thursday's Top games:
7:00 p.m. – Purdue @ No. 2 Michigan
7:00 p.m. – No. 19 VCU @ Richmond
7:00 p.m. – Tennessee @ No. 23 Ole Miss
7:00 p.m. – Davidson @ Western Carolina
8:00 p.m. – Middle Tennessee North Texas
8:30 p.m. – California @ Utah
9:00 p.m. – UCLA @ No. 6 Arizona
9:00 p.m. – Wyoming @ UNLV
10:00 p.m. – Stanford @ Colorado
10:30 p.m. – USC @ Arizona State
11:00 p.m. – BYU @ Gonzaga
11:00 p.m. – San Diego @ Saint Mary's
Read of the Day:
A lot of articles were written yesterday about the NCAA's huge gaffe in the Nevin Shapiro case. Make sure you read Dana O'Neil's take. It's as spot-on as spot-on can be. (ESPN)
Read of the Day:
Luke Winn Power Rankings. That is all. (Sports Illustrated)
Top Stories:
What does tonight's blowout loss mean for No. 1 Duke?: The Blue Devils lost to Miami by 27, and the score doesn't properly indicate how bad the loss was. With no Ryan Kelly, and a banged up Seth Curry, the Blue Devils may be in an interesting predicament.
Drexel's Frantz Massenat sinks 50-foot buzzer-beater to defeat Hofstra: Drexel was picked to win the Colonial Athletic Association this season, but as a result of injuries and inconsistent play during the first two months of the year, the Dragons have been a bit of a disappointment. That all changed on Wednesday night thanks to Frantz Massenat, who hit a 50-foot heave at the buzzer to beat Hofstra, 55-52.
Ramon Galloway's last-second bucket earns La Salle upset of No. 9 Butler: Hinkle Magic doesn't travel with Butler, as the Bulldogs were on the wrong end of a game-winning shot against La Salle last night. Ramon Galloway had a quiet night with just six points, but with time running out he drove the length of the floor, finishing a layup on the left side of the rim with two seconds left on the clock.
Despite Trevor Mbakwe's effort, No. 14 Minnesota falls in upset loss to Northwestern: Northwestern's zone disrupted Minnesota all night, holding coach Tubby Smith's team to 33 percent shooting, including 5-of-19 from three-point range. That, added to 15 Minnesota turnovers, sunk the Gophers on Wednesday.
Drake holds off second-half run to upset Doug McDermott, No. 17 Creighton: In line with Wednesday's theme of Top 25 upsets, unranked Drake used 20 points from guard Richard Carter to beat No. 17 Creighton, 74-69. The Bluejays have now lost-straight, although Doug McDermott played the game while battling the flu.
Scott Martin reportedly might never play for Notre Dame again due to injury: Notre Dame senior Scott Martin will be sidelined for two to three weeks as he takes time to rest an aching knee. There is the possibility, though, that the nagging injury will keep him off the court for the remainder of the year, effectively ending his college career.
CBT Podcast: Miami, Ole Miss and Oregon on the rise, Missouri and Notre Dame fall back: Host Troy Machir is joined by College Basketball Talk writer Raphielle Johnson to discuss a litany of different topics, including the teams and players that haven't gotten the recognition they deserve, for both good and bad reasons. Miami, Butler and Ole Miss are just a few of the teams that deserve some recognition, and that's exactly why we are here.
NCAA investigating improper conduct in Nevin Shapiro case, good news for Frank Haith: The NCAA may have made a rather large mistake in the Nevin Shapiro case, which could help out Frank Haith's cause. What's more, the NCAA may have had Shapiro's attorney on their payroll, only no one actually approved it. They realized it when the bill showed up and people started asking questions.
Could the NCAA's latest gaffe create a change to enforcement practices?: On Wednesday it was announced that the NCAA may have botched the air-tight case against Miami booster Nevin Shapiro. You would think that the NCAA would make some changes regarding enforcement policies, but again, this is the NCAA we are talking about.
Observations & Insight:
– Goodman and Parrish updated their Player of the Year rankings, and they have Dougie McBuckets at the top. (Hey wait a minute, I coined that phrase!). (Eye on College Basketball)
– If you thought Miami's destruction of Duke was bad, check out what Southern Miss did to Marshall. 47-5 first half run. Final score: 102-46. Kyle Ringo provides the gory details. (The Dagger)
– C.J. Moore explains why Russ Smith's trigger-happy approach will hinder the Cardinals' chance at winning a National Championship. (Los Angeles Times)
– Believing is half the battle, and the Kansas Jayhawks believe they should win. (KUSports.com)
– Ryan Fagan profiles four teams once thought to be contenders that are now slipping in sliding down the top-25. (Sporting News)
– UCLA heads to the McKale Center to face off against Arizona in the game of the night. As Bruce Pascoe explains, the Bruins are a perfect opponent for the "White Out" event. (Arizona Daily Star)
– There were a lot of shocking surprises on Wednesday night, and Lehigh's road victory at Bucknell is right up there near the top considering they did it without C.J. McCollum. (The Patriot News)
– Seton Hall's Brandon Mobley and Brian Oliver returned from injury and scored a combined 23 points in the Pirates' 55-47 win over South Florida. The win snapped a four-game losing streak for the Pirates. (New Jersey Hoops Haven)
– Iowa State was another team on the wrong end of an upset last night, as the Cylcones fell to Texas Tech (Ames Tribune)
– Akron center Zeke Marshall had nine blocks last night. No other MAC players has blocked nine shots in one game. Marshall has now done it twice. (Hustle Belt)
– North Carolina won their third straight game last night, defeating Georgia Tech 79-63. During the waning moments of the game, fans could be heard chanting "Go to Hell, Duke". Classic. (USA Today)
Picture of the Day:
Reggie Johnson made his return last night in Miami's drubbing of top-ranked Duke. Here he is throwing up "the deuces" with a fan following the 27-point victory and subsequent court-storming. What a swell guy.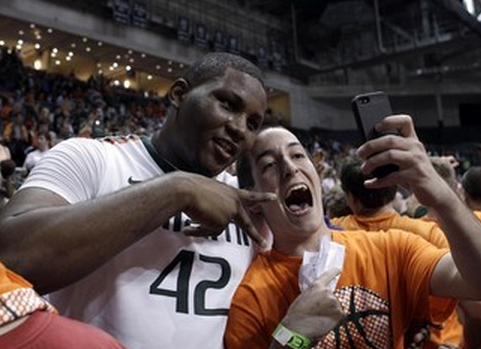 Video of the Day:
Pierce Hornung should really practice his shot-blocking before he attempts to stand in Tony Snell's way. Bad idea.
[youtube http://www.youtube.com/watch?v=uDShnijESRc&w=560&h=315%5D
Do you like the new Morning Mix? Hate it? Have a suggestion or want something featured? Troy Machir will take all your praise, insults and inquiries via Twitter (@TroyMachir)