Thomas de Thaey left the NC State basketball program back in November.
According to his twitter feed, the decision was made because his father was battling cancer back in his native Belgium and he needed to be closer to him.
Understandable.
But one can't help but wonder whether or not there was more to it than that.
Because after NC State lost to Wake Forest on Tuesday night, de Thaey had the following to say about head coach Mark Gottfried (I'm linking the tweet, but using a screen-grab in the post in case he decides to delete it):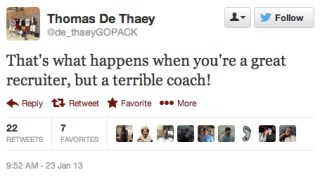 OK, whatever, a former player that didn't get much playing time spouting off on twitter. That's happened before. It will happen again. It's not a big deal.
But this is: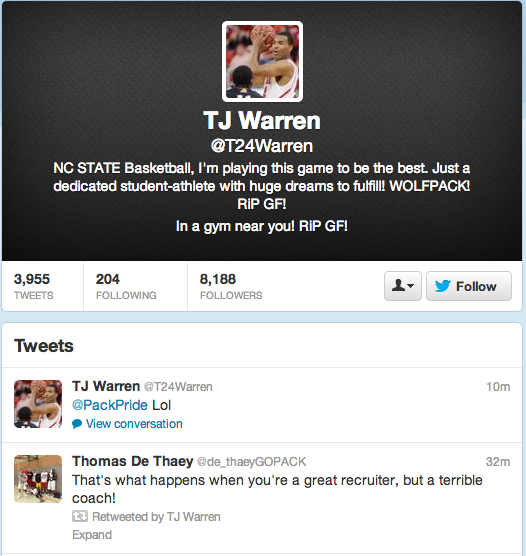 Yup, that's NC State freshman TJ Warren retweeting a former teammate ripping his current head coach. As we all know, an RT does not equal an endorsement. It could be Warren simply pointing out and mocking a bitter ex-teammate. Who knows.
But it's something worth keeping an eye on. And it's something I'm sure Warren will be hearing about.
(UPDATE: Warren has deleted the retweet.)
(h/t Run The Floor)
You can find Rob on twitter @RobDauster.