Let's see. Louisville lost to Villanova. North Carolina State lost to Wake Forest. Missouri almost lost to South Carolina. Kentucky lost to Alabama. Oh wait, that last one isn't all that surprising.
Oh, and as usual, Kansas won.
Yeah, it was that kinda night in college hoops.
Lets hit the links.
Wednesday's Top Games:
6:00 p.m. – Lehigh @ Bucknell
7:00 p.m. – No. 1 Duke @ No. 25 Miami
7:00 p.m. – Penn State @ No. 7 Indiana
7:00 p.m. – No. 9 Butler @ La Salle
7:00 p.m. – George Mason @ Towson
7:30 p.m. – Xavier @ Charlotte
8:00 p.m. – No. 8 Florida @ Georgia
8:00 p.m. – Colorado State @ No. 15 New Mexico
8:00 p.m. – Fresno State @ Boise State
8:05 p.m. – No. 17 Creighton @ Drake
8:05 p.m. – No. 20 Wichita State @ Missouri State
8:05 p.m. – Green Bay @ Valparaiso
9:00 p.m. – No. 12 Minnesota @ Northwestern
9:00 p.m. – Georgia Tech @ North Carolina
9:30 p.m. – Washington State @ No. 16 Oregon
10:00 p.m. – San Diego State @ Nevada
11:00 p.m. – Denver @ New Mexico State
11:30 p.m. – Washington @ Oregon State
 
 
Read of the Day:
If it's Wednesday, you can expect the RotD to be Andy Glockner's "Bubble Watch". I still judge Glockner because he was a place kicker and supports Fulham FC, but as far as his "Bubble Watch" goes, it's the best in town. (Sports Illustrated)
Read of the Day:
Eric Prisbell hits a home run with his story on the difficult past of Oklahoma State guard Marcus Smart. Read this. (USA Today)
 
 
Top Stories:
CJ Leslie, NC State's defense cost No. 18 NC State in upset by Wake Forest: In the Wolfpack's 86-84 loss to Wake Forest, the most talented player on the NC State roster took just nine shots from the floor. He finished with just 13 points and five boards. This was the third straight court-storming NC State has been a part of. They have been on the wrong end of the most recent two.
Alex Oriakhi and Jabari Brown help No. 22 Missouri escape upset vs. South Carolina: Missouri escaped what would have been a bad loss at home against South Carolina Tuesday, pulling away in the final minute to win, 71-65. Brown finished with 17 points on 5-of-16 shooting and sank a 3-pointer with 17 seconds remaining to put the game on ice.
No. 3 Kansas wins at No. 11 Kansas State, their 16th straight victory: The Jayhawks went on the road to a raucous Bramlage Coliseum and earned a hard-fought 59-55 win over their in-state rivals. But it's tough to have a game be considered a rivalry when one team is clearly little brother. Kansas has now won 45 of their last 48 games against the Wildcats, including 23 of their last 25 at "The Octagon of Doom".
No. 5 Louisville struggles with fundamentals in upset loss to JayVaughn Pinkston, Villanova: Five players scored in double figures for Villanova as the unranked Wildcats upset No. 5 Louisville, 73-64. The Cardinals struggled in all facets of the game, including a season high 17 turnovers.
Jabari Parker talks about teen killed after Simeon game: Tyrone Lawson, a 17-year-old was shot and killed after Simeon defeated Madison Park 53-51 at Chicago State last week, though a brawl took place during post game handshakes. The Duke-bound phenom spoke about the ordeal and what it's been like since that game.
Report: DC high schooler, top 150 recruit Junior Etou lied about his age: Junior Etou is a 6-foot-7 forward that plays at Bishop O'Connell in Arlington, VA, after transferring into the program from Arlington Country Day school in Jacksonville, FL. He's ranked as the 142nd overall player, according to Rivals. But according to Dave McKenna, the native of Congo is actually 20 years old, meaning he's too old to be playing high school basketball.
Oklahoma freshman James Fraschilla battles Gonzaga's Rem Bakamus for best air guitar celebration: The son of ESPN's Fran Fraschilla broke out his best air guitar during the Sooners' Monday night win over Texas. But is it better than the "3tar" displayed by Gonzaga's Rem Bakamus?
 
 
Hoops Housekeeping
– Former Providence forward James Still was sentenced to 4 years in prison yesterday for felonious assault. (Providence Journal)
– Texas forward Jonathan Holmes suffered a broken right hand in the Longhorns' 73-67 loss to Oklahoma on Monday. No timetable has been set for his return. (Dallas Morning News)
– Shabazz Napier continues to rehab his injured shoulder and should be good to go for UConn's game on Sunday against Rutgers. (New Haven Register)
 
 
Observations & Insight:
– More teams are going to wear ugly Nike uniforms similar to what Gonzaga wore on Saturday against Butler. (The Dagger)
– One way to measure the growth of a program is by their method of travel. No longer are the Butler Bulldogs forced to travel by bus. Nowadays the Bulldogs fly in style. (Indianapolis Star)
– Creighton and Wichita State are clearly the favorites in the Missouri Valley Conference, but we should not count out the Sycamores of Indiana State. (Omaha World-Herald)
– It's no secret that the San Diego State Aztecs are struggling. They scored nine first half points in their game on Saturday against Wyoming. But do we know why they are struggling? It might have to do with the back injury to Xavier Thames. (San Diego Union Tribune)
– "State has no one to blame but itself for stunning loss at Wake." Yup. Agreed. And ditto. (Wilmington Star News)
– if UConn wants to avoid getting stuck with the pack in the Big East, they will need to avoid any bad losses as they enter the easiest phase of their schedule. (The UConn Blog)
– Last night was not a good one for college basketball fans in the Commonwealth. (College Hoops Digest)
– Some solid NBA draft discussion here from the Big Lead. Where does Michael Carter-Williams go? (The Big Lead)
The NCAA has reached a sponsorship deal with Buffalo Wild Wings to be the 'official hangout' of the March Madness men's basketball tournament. Unless they do couch-side delivery, I want no part in Buffalo Wild Wings come March. (CBS Sports)
 
 
Picture of the Day:
Remember this guy? Of course you do. Well he came prepared for Nerlens Noel last night in Tuscaloosa. (Kentucky Sports Radio)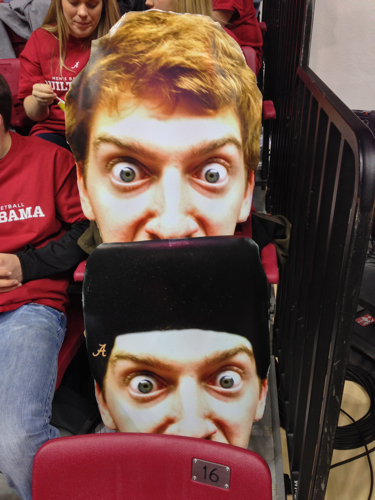 Video of the Day:
Cornell basketball gets into the Ivy League spirit by singing some Neo. Of course they do. (The Big Lead)
[youtube http://www.youtube.com/watch?v=ToHKKzzOzfs&w=420&h=315%5D
 
 
Do you like the new Morning Mix? Hate it? Have a suggestion or want something featured? Troy Machir will take all your praise, insults and inquiries via Twitter (@TroyMachir)