Now that Inauguration Monday/MLK Day is in the books, we can start to look forward to anther solid week of college basketball. Everybody was bemoaning the loss of the Kansas/Missouri rivalry game when the Tigers jumped to the SEC. But the Jayhawks take on their other rivals, you know, the Sunflower State university, tonight in what should be a very entertaining Super Tuesday tilt. Methinks the Octagon of Doom is going to be just a bit chaotic.
Lets hit the links.
Tuesday's Top Games:
6:30 p.m. – Iowa @ No. 16 Ohio State
7:00 p.m. – No. 13 Michigan State @ Wisconsin
7:00 p.m. – No. 18 North Carolina State @ Wake Forest
7:00 p.m. – South Carolina @ No. 22 Missouri
8:00 p.m. – No. 3 Kansas @ No. 11 Kansas State
8:00 p.m. – No. 5 Louisville @ Villanova
8:00 p.m. – Tulane @ Memphis
9:00 p.m. – Kentucky @ Alabama
 
 
Top Stories:
Report: Frank Haith, Miami to be served with notice of allegations from NCAA: According to Jeff Goodman, the current Missouri head coach will be served a notice of allegations for his involvement with Nevin Shapiro during his time as head coach at Miami.
Carter-Williams, Triche lead Syracuse to win over Cincy down the stretch: For the second straight game the backcourt duo of Brandon Triche and Michael Carter-Williams led the way for the Orange. C.J. Fair tipped in a Jerami Grant miss with 20 seconds remaining to win the game for Syracuse.
Cory Jefferson, Isaiah Austin, finally play like Baylor's twin towers: The Bears beat Oklahoma State 64-54 to improve to 12-5 on the season and Isaiah Austin and Cory Jefferson combined for 11 blocks in the win.
Good Georgetown shows up, beats Notre Dame on the road: is there a more puzzling team in college basketball than the Georgetown Hoyas? Lost to Pittsburgh by 29, went to overtime against Indiana, lost to 0-4 South Florida, and beat UCLA> On Monday night, the good Hoya team showed up in South Bend and had arguably their most impressive win of the season. And road wins at the Joyce Center are few and far between.
Utah State loses Preston Medlin, Kyisean Reed, WAC title hopes: Both Preston Medlin and Kyisean Reed left in the second half of Thursday's game with NMSU, and they won't be returning anytime soon. Medlin will be out for 6-8 weeks after breaking his wrist. Reed is done for the year with a torn ACL. The two had combined to average 28.4ppg.
Bob Huggins tees off on team's effort, apologizes to West Virginia fans: Not many teams have been more disappointing this season than West Virginia. The always colorful head coach sounded off about his teams struggles, which included an apology to Mountaineer fans.
Catching up with Kyle Casey, Brandyn Curry during year away from Harvard: Kyle Casey and Brandyn Curry are no longer members of the Harvard basketball program because of a widespread cheating scandal that rocked the university. But the two have not sat idly by. Curry is working in the insurance industry and Casey is giving back to his community.
NCAA rulebook underwent major changes on Saturday: The NCAA's Board of Directors voted in changes " to deregulate in several areas, including personnel, amateurism, recruiting, eligibility and awards, benefits and expenses, and create a set of commitments that will serve as the foundation for all future rules changes."
 
 
Hoops Housekeeping
– Butler's Rotnei Clarke will miss another game for the Bulldog as he continues to recover from a neck sprain. Fresh off their magical buzzer-beating win over Gonzaga on Saturday, the Bulldogs will travel to LaSalle on Wednesday. (WISHTV-8)
– Joel Berry, a top-5 guard in the class of 2014, committed to North Carolina yesterday. (Hoopniks)
– Hawaii guards Hauns Brereton and Brandon Jawato are battling nagging injuries and their status for the Warriors' game at Cal-Poly on thursday is still undecided. (Warriors Insider)
 
 
Observations & Insight:
– The ACC hasn't exactly been known for its parity over the last few seasons. It has been a conference of haves-and-have nots. But with games defined by low-scoring outputs, the gap at the top is not very large. (Washington Post)
– With the home loss to Georgetown last night, Notre Dame has now lost three out of their last four, with the lone win being by three points against Rutgers. Needless to say, this is not what the Irish expected heading in to Big East play. (The Dagger)
– Bruce Weber is hoping to bring a different style of play into the Sunflower State showdown between the Kansas Jayhawks and his Kansas State Wildcats. (Wichita Eagle)
– Stephen F. Austin doesn't get a lot of love, but the Lumberjacks have won 11 in a row, are undefeated in the Southland Conference and are climbing up the TPI rankings. (Fox Sports)
– Mike Anderson took the job at Arkansas to revitalize the Razorbacks program. It will take a while, and the fanbase has been hesitant to buy in for the long haul. (Sporting Life Arkansas)
– A.J. Walton has been at Baylor for four seasons, and has rarely, if ever, garnered any attention, despite being the winningest player in Baylor basketball history. But his performance last night against Oklahoma State should help raise his public profile. (Rush The Court)
 
 
Odds & Ends:
– Manti Te'o's fake girlfriend tried to reach out to Louisville guard Peyton Siva during last year's NCAA Tournament. (Card Chronicle)
Picture of the Day:
Oregon State head coach Craig Robinson, the brother of First Lady Michelle Obama, dropped an epic photo-bomb on his Brother-in-Law yesterday. (@FangBites)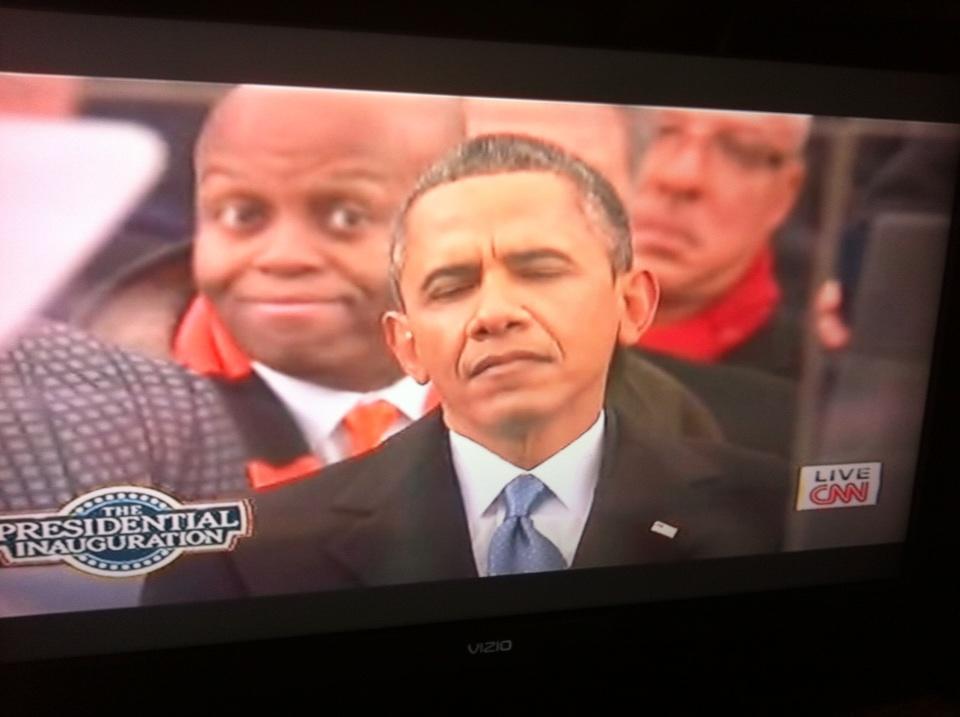 Video of the Day:
This is the view from Butler students Saturday as their Bulldogs knocked off Gonzaga is the best finish of the season. This video is "MUST-WATCH".
[youtube http://www.youtube.com/watch?v=NG5aduS6wCQ&w=560&h=315%5D
 
 
Dunk: of the Day:
Kiddos. Watch tape of Michael Carter-Williams if you want to know how to "go hard in the paint".
[youtube http://www.youtube.com/watch?v=LsM1MrPPfM4&w=560&h=315%5D
 
 
Do you like the new Morning Mix? Hate it? Have a suggestion or want something featured? Troy Machir will take all your praise, insults and inquiries via Twitter (@TroyMachir)