One of the better trends sweeping the college basketball nation this season has been the growing number of reactionary sideline celebrations.
The trend got its start back in February 2012 when Seton Hall walk-on Peter Dill unveiled "The Hammer of Dill" to the entire word, and the game has never been the same since.
With Dill having graduated from Seton Hall, walk-ons across the country have taken torch from Dill and are doing what they can to provide their team with a much-needed spark off the bench, without even having to take off their warm-ups.
Last night during Oklahoma's 73-67 win over Texas, Sooners' walk-on guard James Fraschilla, the son of ESPN Analyst Fran Fraschilla, pulled out his invisible 6-string and went to town. Not too soon after, his fellow benchmates got in to the action.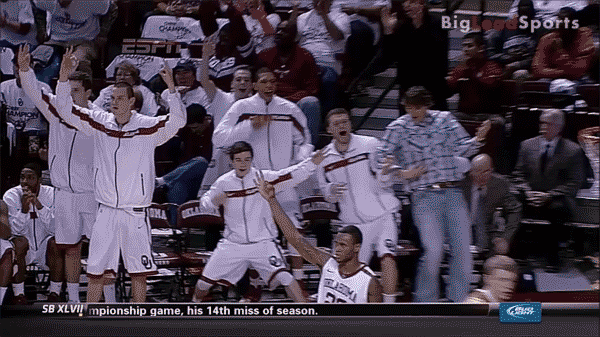 (Via The Big Lead)
But this was not the first time we've seen a member of the bench mob pull out an air guitar this season.
Rem Bakamus is a walk-on guard for the Gonzaga Bulldogs. While the freshman has played in just five games this season, he makes sure to do his part to provide energy from the bench. Back in December against Illinois, in a game the Bulldogs lost 85-74, Bakamus did just that, providing one of the best air guitars the college basketball world has ever seen.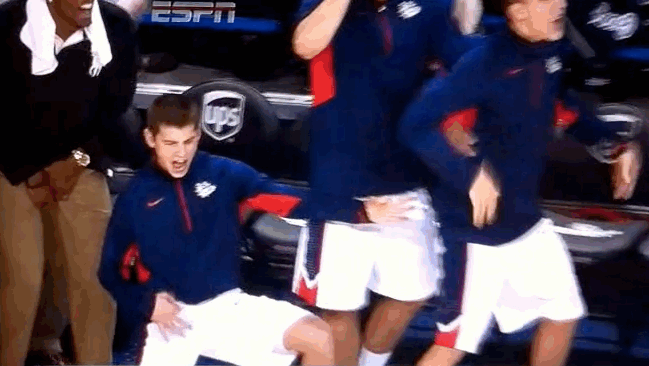 (Via Cosbys Sweaters)
But what really makes this even better is that there is a bond between Fraschilla and members of the Gonzaga program. Back in December, Fraschilla put together his second trick shot video benefiting the Hayden's Hope foundation, a charity which raises money for children's organ transplants. During the video, members of the Gonzaga program, including Bakamus, make a cameo.
[youtube http://www.youtube.com/watch?v=32UG_qHCpk0&w=560&h=315%5D
(Go to 1:10 for the appearance)
So while most of us probably think that Fraschilla's air guitar performance on Monday night was reactionary, based on the evidence, one must assume that it was pre-meditated. And that makes this so much better.
Walk-ons don't get to think about the number of shots they are going to take, or if they are going to try a self-alley-oop pass off the backboard. So can we blame them for planning a creative celebration on the sidelines?
Absolutely not.
And I really hope Bakamus and Fraschilla continue their game of one-upsmanship.
UPDATE: I've been informed via twitter that the scientific term for this specific type of air guitar is called "The #3tar". It looks like we can finally abandon the 3-goggles in favor of a shiny new 3tar.
You can reach out and contact Troy Machir on Twitter at @TroyMachir