Today's Morning Mix is rather light. We want you to save up you energy for tomorrow, which looks like the most fully loaded day of hoops we've seen all season.
Oh, and you can take tonight off. There are only three games on tonight. We got you covered.
Lets hit the links.
Friday's Top Games:
7:00 p.m. – Stony Brook @ Vermont
7:00 p.m. – Jacksonville @ North Florida
7:00 p.m. – Fairfield @ Iona
 
 
Read of the Day:
Former-Virginia Tech forward Allen Chaney was away from the game for 44 months thanks to viral myocarditis, an inflammation of the heart, but he's now getting a second shot at hoops at High Point, and making the most of it. Ryan Fagan has the story. Read it. (The Sporting News)
 
 
Top Stories:
No. 10 Florida holds Elston Turner to four points, beats Texas A&M: Four days after going into Lexington and earning a win against Kentucky, Texas A&M was set to host a beat up Florida team with a chance to really make a statement to the folks that put together bubble projections. Unfortunately for the Aggies, Elston Turner scored 37 points less that he did on Saturday and the Gators rolled over Texas A&M with "Johnny Football" in attendance.
No. 5 Michigan holds on to win at No. 9 Minnesota, 83-75: m Hardaway Jr. led Michigan with 21 points and Trey Burke added 18 points and nine assists as the Wolverines opened up an 18-point lead and withstood a strong Gophers comeback to earn the bounce-back on the road at the Barn.
10 tidbits to know: Great coaching in the state of Maryland: NBC Sports Talk's College Hoops Insider, Vin Parise, is back with his weekly look at ten interesting tidbits. This week he dishes on the coaching success taking place in "The Old Line State", and an interesting non-conference game taking place this weekend.
Florida Atlantic and Middle Tennessee looking to leave Sun Belt early? Florida Atlantic and Middle Tennessee are reportedly negotiating with the Sun Belt Conference to leave after the current academic year instead of waiting until 2014 according to Dan Wolken of USA Today. The two programs will join the reconfigured Conference USA, which will lose four of its members to the Big East Conference at the end of the 2012-13 academic year.
Frank Haith's lawyer speaks about potential NCAA infractions: The Missouri head coach is still tangled up in the mess that is the Nevin Shapiro scandal at Miami, and with the notice of allegations on the way, his lawyers have issued a statement filled with lawyer-speak.
Report: James Southerland eligibility issue centers around term paper: According to Mike Waters of the Syracuse Post-Standard the current eligibility issue may center around the writing of a term paper. Specifically, whether or not a tutor wrote part of Southerland's term paper.
 
 
Hoops Housekeeping
– Chris Webber's ban from being associated with Michigan will end in May and the university is currently discussing how to handle issues surrounding the Fab-5. (Detroit News)
– San Diego State guard Xavier Thames tweaked his back in practice yesterday and his status for the Wyoming game this weekend is questionable. (San Diego Union-Tribune)
– R.J. Williams returned from his suspension last night as Loyola (Md.) handled Marist at home 72-58. (D1scourse)
– UConn guard Shabazz Napier is dealing with a shoulder injury but hopes to be able to play against Pittsburgh this weekend. (New Haven Register)
– Seton Hall landed a commitment from 2013 shooting guard Jerron Wilbut. (South Orange Juice)
– Central Florida junior Isaiah Sykes returned to practice on Thursday for the first time since injuring his ankle last weekend. He hopes to be able to play this weekend against Houston. (Orlando Sentinel)
 
 
Observations & Insight:
– Valparaiso snapped Detroit's 17-game home winning streak thanks to 31 points from Kevin Van Wijk. The Crusaders trailed by 18 at the half, but scored 57 points in the second half in order to win the rematch of last season's Horizon League Championship game. (Detroit Free-Press)
– Bradley head coach Geno Ford was in attendance for the Wednesday night game between Chicago high schools Simeon and Morgan Park, in which a man was shot and killed following the game. (Peoria Journal-Star)
– A lot of people were hesitant about Illinois' early season surge, and they can now pat themselves on the back. The Illini dropped their third straight with a lethargic loss to Northwestern last night. (State Journal-Register)
– With the conference realignment impacting the Sun Belt Conference, here is a look at some of the facilities of potential Members. (App State Nation)
– Andy Glockner provides his take on the conference power rankings. I too agree that the Mountain West is third best. (Sports Illustrated)
– A history lesson about win-less teams and when they usually get their first win of the season. (Eye on College Basketball)
– The Big-Ten is usually the conference people think about when an ugly, low-scoring game is on. But this season, the ACC seems to be the posterboy for scoring deficiency. (Tech Hoops)
 
 
Picture of the Day:
As if his team's performance wasn't bad enough, an Illinois fan got ejected from Assembly Hall last night. The Illini lost to Northwestern last night in pathetic fashion.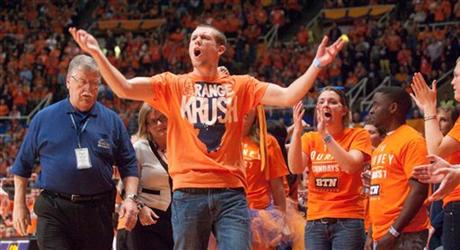 Dunk: of the Day:
Glenn Robinson III had himself a big game last night against Michigan. He scored 20 points and threw down a 360 dunk on a fast break. Personally, I'm not a big fan of 360s. First, they aren't real 360s because the rotation starts before they leave the ground. Second, it just doesn't look as pretty as a poster-dunk or wind-mill jam. But the people sure do like them.
[youtube http://www.youtube.com/watch?v=JI8G42n0QuU&w=560&h=315%5D
 
 
Do you like the new Morning Mix? Hate it? Have a suggestion or want something featured? Troy Machir will take all your praise, insults and inquiries via Twitter (@TroyMachir)