Marshall Henderson. Get familiar with that name because you will be seeing it a lot in the coming months. Well, if you're a daily reader to the site, then you've already seen it a lot, because College Basketball Talk has been driving the Marshall Henderson bandwagon all season long.
Now, lets hit the links.
Tuesday's Top Games:
7:00 p.m. – Richmond @ No. 13 Butler
7:00 p.m. – No. 14 North Carolina State @ Maryland
7:00 p.m. – No. 18 Michigan State @ Penn State
7:00 p.m. – Pittsburgh @ Villanova
7:00 p.m. – Dayton @ La Salle
8:00 p.m. – Xavier @ St. Bonaventure's
8:00 p.m. – Illinois State @ Wichita State
8:00 p.m. – Georgia @ No. 17 Missouri
9:00 p.m. – No. 18 New Mexico @ Boise State
9:00 p.m. – Seton Hall @ No. 25 Marquette
9:00 p.m. – No. 16 Kansas State @ TCU
9:00 p.m. – Air Force @ Colorado State
9:00 p.m. – West Virginia @ Iowa State
10:00 p.m. – UNLV at No. 15 San Diego State
10:00 p.m. – Wyoming @ Fresno State
11:00 p.m. – Saint Mary's @ BYU
11:30 p.m. – Colorado @ Washington
 
 
Read of the Day:
A great story about how an increase in the number of court cases the NCAA deals with could impact their image. It's wordy, but worth your read. (Associated Press)
Read of the Day:
Andy Glockner's "Bubble Watch" is the only "Bubble Watch" you need to read. Read it. (Sports Illustrated)
 
 
Top Stories:
Marshall Henderson hits 35-footer to force OT in Ole Miss' comeback win over Vandy: The Rebels avoided an ugly loss to Vanderbilt thanks to a 35-foot buzzer-beater from sharpshooter Marshall Henderson which sent the game in to overtime. Ole Miss gained momentum in the extra frame and never looked back.
Wisconsin knocks off No. 2 Indiana, so why did we question Bo Ryan? For the 11th consecutive time, Wisconsin has beaten Indiana, with Tuesday's win coming as the unranked Badgers went into Assembly Hall and knocked off No. 2 Indiana, 64-59. All of a sudden, in the loaded Big Ten, the Badgers are sitting alone atop the league standings at 4-0.
Kyle Wiltjer helps Kentucky outlast Tennessee to get bounce-back win: The Wildcats avoided back-to-back home losses by gutting out a tough victory over Tennessee thanks in large part to the play of sophomore Kyle Wiltjer.
St. John's beat No. 20 Notre Dame while Jack Cooley watches? The Irish lost their second straight game to an unranked opponent on Tuesday night, and they did so with their best player watching a good portion of it from the bench. But why?
Coach K bashes realignment again, calls it an 'assault on tradition': Coach K has been an outspoken critic of realignment, and on his Sirius XM radio show this week he specifically criticized realignment for breaking the bonds of geographical rivalries and eliminating one of the unique competitive advantages of the sport.
If Duke loses on the road, you can bet fans are storming the court: An analysis by the Wall Street Journal found that Duke has lost 31 true road games over the past 10 seasons. Of those 31 losses, 25 times the fans of the opposing team stormed the court in celebration (80.6 percent of the time), most recently Saturday against NC State.
Report: Luke Martinez kicked an unconscious man in the head: Luke Martinez, the Wyoming forward that was suspended for his involvement in a bar fight that resulted in a broken hand, was arraigned on Tuesday.He was charged with aggravated assault and battery, and the details of the brawl were also made public. The details are pretty ugly.
 
 
Hoops Housekeeping
– Bill Self has been selected as a member of this newest class of inductees for the Oklahoma Sports Hall of Fame. (KUSports.com)
– Cal head coach Mike Montgomery expects guard Brandon Smith to return to the lineup this weekend after being sidelined for fives games due to a concussion. (Bear Talk)
– Kansas guard Ben McLemore has a sore ankle but isn't expected to miss any games after injuring it in the closing minutes of the Jayhawks's win over Baylor on Monday (KUsports.com)
– UMass junior guard Jesse Morgan will miss the rest of the season due to an ACL injury he suffered during the Minutemen's 70-62 loss at Saint Louis on Monday. (ESPN Boston)
– Alabama's Trevor Releford may miss the Crimson tide's game tonight at Mississippi State because of an ankle injury. (The Sporting News)
 
 
Observations & Insight:
– Ole Miss and Vanderbilt put on arguably the best ending to regulation that we've seen all year. (USA Today)
– This isn't necessarily surprising, but seeing it in writing is always kinda interesting: Division I schools spend more on athletics than education. (USA Today)
– We really shouldn't be too surprised that Wisconsin beat Indiana last night. This is kinda their thing. They get down early in the season, people forget about them, and BOOM, they rally off a couple of top-25 wins in a row and make the tournament. That's Bo Ryan for ya. (ESPN)
– Doug Gottlieb provides five reasons why Wisconsin still has Indiana's number (CBS Sports)
– Ryan Evans is in one heckuva shooting slump. Those of you who watched the Wisconsin/Indiana game last night saw it first-hand. Ken Pomeroy provides the gory statistics. (KenPom Blog)
– Illinois State is 0-5 in the Missouri Valley Conference. Nobody saw this coming. Not us and not them. They are hoping they can fix it. (Omaha World-Herald)
– San Diego State has never really had a true rival on the hardwood. But their recent series with UNLV could change that. So could conference realignment. (San Diego Union-Tribune)
– Doug McDermott scored 21 of his 31 points in the second half as the Creighton Bluejays extended their winning streak to 11 games with a 79-68 win over Northern Iowa (Fox Sports)
– Butler will have to re-tool some of its offense to make up for the absence of Rotnei Clarke for the next two games. (Indianapolis Star)
– Is there such a thing as "an encouraging loss"? If there is, James Madison had one last night against George Mason (JMU Sports Blog)
– As expected, Texas A&M's Elston Turner was named as the Oscar Robertson Player of the Week. That's what happens when you score 41 points at Rupp Arena. (USBWA)
– Here's some interesting discussion on whether or not Oklahoma State sophomore Le'Bryan Nash is a "spectacular athlete". (Pistols Firing)
 
 
Picture of the Night:
We have to commend this Tennessee student, who somehow got himself a ticket to Rupp Arena and a spot in the Kentucky student section. This kid has some serious brass. (H/T @Vols_Photos)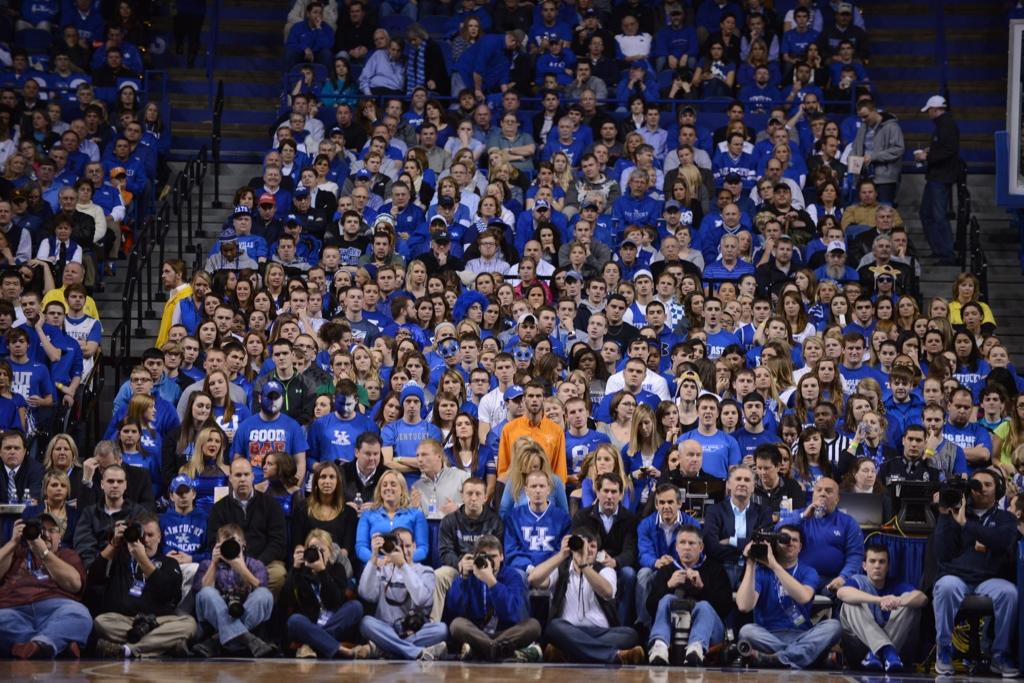 Video of the Night:
Marshall Henderson drills a 30-footer to force overtime against Vanderbilt.
[youtube http://www.youtube.com/watch?v=hx3s5tDfNLE%5D
Henderson wasn't the only one jacked up about the Rebels' huge road win. (The Mock Session)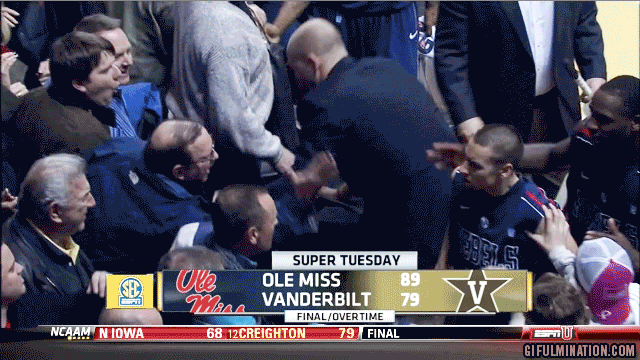 Dunk: of the Day:
Victor Oladipo is usually the one doing the posterizing. But this time around, it was Wisconsin's Jared Berggren posterizing Oladipo.
[youtube http://www.youtube.com/watch?v=vbwpBImJrwM%5D
 
 
Do you like the new Morning Mix? Hate it? Have a suggestion or want something featured? Troy Machir will take all your praise, insults and inquiries via Twitter (@TroyMachir)