Not too much action on the hardwood last night. Louisville beat UConn. Kansas beat Baylor. Grambling lost again, and Savannah State's Preston Blackman scored 41 points in the Tiger double-overtime win over Morgan State. But despite a light smattering of hoops action, there are a plethora of news items we need to get to.
Lets hit the links.
Tuesday's Top Games:
7:00 p.m. – No. 20 Notre Dame @ St. John's
7:00 p.m. – Wake Forest @ Clemson
7:00 p.m. – Tennessee @ Kentucky
8:00 p.m. – Northern Iowa @ No. 12 Creighton
8:30 p.m. – Cincinnati @ DePaul
9:00 p.m. – Wisconsin @ No. 2 Indiana
9:00 p.m. – Ole Miss @ Vanderbilt
 
 
Read of the Day:
The Grambling Tigers have yet to win a game this season and are closing in on historic levels of ineptitude. Dom Cosentino wonders if Grambling is on course for the worst season in college basketball history. (Deadspin)
Read of the Day:
Rick Barnes has been criticized over the years for his lack of postseason success despite the number of players he has sent to the pros. But as C.J. Moore explains, we need to cut Barnes a lot of slack. Read it. (Basketball Prospectus)
 
 
Top Stories:
What Kevin O'Neill did wrong: The USC head coach was given the boot yesterday after a three-and-a-half year tenure. But what ultimately cost him his job? Sure his teams were riddled with injuries, but his inability to recruit to Southern California area was key.
Louisville defends no. 1 ranking, pushes past UConn: After a rocky first half, The Cardinals held the Huskies without a point for over four minutes in the half, surged ahead, and held on for a 73-58 final margin in Hartford.
Fairfield holds 'Newtown Day' in game against Niagara: The Stags invited around 300 kids and their parents from Sandy Hook Elementary and surrounding schools to watch their game against Niagara. The Stags came up short in the game however, losing 67-64.
Danny Berger's heartfelt thank you letter: During a practice in early December, Berger's heart-stopped. He got light-headed and passed out on the floor, where trainers first gave him CPR and then used an AED to shock his heart and bring him back to life. Late last week, Berger wrote a heartfelt and touching letter to thank those that saved his life.
Only thing better than the NC State wheelchair courtstorming is the pregame 'Braveheart' speech: Words cannot describe the awesomeness of this "Braveheart" pregame speech delivered by two college students to NC State fans waiting in line for the Wolfpack vs. Blue Devils game on Saturday. You need to watch this.
 
 
Hoops Housekeeping
– Kansas phenom Ben McLemore suffered an ankle injury in the late stages of the Jayhawks' blowout win last night against Baylor. Bill Self believes he shouldn't miss more than a few days. (KUsports.com)
– Wyoming's second-leading scorer Luke Martinez has been suspended following his arrest in a bar brawl in which he injured his right ring finger. (The Dagger)
– Former Auburn forward Josh Langford has decided to transfer to Southeast Missouri State. (OVC Ball)
– Florida forward Casey Prather could miss up to two weeks of action due to a high ankle sprain he suffered over the weekend. (Fox Sports)
– Georgia State guard R.J. Hunter, the son of Panthers head coach Ron Hunter, suffered a stress fracture during the panthers buzzer-beating loss at home to Delaware on Saturday. (Mid-Major Madness)
– Butler guard Rotnei Clarke will miss the next two games because of the neck sprain he suffered against Dayton. The Bulldogs will be forced to face Gonzaga on Saturday without their best scorer. (Slipper Still Fits)
– Manhattan guard George Beamon has been shut down for the season because of a severe ankle injury and will apply for a medical hardship waiver. (New York Daily News)
– North Dakota State's top scorer Taylor Braun will be sidelined for 4-6 weeks with a broken foot. (The Sporting News)
– The game between Temple and Detroit that was postponed due to prevailing weather conditions has been rescheduled for February 28. (Pickin' Splinters)
– Prosecutors have dropped the sexual abuse charge against Iowa State basketball player Bubu Palo, meaning he may be able to rejoin the Cyclones' program. (ESPN)
 
 
Observations & Insight:
– If USC every wants to have a successful basketball program, they will have to put aside excuses and get to work. (The Sporting News)
– Here's an interesting name to watch for in the USC coaching search: Saint Mary's Randy Bennett. I doubt the coach will leave Moraga, but you just never know. (SMC Hoops)
– The eligibility and academic issues that James Southerland is facing is different from those that Fab Melo faced a year ago. (Troy Nunes)
– Seth Davis' "Fast Break" is a weekly column that is a must-read. No more teases, just read it. (Sports Illustrated)
– Pat Forde's "Forde Minutes" is another reoccurring column that is worth your time. (Yahoo Sports)
– John Gasaway released his first "Tuesday Truths" of the season. this weekly column takes a look at how teams in the nation's top 11 conferences are doing against their league opponents on a per-possession basis. It's also a weekly must-read. (Basketball Prospectus)
– Jay Bilas and Chad Ford discuss the most overrated prospects in the country. James Michael McAdoo, Alex Poythress, and Le'Bryan Nash headline a list of guys who haven't exactly lived up to the hype. (ESPN Insider)
– If you couldn't already tell by looking at halftime scores of 19-14, Scoring in college basketball is at a historic-low. (USA Today)
– It's pretty simple. If you rank Georgetown in the top-20 after they lost to Pittsburgh by 28-points, you deserve to get shredded by Gary Parrish. (Eye on College Basketball)
– Is Ole Miss an at-large team? The SEC is way down, but if the Rebels can avoid bad losses, they could grab a bid. (College Hoops Haven)
– A nice-read about Clemson coach brad Brownell and his emphasis on the development of court vision. (OrangeandWhite.com)
– After a rocky start to his rookie campaign, San Diego State freshman Winston Sheppard is living up to the hype. (San Diego Union-Tribune)
 
 
Odds & Ends
– Fans are funny. It seems that a North Carolina fan believes the Tar Heels couldn't beat a 4A high school team. (The Sporting News)
– The ACC is debating the idea of starting its own network. (Eye on College Basketball)
– Northwestern fans do not have fond memories of Kevin O'Neill, who spent three seasons as head coach of the Wildcats. (Sippin' on Purple)
 
 
Picture of the Night:
Will Privette is a wheelchair-bound NC-State student who rushed the court after the Wolfpack's huge win over Duke on Saturday. But when he was knocked out of his wheelchair, he got some assistance from C.J. Leslie, who saved him from the stampede. (Barstool Sports)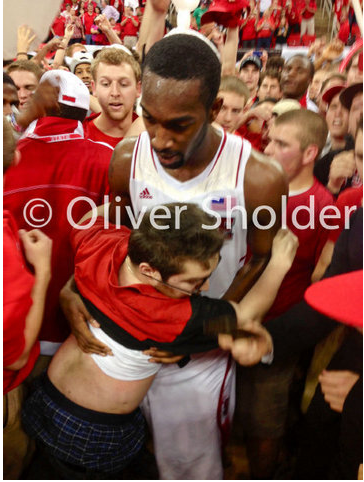 Video of the Night:
Brent Musberger did it again. Dude is on the prowl. (The Big Lead)
[youtube=http://www.youtube.com/watch?feature=player_embedded&v=Ri887CNsa-Q]
 
 
Dunk: of the Day:
This is what we like to call "unPOSTERIZED".
[youtube=http://www.youtube.com/watch?feature=player_embedded&v=H8DziiWH-2Y]
 
 
Do you like the new Morning Mix? Hate it? Have a suggestion or want something featured? Troy Machir will take all your praise, insults and inquiries via Twitter (@TroyMachir)