Trey Burke has been having a year that should earn him some serious National Player of the Year consideration.
I'm not going to get too in-depth on why that is — you can check that out here — but the long-and-short of it is that Burke is a tremendously efficient and productive player that is the primary playmaker and scorer for one of the nation's best teams. He's been nothing short of sensational this season, especially when it comes to creating open looks for his teammates.
Which is why the job that Aaron Craft did on Burke on Sunday afternoon was as impressive as any individual defensive performance that I can remember.
In case you've forgotten — or in case you were too busy watching the Falcons earn the right to lose to the 49ers in the NFC title game next weekend — Ohio State knocked off then-No.2 and then-undefeated Michigan 56-53 in Columbus. Michigan needed to rally from a 29-8 deficit to make things interesting. And Burke? He finished with 15 points and four assists while shooting 4-13 from the floor and turning the ball over four times.
One of those assists came when Evan Ravenel was matched up with him after an in-bounds play under the basket. Burke was also 2-5 from three on the day, the second of which was a ridiculous leaner that he banked with with 1.0 seconds left in the game, down by six.
Take those two possessions into account, and Burke had 12 points, three assists and four turnovers on 3-12 shooting on Sunday. (And that's before you factor in defensive breakdowns on the part of Craft's teammates.)
From a guy that has been the best point guard in the country, playing on the nation's most potent offense.
And Craft shut him down more-or-less by himself.
You see, Ohio State has the luxury of matching up perfectly with the Wolverines. Craft is such an unbelievable on-the-ball defender that Thad Matta could simply put him on an island against Burke. As John Beilein put it, Ohio State "locked the rails and made you pay two-on-two in the middle." They didn't help off of Tim Hardaway Jr. or Nik Stauskas or Glenn Robinson III. The Buckeyes simply allowed Burke to try to beat Craft one-on-one or in the pick-and-roll.
Part of what makes Craft such a good defender — in addition to his terrific lateral quickness and lightening fast hands that would make the most skilled pickpockets jealous — is his strength and his balance. Simply put, if he doesn't want you going somewhere on the floor, you're not going to get there, and that's why Michigan had so much trouble in ball-screen actions.
At the top of the key, Craft could simply work his way over the top of a screen, which is less game-planning than it is terrific individual effort.
What was interesting was how Ohio State defended Michigan's side ball-screen. One of the sets that the Wolverines like to run involves Burke hitting a wing and cutting through to the opposite side of the floor. Michigan has a couple different looks they can run out of that, but if they can't get a good look, the ball is eventually swung to Burke on the wing on the left side of the floor. Michigan's big man will come over and set a ball-screen. The goal is to get Burke to be able to drive to his right down the middle of the lane with the three shooters — Hardaway, Robinson and Stauskas — spotting up along the three point line.
Craft wouldn't let Burke use the screen by jumping above it while whoever was guarding the screen — in this case, Evan Ravenel — would cut off Burke's ability to penetrate to his left towards the baseline:
And if Burke was able to get into the lane, Ohio State didn't try to cut him off. Trying to score on Craft is a lot tougher than kicking the ball out to an open shooter: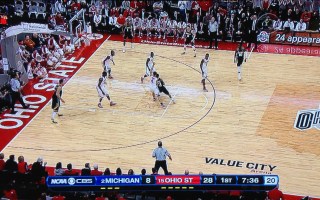 Here's another example. This one ends up in Craft forcing a turnover by Burke. Notice that, once again, there is no help.
"Craft is a matchup problem for anybody," Beilein said. "He's a great, great defense player. You don't hear me say that often. That kid can really guard. He impacts the game the way a great middle linebacker or a great safety can impact a football game."
I disagree.
He's more like a shutdown cornerback.
You don't want to get stuck on 'Craft Island'.
Previous Breaking Down posts can be found here.
You can find Rob on twitter @RobDauster.