Another night of college hoops, another night of suspect refereeing. But that's in the past. We got a lot to get to this morning.
Lets hit the links.
Thursday's Top Games:
7:00 p.m. – Fairfield @ Loyola (Md.)
8:05 p.m. – No. 13 Creighton @ Missouri State
9:00 p.m. – Wright State @ Loyola (Il.)
9:05 p.m. – San Jose State @ Utah State
 
 
Read of the Day:
An awesome-read on the basketball career of former multi-time MLB all-star Kenny Lofton. This is awesome stuff. Make sure you read this. (Deadspin)
 
 
Top Stories:
Oregon shows qualities of a Pac-12 contender in win over No. 4 Arizona: After a pair of close calls at home last week for No. 4 Arizona many wondered when the Wildcats' luck would run out. Against Oregon, the Wildcats made another late rally but ultimately came up short on the road. The Ducks look like another quality team out west.
Miami wins at UNC without Reggie Johnson; Canes for real? There was quite a bit of concern about Miami's season and tournament hopes after their starting center, double-double machine Reggie Johnson, went down with a broken thumb a couple of days before Christmas. But after a disappointing showing out in Hawaii at the Diamond Head Classic, the Canes have come on strong.
Iowa's resume a concern following 62-59 loss to No. 22 Michigan State: The Iowa Hawkeyes have shown to be a tough out at home at Carver-Hawkeye Arena. But their non-conference resume may hinder their tournament chances if they continue to come up short against the other talented teams in the Big-Ten.
Towson, Jerrelle Benimon off to hot start in CAA play: Georgetown could really use the services of their former-forward, who is well on his way to grabbing the CAA Player of the Year award. Benimon is now averaging 17.1 points, 11.7 boards and 2.3 blocks. He's got 10 double-doubles on the season.
Naismith Hall of Fame announces 20 watch list finalists for Bob Cousy Award: A list that began with 80 players has been trimmed down to 20, as the Naismith Memorial Basketball Hall of Fame announced on Thursday its finalists for the Bob Cousy Award, which is given to the nation's best point guard.
10 tidbits to know: Cuse FT struggles, Bama's youth movement: NBC Sports Talk's College Basketball Insider Vin Parise is back to fill us in one Syracuse's free throw troubles, An astonishing number about New Mexico coach Steve Alford, and an interesting stats race to track for the rest of the season.
 
 
Hoops Housekeeping
– It's possible that we've seen C.J. McCollum play his last game in a Lehigh uniform. His foot injury will keep him out at least two months, and he may choose to not risk his future and sit out until pre-draft camps. (Eye on College Basketball)
– The country's favorite D-II scoring machine Jack Taylor broke his wrist this week and is likely done for the season. It is unlikely he will be able to top his 138-point performance from earlier this season. (Cedar Rapids Gazette)
– North Carolina State walk-on guard Staats Battle has been charged with driving while impaired, stemming from an incident during the early hours of New Years day. (WRAL.com)
– Campbell University got horrible news on Thursday. Their leading scorer Darren White, who ranks seventh in the country (21.8-ppg) will have knee surgery to repair a torn meniscus and will miss 4-8 weeks. (Fayetteville Observer)
– Albany has shut down sophomore guard Tanner Gibson for the rest of the season due to foot injury and is unsure about his future (Albany Times-Union)
 
 
Observations & Insight:
– The Player of the Year straw poll says Plumlee, Burke and McDermott are the top favorites. ESPN's Mike Rothstein compiles the top-3 picks from a bunch of different media people. Here is the first edition of the season. (ESPN)
– Utah State is holding a "Beard Out" at their home game against San Jose State. Just another reason why the Spectrum and the Aggies' student section are one of a kind. (Cache Valley Times)
– Kentucky got only their second win of the season over a team in the RPI top-215 against Vanderbilt. The game was ugly and the Wildcats looked lazy in the second half. But ultimately, a win is a win, and the Wildcats got it. (WDRB-41)
– Did the Naismith Hall of Fame whiff on the Cousy Award by failing to list Saint Mary's Matthew Dellavedova (SMC Hoops)
– During the controversial ending to the Kentucky vs. Vanderbilt game last night, Bob Knight had a rather large "senior moment". (Deadspin)
– Eamonn Brennan fills us in on the five players left off the Wooden Award midseason list that are worth watching. (ESPN)
– Arizona State's Jordan Bachynski is quietly becoming the Pac-12's best big-man and game-changer. (Fox Sports Arizona)
– Duke will be able to survive a month or so without Ryan Kelly, but that's about it. Their National Championship hopes will take a huge hit if Kelly's reoccurring foot injuries persist. (Busting Brackets)
– North Carolina is now 0-2 in the ACC thanks to a home loss against a Miami team playing without their best player. This not a good sign for the Tar Heels. (The Dagger)
 
 
Picture of the Game:
Penn State bros try to mock Northwestern's geography. Umm, dudes, you know that when Northwestern was founded, most people considered Illinois to be in the northwest. (Sippin' on Purple)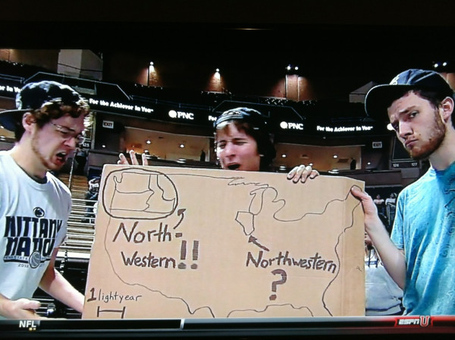 Video(s) of the Night:
New Mexico fan has brain-fart, pushes Anthony Marshall (Holdout Sports)
[youtube=http://www.youtube.com/watch?feature=player_embedded&v=Xk7S2oC1VAg]
 
 
Dunk(s) of the Day:
I think Brandon Davies may have taken an extra step here, but nonetheless, tremendous finish.
[youtube=http://www.youtube.com/watch?v=pLLs2cRAx7o]
Dunk(s) of the Day:
A nice little dunk here from Marshall's D.D. Scarver.
[youtube=http://www.youtube.com/watch?v=tGT8SRswzTQ]
 
 
Do you like the new Morning Mix? Hate it? Have a suggestion or want something featured? Troy Machir will take all your praise, insults and inquiries via Twitter (@TroyMachir)