All that anyone is talking about here on Thursday — other than, of course, this ridiculous dunk that Jamaal Franklin managed to pull off — is Ben McLemore.
Deservedly so. The freshman had 33 points on 10-12 shooting in an overtime win over Iowa State. He also just so happened to bank-in the game-tying three with 1.0 seconds left in regulation. Since Kansas is the No. 6 team in the country and McLemore's development into a go-to scorer is what makes the Jayhawks a national title contender, it's easy to ignore the fact that Iowa State came within one fluky shot of becoming just the eighth team to beat Kansas in Phog Allen since Bill Self took over.
So how did Iowa State manage to nearly spring the massive upset?
By taking advantage of their frontcourt's versatility.
Georges Niang and Melvin Ejim are both excellent face-up forwards. They have shot a combined 20-55 from three this season (36.4%) and have the ball-handling and passing skills to allow Fred Hoiberg to play a five-out offense. What that means is that unless either of the two big men happen to have a matchup advantage on the block, all five Cyclones will be outside the three-point line.
And on Iowa State's first three buckets of the game, the advantage was obvious. Niang hit two threes and a 17-footer as Jeff Withey, college basketball's best shotblocker, played way off of him. Bill Self initially began with Kevin Young on Ejim, who is more athletic and a better rebounder, but changed that matchup after the first TV timeout.
With Withey on Ejim — or Percy Gibson, when he was on the floor — it allowed Hoiberg to do a number of different things:
1. Take advantage of Withey in ball-screens situations. Kansas started out having Withey hedge-hard-and-recover on ball-screens, but that was a problem against Iowa State. For starters, the Cyclones start their ball-screen action very high: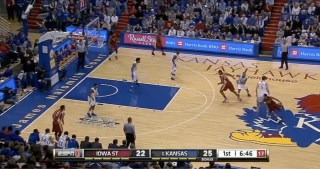 Which means that Withey has a long, long way to go to get himself back into the play. Since Hoiberg has so many shooters on the floor, there's a ton of space for Clyburn to operate. As the Kansas defenders help on Will Clyburn here since Withey isn't in the paint to protect the rim, he's able to find Ejim wide-open for a three. But, you'll notice in the screen-grab, Clyburn had two other teammates wide-open as well:
You can watch that entire set here.
2. Using whoever Withey was guarding in dribble-handoffs. When Withey would guard on the perimeter, he would give his man a good five feet since he's tall enough to contest just about any jump shot that they would take. But this left the Jayhawks susceptible to dribble-handoffs, which are, more-or-less, the same kind of action as a ball-screen. Ejim dribbles over and hands the ball off to Clyburn, who then runs directly off of Ejim's shoulder. As you can see, Withey is in terrible position to cut-off the penetration, and it leads to a layup for Clyburn:
You can watch the video of that entire sequence here. And here's an example of a similar play, but instead of the dribble-handoff leading to a layup, it gets Chris Babb a wide-open three.
3. High-low post touches. Niang is a threat to score on the low-block, and he has enough size and stretch to establish position on Young. Ejim, who was 2-5 from three on Wednesday, is a capable enough passer that Hoiberg was able to use him to feed Niang on the block. Here, you can see Niang sealing Young: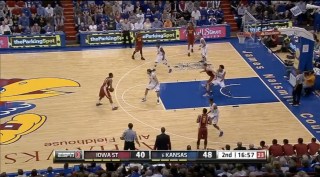 By the time Withey tries to help, Niang is already finishing an and-one: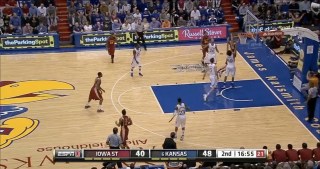 The Cyclones finished the game 14-38 from beyond the arc, which is something they absolutely needed to do if they were going to have a chance to win this game.
Fred Hoiberg put together a terrific game-plan to neutralize Jeff Withey's shotblocking ability and take advantage of the perimeter ability of their big men, and Iowa State executed it to perfection.
Now only if he had fouled up three with 8.4 seconds left…
(All screen-grabs are from ESPNU's broadcast of the game)
Previous Breaking Down posts can be found here.
You can find Rob on twitter @RobDauster.