Cincinnati president Santa Ono is a man of his word.
Back in August, Ono made a bet with the head coaches of his two biggest sports — Butch Jones and Mick Cronin — that, if either of their teams won ten straight games, he would shave his head for charity.
Well, on December 15th, the Bearcats won their tenth straight game when they went into Charleston, WV, and knocked off Marshall.
And on Monday night, Ono kept his promise, shaving his head after Cincinnati lost 66-60 at home to Notre Dame: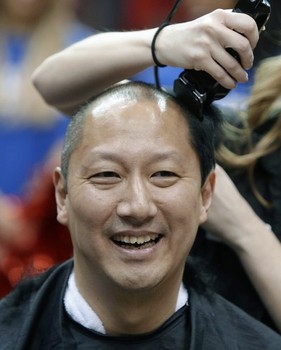 You can watch the report from FOX19 in Cincinnati here.
This wasn't just for fun and games. The Cincinnati student body president and a cancer survivor also shaved their heads to raise awareness for the Dragonfly Foundation, which helps kids with cancer and blood disease.
Ono's one concern about the new 'do?
"Do I look like that kung-foo guy?" Ono asked.
No, but you kind of look like Mick Cronin now.
You can find Rob on twitter @RobDauster.