"Styles win the fight."
That's a saying you hear a lot in sports, particularly boxing, but it's quite relevant to college basketball as well.
What does it mean?
You are going to run into times where the way a certain team plays has much more influence on the outcome of a game than the amount individual talent or coaching ability on either roster. In simpler terms, some teams match up really well with certain opponents.
It's no secret that Roy Williams likes to get his UNC team out and running. It's not a coincidence that the Heels have been in the top 30 in terms of tempo, according to Kenpom, every season that he's been in Chapel Hill. But there is a reason that this year's group is on pace to be the fastest team he's ever had at UNC: they cannot execute in the half court.
According to Synergy Sports Technology, UNC is averaging 1.168 points per possession (PPP) in transition, which is in the 85th percentile nationally, while scoring just 0.83 PPP in the half court, which is in the 60th percentile. (By comparison, last season UNC scored 1.119 PPP in transition and 0.88 PPP in the half court.) There are a couple of reasons that the Heels struggle in the half court. For starters, their overall talent level is down this season. That's inarguable. Their point guard — Marcus Paige — is not a great penetrator, and when he does put the ball on the floor, he's looking to score, not to create. The rest of the perimeter players are jump-shooters looking to hit threes, which is an issue when there is no one on the roster capable of getting them open catch-and-shoot opportunities.
Perhaps most importantly, they no low-post scoring threat. Look at the great UNC teams under Roy Williams. They all had a hoss on the block — Sean May, Tyler Hansbrough, Tyler Zeller. James Michael McAdoo is a kid with a ton of talent and potential, but he's not a low-post scorer. Joel James, Brice Johnson and Desmond Hubert might get to that point one day, but they are all young and still developing right now.
Now think about Virginia, who beat the Heels on Sunday night. Under Tony Bennett, the Cavs control the pace as well as any team in the country — Kenpom has them as 344th in the country in tempo — and, as anyone can tell you, it's much easier to slow the tempo of the game down than it is to speed it up. Against UNC, UVA did that three ways:
1) They didn't force any bad shots. As Jay Bilas likes to say, "a bad shot is the outlet pass for a transition team." Quick, contested shots, when they are missed, are like a turnover. They lead to fast breaks the other direction. UVA didn't take many, if any, of those.
2) They didn't crash the offensive glass. Here's an example. Take a look at where Justin Anderson's teammates are when he shoots this three: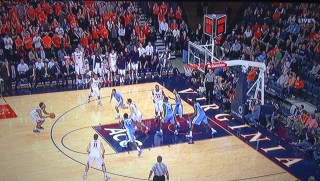 And where they are when it hits the rim: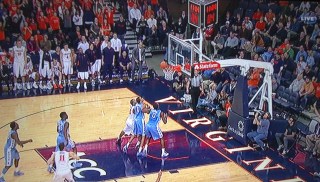 By contrast, look at where UNLV is when Anthony Bennett shoots a three in the Rebel's loss at UNC: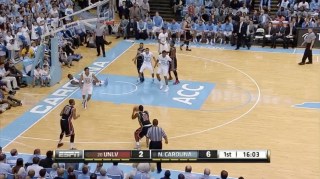 Notice a difference?
3. UVA was able to matchup with UNC's secondary break. What makes Roy Williams' system so dangerous is that there is a method to his fast-breaking madness. It's a system. As soon as a rebound is secured, the two and the three take off up the wings on opposite sides of the floor. One of the big men sprints to the block on the offensive end, while the other big man trails the point guard up the floor. The goal, if the immediate transition was stopped by the defense, is to end up in a four-around-one set.
And out of this set, UNC a series of quick-hitters known as their secondary break. Sometimes they are dictated by the way the defense is set up or who the point guard was able to pass ahead to. One of those quick-hitters, a double-screen for the shooter on the far side of the floor, looks like this. Another one, a backdoor lob for the trailing big man, looks like this. Sometimes they are plays that are called.
One of the reasons the secondary break is effective is that it catches the defense scrambling after the ball was pushed up the floor. The goal is to find a defender that is still recovering or that is out of position or that is stuck in a mismatch. Since UVA didn't take quick shots and dropped three and four guys to prevent the fast break, they were able to comfortably matchup with the Heels and get set into their pack-line defense.
UVA's style won the fight, and that's why the Cavs are 1-0 in ACC play.
Previous Breaking Down posts can be found here.
You can find Rob on twitter @RobDauster.