On Monday the college football season ends, with either Notre Dame or Alabama adding another national championship to their storied programs.
Friday morning, Notre Dame redshirt freshman quarterback, Everett Golson – who led the Fighting Irish to a 12-0 season to this point – told the media that he would like to hit the hardwood, according to Gerry Ahern of USA Today.
"Basketball is my love," Golson said Friday morning. "My primary (focus) right now is football. But I would like to have the chance of playing basketball someday here."
Golson went on to say that he has discussed the possibility of playing basketball with Notre Dame coach Mike Brey, but it hasn't gotten past that point. The Notre Dame signal caller had originally committed to North Carolina and talked to Roy Williams about being a two-sport collegiate athlete.
As a junior point guard at Myrtle Beach High School (S.C.), he led his team to a Class AAA state championship in 2008, averaging 19.6 points, 5.0 assists and 4.7 rebounds on the season.
Maybe, Golson is right to think he can play college ball. In this poor quality video with his last name misspelled, the 6-foot Golson pulls off in-and-out pull up 3-pointer leaving his defender falling over.
Who knows? If Golson can deliver the Irish a national title over the defending champs, Brian Kelly might be inclined to let his first-year quarterback trade in the cleats for some basketball shoes for a few months, before spring practice starts.
As we've seen in the past, Mike Brey is a fan of the football team: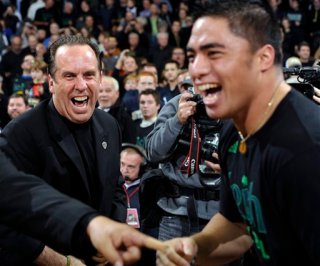 Golson has passed for 2,135 yards with 11 touchdowns – 16, including rushing touchdowns – and only five interceptions for the nation's No. 1 team.
Terrence is also the lead writer at NEHoopNews.com and can be followed on Twitter: @terrence_payne