The finish to Colorado vs. Arizona is what everybody will be talking about at the water cooler today. Sabatino Chen banked in a 3-pointer at the buzzer to beat Arizona. One ref called it a make, the others didn't know. So they went to the monitors, and all hell broke loose.
As you could imagine, we have a lot to get to.
Lets hit the links.
Friday's Top Games:
7:00 p.m. – George Washington @ Georgia
8:00 p.m. – Memphis @ Tennessee
9:00 p.m. – Fordham @ Ole Miss
 
 
Tweet of the Day:
@sabatinochen23 Ball Don't Lie.
Read of the Day:
Jeff Calkins nails it regarding the pretty disastrous way the Memphis athletic department has handled the ending of the Tennessee series. Read it. (Memphis Commercial-Appeal)
Read of the Day:
An absolutely awesome piece from the New York Times on legendary coaching icon Jerry Tarkanian. This piece does a really good job of covering all the sides to the former-UNLV head coach. At 82 years old, Tark's health is starting to deteriorate. Take 10-15min and read this. (New York Times)
 
 
Top Stories:
No. 3 Arizona survives Colorado on controversial call: Sabatino Chen hit a buzzer-beating 3-pointer off the glass to beat Arizona. The only problem was that it didn't count. Or at least that's what the refs said. You be the judge.
Refs blew call that cost Colorado win at Arizona, but not how you think: The refs cost Colorado a signature win and saved Arizona's undefeated record. But surprisingly enough, the screwed up on more than one call.
Arizona's offensive execution must improve if they're to be a national contender: If Arizona wants to keep its undefeated streak, they will need to shoot better than 7-of-27 from the field overall and 3-of-11 from beyond the arc in the first half.
It looks like the Memphis/Tennessee rivalry might not be cancelled after all: On Wednesday Josh Pastner was saying the rivalry was done after this season and that Tiger fans wanted Louisville instead. But with recruiting at stake, the in-state non-conference rivalry looks to be staying around.
Breaking down how Purdue stopped Illinois' Brandon Paul: The Boilermakers provided the blueprint for how to shut down potent Illinois scorer Brandon Paul. Here is a X's & O's break down of how it went down.
There's a bigger point to Kentucky monitoring the heart rate of its players than work ethic: John Calipari is having the kentucky Wildcats wear heart monitors during practice to measure just how hard they are working. Some people have an issue with this. Raphielle Johnson doesn't, and he will tell you why.
Big-XII Conference Catchup: The Big-XII is Kansas' to win, but the Oklahoma State Cowboys could contend if they get consistent production from Le'Bryan Nash, Marcus Smart and company..
10 tidbits to know: Louisville's chemistry, McCollum can shoot and more: Vin Parise, the College Basketball Insider for NBC Sports Talk stops by to drop some knowledge. Did you know that Davidson's Nick Cothran is shooting 98% from the foul line? Vin did.
Santa Clara head coach Kerry Keating offers students special deal for Saturday's game against No. 10 Gonzaga: This is just awesome. Santa Clara has their biggest home game of the season this weekend. But since students won't be back from break, the Broncos' head coach is going to help make sure students can afford to get back for the game.
 
 
Hoops Housekeeping
– Arkansas-Litte Rock guard John Gillon injured his knee last night against Western Kentucky and is expected to miss the next two weeks. (Burn the Horse)
– Virginia point guard Jontel Evans could return to action this Sunday against UNC. (Washington Post)
– St. John's senior forward Orlando Sanchez was declared ineligible by the NCAA in November and as of now it looks like he is unlikely to ever suit up for the Red Storm ever again. (SNY.tv)
 
 
Observations & Insight:
– In the wake of last night's controversy, Colorado head coach Tad Boyle wants replay gone. (ESPN)
– Hawaii moved to 2-0 in the Big West thanks to a buzzer-beater from Garrett Jefferson (Warrior Insider)
– The "Catholic-7" will be meeting in New York City today to discuss exit strategies from the Big East. (Hartford Courant)
– Is it possible that we are overlooking the Big-XII? Considering Oklahoma State is the second-best team, I'd say "Yes. Yes we are overlooking the Big-XII". (Dallas Star-Telegram)
– The Robert Morris Colonials are the current favorites to win the NEC. Well, that was before they put up a lackluster performance against Bryant and lost a game they were expected to dominate. (Times-Online)
– Gary Parrish takes a look a head at what is on tap this weekend. (Eye on College Basketball)
– Jeff Goodman's "Good N' Plenty" weekly feature takes Jamie Dixon to task for loading up on cupcake-heavy non-conference schedule and wonders if Wyoming's Leonard Washington is the frontrunner for Mountain West Player of the Year. (Eye on College Basketball)
– Is it possible that San Diego State stays in the Big East? (Mountain West Connection)
– Get this: Murray State won their 600th game as a member of the Ohio Valley Conference last night. There is a Jim Calhoun joke to be made somewhere in here. (OVC Ball)
 
 
Picture of the Day:
This is what the Pac-12 website showed following the controversial Arizona/Colorado ending. #StandingsFail (H/T @UtahRy)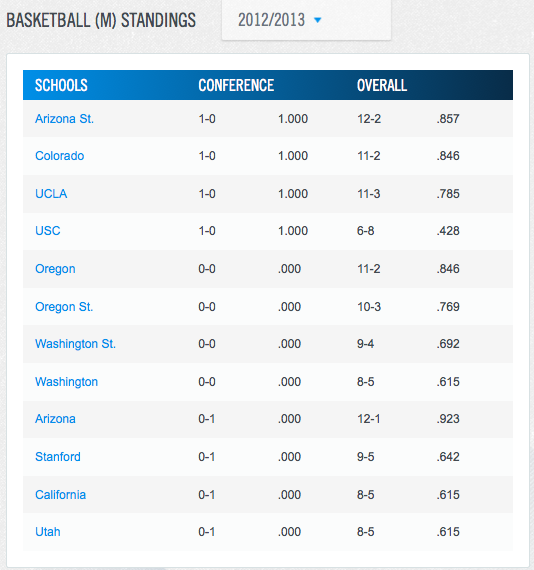 video(s) of the Day:
Sabatino Chen's release. You be the judge

 
 
Video(s) of the Day:
Cody Zeller got himself a rap anthem. (Assembly Call)
[youtube=http://www.youtube.com/watch?feature=player_embedded&v=eM3SIxvPYd8]
 
 
Do you like the new Morning Mix? Hate it? Have a suggestion or want something featured? Troy Machir will take all your praise, insults and inquiries via Twitter (@TroyMachir)