Purdue picked up a huge win on Wednesday night, knocking off No. 11 Illinois at home and helping to erase the memory of a rough non-conference season.
They did it by taking away Brandon Paul. A contender for Big Ten Player of the Year after the first two months of the season, Paul has been sensational in the biggest moments for the Illini. But when John Groce's team has struggled, it has been the result of an off-night from their leading scorer.
Paul got off to a fairly quick start on Wednesday, knocking down his first two threes — one of which turned into a four-point play — and scoring seven points in the first seven minutes. He wouldn't score again until the layup he made with 3:15 left in the game, a 29:46 stretch where Paul didn't score a single point.
How did Purdue do it?
In the first half, Paul's struggles had as much to do with his foul trouble as they did with anything Purdue was doing defensively. Paul picked up his second foul with 9:42 left on the clock, and for the rest of the half, Groce went offense-defense with him. There's no better way to get a shooter out of a rhythm than to have him subbing in and out every third possession.
In the second half, however, the Boilermakers executed Matt Painter's game-plan to perfection. There were three keys:
1. Ball screen defense: Illinois loves to set picks for Paul, and Groce loves to use Sam McLaurin and Nnanna Egwu in the ball-screen action. Painter's game-plan was simple: whoever was guarding Paul would fight over the screen, trailing Paul to keep him from getting an open look at a three, while the big guarding the screener helped off his man, daring Paul to penetrate against a double-team: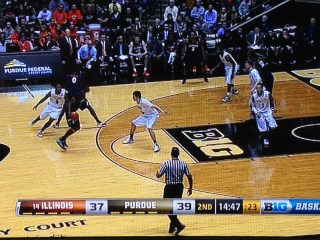 Purdue was able to ignore the screener because: a) Neither Egwu or McLaurin are much of a threat offensively; and b) Paul is coming off that ball-screen to score, not to pass.
2. Switching: Illinois also likes to use Paul in some screen-the-screener actions. Essentially, they'll use Paul to set a back-screen for one of their big men in the paint and then have him run off of a downscreen from the other big man. To defend this play, Painter had to trust that his team would be able to recognize it early enough that the opposite side wing — in this case Rapheal Davis — would be able to switch onto Paul while the man defending Paul — in this case Terone Johnson — would slide out and cover Byrd's man. (Video of this sequence can be found here.)
3. Terone Johnson: At the end of the day, once you get past all of the x's-and-o's and game-planning terminology, defense is about stopping your man one-on-one. And Johnson's on-ball defense was simply superb against Paul. He fought through downscreens, he didn't give Paul an inch coming off of ball-screens and it was clear that his physical brand of defense got into Paul's head midway through the second half. In one sequence, Johnson stole the ball from Paul in the back court and found Jacob Lawson for a dunk. then he fought through two ball-screens, nearly forcing Paul into another turnover, on the next possession.
Previous Breaking Down posts can be found here.
You can find Rob on twitter @RobDauster.