In a game that featured a furious rally in the final 10 seconds to force overtime, the only thing that anyone is going to be talking about after Marquette's 82-76 win over UConn in the Big East opener for both teams is a mistake that cost UConn a bucket at the start of the extra period.
On the jump ball to start the overtime, the referees allowed the centers to face the wrong direction: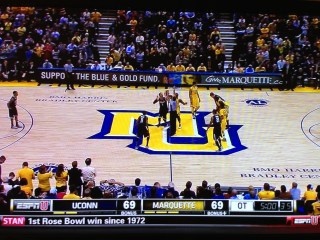 As a result, when UConn won the tip, the Huskies ran a set going towards Marquette's basket. Ryan Boatright found Shabazz Napier on a back door cut, but his layup attempt was goaltended by Marquette's Jamil Wilson.
That's when the refs finally realized their mistake and appeared to make another.
The Golden Eagles were given the ball under their own basket. There has been no official statement yet (we will update when one comes down), but it appears that the refs ruled that since it's not possible to goaltend on your own basket, it was an inadvertent whistle and a jump ball. This is confirmed by the fact that the Huskies not only won the tap but were awarded the next jump ball in overtime.
The flaw, however, is that based on the NCAA rulebook, that was "UConn's basket" until the refs realize their mistake. From Rule 5, Section 1, Article 3:
When the official(s) permits a team to go in the wrong direction, and when the error is discovered all activity and time consumed shall count as though each team had gone in the proper direction. Play shall be resumed with each team going in the proper direction.
My interpretation of that rule is that the goaltend should have been awarded and UConn should have gotten the two points.
And while it was just one bucket with 4:48 left, it was a momentum changer that potentially changed the outcome of the game.
This about sums it up:
[tweet https://twitter.com/jacobscourant/status/286314963390328832 align='center']
You can find Rob on twitter @RobDauster.