It's the last day of 2012. Heckuva year it was too. Luckily for us, college hoops is going out on a high note, finishing 2012 with a full slate of games. Plus we still have to get to what happened this weekend. Before you start prepping for your New Years Eve parties, get caught up on things with The Morning Mix.
Lets hit the links.
Monday's Top Games:
12:00 p.m. – No. 8 Cincinnati @ No. 24 Pittsburgh
2:00 p.m. – No. 19 Michigan State @ No. 11 Minnesota
2:00 p.m. – South Dakota @ No. 25 Kansas State
2:00 p.m. – Bowling Green @ Temple
3:00 p.m. – Central Connecticut State @ Indiana
3:00 p.m. – Saint Joseph's @ Drexel
4:00 p.m. – No. 5 Indiana @ Iowa
5:00 p.m – UNC-Greensboro @ No. 23 North Carolina State
6:00 p.m. – No. 13 Gonzaga @ No. 22 Oklahoma State
7:00 p.m. – Nevada @ Oregon
7:30 p.m. – New Mexico @ Saint Louis
8:00 p.m. – North Texas @ Middle Tennessee
8:00 p.m. – Harvard @ Saint Mary's
 
 
Top Stories:
No. 4 Louisville outlasts Kentucky in foul-plagued rivalry rematch: Kansas survived Ohio State in last week's Final Four rematch, but the tables were turned in Louisville's 80-77 triumph over their in-state rivals in the KFC Yum! Center.
BYU's Tyler Haws put up Jimmer-like numbers against Virginia Tech: No BYU fan will ever forget about Jimmer Fredette, but sophomore guard Tyler Haws made fans momentarily forget, as he scored 42 points in the Cougars' 97-71 shellacking of Virginia Tech.
Mixed results for college hoops in the Bay Area on Saturday: Santa Clara put up a good fight against Duke, but Cal lost a tough one to Harvard at home. Stanford had trouble putting away Lafayette and an underrated San Francisco squad defeated Dominican U. of California (D-II).
Utah State coach Stew Morrill breaks convention with comments about departing player: Longtime Utah State head coach Stew Morrill has never been one to shy away in front of the media. But it was interesting to see what the Aggies' head coach had to say about a departing player who was quitting the sport all together.
Big-Ten Conference Catchup: Indiana and Michigan headline a loaded league with Minnesota and Illinois heading in to conference play with big winning streaks. The Big Ten should feature the best conference season out of all the power conferences.
Big East Conference Catchup: Despite realignment, the Big East should remain competitive thanks to a collection of elite teams like Louisville, Syracuse, Cincinnati, Georgetown, Notre Dame, Pittsburgh and UConn.
 
 
Hoops Housekeeping
– South Florida point guard Anthony Collins was taken off the court on a stretcher during the Bulls 61-57 win over George Mason. Head Coach Stan Heath revealed during the post game press conference that Victor Rudd Junior suffered a concussion in the second half. (The Dagger)
– Former-Louisville forward Angel Nunez has decided to transfer to Gonzaga, making his intentions clear via Instagram on Friday afternoon. (College Basketball Talk)
– Sophomore backup guard Brandan Kearney has decided to transfer out of Michigan State (Fox Sports Detroit)
– Tennessee State's top scorer Robert Covington will miss the next 4-6 weeks due to surgery he had on Friday to repair a torn meniscus. (OVC Ball)
– Miami had a terrible trip to Hawaii and the Diamonhead Classic. Much of their troubles were due to the absence of center Reggie Johnson, who broke his left thumb during practice leading up to the event. The big-man is the key to the 'Canes success but will be forced to miss the next 6-8 weeks. (Miami Sun-Sentinel)
– Pittsburgh back-up center Malcolm Gilbert has decided to transfer to Fairfield, where he will join his brother Marcus. (Cardiac Hill)
– Indiana freshman Jeremy Hollowell has been reinstated and will be in uniform tonight against Iowa. He had been suspended since after the Butler game. (Inside the Hall)
– Baylor center J'mison Morgan has been suspended indefinitely by the university and has been dismissed from the program because of an unspecified violation of university policy. Morgan redshirted last season after transferring from UCLA. He played in just one game this season, against College of Charleston. (Waco Tribune-Herald)
– Connecticut head coach Kevin Ollie has been rewarded for his efforts with a new five-year, $7-million contract (ESPN)
– Following a three-game suspension in which his team went 3-0 under Associate head coach David Cox, Rutgers head coach Mike Rice returns to the sidelines and will coach his team when they take on Syracuse in their Big East opener on Wednesday. (New York Daily News)
 
 
Observations & Insight:
– BYU's Tyler Haws scored 42 points against Virginia Tech on Saturday, joining his father Marty Haws as 40-point scorers for the Cougars. Marty starred at BYU from 1986-1990. (The Dagger)
– Providence head coach Ed Cooley was not pleased with his team's effort and hustle in thir upset loss to Brown on Friday. He called his squad "soft" and said they play with "no chemistry". Sophomore LeDontae Henton did finish with 37 points. (Providence Journal)
– Gorgui Dieng made his triumphant return to the court on Saturday and helped Louisville defeat Kentucky 80-77. The game carried extra weight for the Senegalese center because his parents were in attendance to see him play for the first time ever. (Louisville Courier-Journal)
– What exactly is clutch, and can it be defined? The Big Ten Geeks tackle a great issue posed by statistical experts Ken Pomeroy and Dan Hanner. (Big Ten Network)
– In order for UNLV to impose their will as the dominant team in the Mountain West Conference, they will need senior guard Anthony Marshall to be the catalyst. (College ChalkTalk)
– Phil Pressey distributed a record 19 assists on Friday night for Missouri, but it came in an entertaining yet losing effort at UCLA. (Eye on College Basketball)
– Kansas' Ben McLemore is getting all the recognition for the Jayhawks right now, and deservedly so. But the improved play of Naadir Tharpe has really helped to push the Jayhawks into the elite tier of teams. (Need I Say Moore)
– As the title indicates, Boston College as bad as we thought they were going to be. (Run The Floor)
– Led by scrappy guard Jake Odom, the Indiana State Sycamores are a team to watch out for in the ever-difficult Missouri Valley Conference. (Mid-Major Madness)
– Jeff Eisenberg looks ahead to today's slate of games, which really is nothing short of phenomenal. (The Dagger)
– Mike DeCourcy looks ahead at the top games of the upcoming week. (The Sporting News)
– With Gonzaga headed into Stillwater tonight against a ranked Oklahoma State team, the spotlight is once again shining on Gallagher-Iba Arena. (The Oklahoman)
– A cute little list of early season under-the-radar freshman All-American candidates. High Point's John Brown is a player to watch, for sure. (Hoopville)
 
 
Odds & Ends
– Indiana head coach Tom Crean isn't just a good coach, he's also an excellent civilian, as evidence by this recent story of him helping out a motorist that found themselves stuck in a ditch. (WDRB-41)
– Some nice tidbits on Bill Walton's return to the mic, include the demons he has dealt with in his past. (Sports Illustrated)
– A creative sign featuring John Calipari and dollar bills was confiscated at the Yum! Center prior to tip-off of the Louisville vs. Kentucky game on Saturday. (Kentucky Sports Radio)
– Of course a guy proposed to their girlfriend at the Louisville vs. Kentucky game. She said yes. (WHAS-11)
 
 
Picture of the Day:
The King and Queen of the Cardinals celebrate Louisville's victory over their rivals Kentucky (University of Louisville Athletics)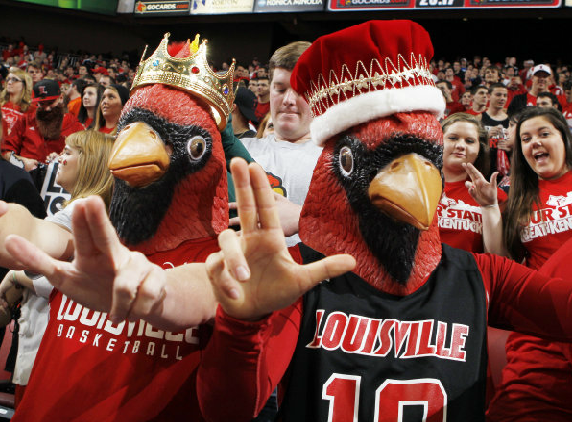 Video(s) of the Day:
John Calipari and the Kentucky Wildcats pulled the "ol' switcheroo" before free throw attempt during their loss to Louisville. (College Basketball Talk)
[youtube=http://www.youtube.com/watch?feature=player_embedded&v=BNexVNX4y4o]
 
 
Dunk(s) of the Day:
Some fascinating ball work leads to one of the best dunks of the weekend. Josh Sharp exhibits total destruction, which is exactly what BYU did to Virginia Tech.
 
[youtube=http://www.youtube.com/watch?v=sYQbmk_WXmg]
 
 
Dunk(s) of the Day:
Friends, this is what we in the industry like to call "The Dagger".
 
[youtube=http://www.youtube.com/watch?v=r_2Q1Q81Inc]
 
 
Do you like the new Morning Mix? Hate it? Have a suggestion or want something featured? Troy Machir will take all your praise, insults and inquiries via Twitter (@TroyMachir)