Following Gonzaga's 94-87 win against Baylor in Spokane on Friday night, former Louisville forward announced he would transfer via his Instagram account (photo below).
Nick Coffey of TheCardinalConnect.com  first reported the news of Nunez's photo surfacing on Instagram.
On Nunez's Instagram photo, the caption read, "New home, new team…Officially a Gonzaga Bulldog." Nunez's Twitter account also had the bio changed, reading "Guard/Forward for Gonzaga University…"
Right before the fall semester ended, the sophomore forward decided to leave the Louisville program. As a sophomore, Nunez sat out the first 10 games with a concussion. The season before as a freshman, the 6-foot-8 forward only saw an average of 4.6 minutes per game and that didn't seem to be changing heading into his sophomore campaign.
Adam Zagoria of ZagsBlog.com reported last Sunday that Nunez would visit Gonzaga on Dec. 27-29. Nunez told Zagoria he would visit several schools, with Gonzaga being the first.
Nunez will be eligible for the second semester of the 2013-2014 season.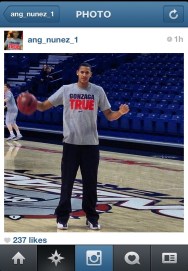 Terrence is also the lead writer at NEHoopNews.com and can be followed on Twitter: @terrence_payne