If you are reading this right now, it means we beat the Mayans last night. If you aren't reading this right now, then it looks like I spent my last seconds on earth blogging about the daily rundown of college hoops. And you know what? I'm kinda OK with that.
The slate of game was rather light last night. Friday is going to be light as well. I guess today is kinda the prime "Ugly Sweater Party" day of the season, right?
You know what? Lets just hit the links.
Thursday's Top Games:
7:00 p.m. – Florida Atlantic @ No. 6 Indiana
7:00 p.m. – Niagara @ No. 22 Notre Dame
9:00 p.m. – Stanford @ Northwestern
9:00 p.m. – BYU @ Baylor
9:00 p.m. – Middle Tennessee @ Vanderbilt
9:00 p.m. – UC-Santa Barbara @ Wyoming
 
 
Read(s) of the Day:
A fantastic-read from Deadspin original Will Leitch, who believes that college hoops needs to stand up for itself. I couldn't agree more. I love articles like this one. It's exactly what I'm thinking, but written in a much better fashion. Read this. (Sports on Earth)
Read(s) of the Day:
High profile college announcements have always felt like movie premieres to me. It's all flare without real substance. But all the good stuff lies in the inter workings of the production. This behind-the-scenes look at the build up to Jabari Parker's decision is a must read. Read it. (Sports Illustrated)
Read(s) of the Day:
Seth Davis looks back at his favorite college hoops stories of 2012. Definitely worth your time. Read it. (Sports Illustrated)
 
 
Top Stories:
With Jabari Parker, will Duke be better next year than this year? The Blue Devils are the best team in the country and have the best resume in the country. What is the possibility that next year's team, headlined by Jabari Parker, will be better than what we've seen froM Duke thus far in 2012.
According to report, NCAA fired lead investigator in Shabazz Muhammad's case: Abigail Grantstein was the NCAA's lead investigator on the Shabazz Muhammad case. She was also the women whose boyfriend allegedly was heard bragging about the investigation to a passenger on an airplane. She no longer has a job.
According to a report, Ben Howland's job is in jeopardy at UCLA: According to Tracy Pierson of BruinsReportOnline.com, who is as dialed in to UCLA sports as they come, Ben Howland is not exactly guaranteed his job next year out in Westwood.
Suspension of Myck Kabongo means Texas needs Javan Felix to make it 'his team': If Texas is to entertain any thoughts of staying afloat when Big 12 play rolls around, they will need to rely heavily on the production of standout freshman guard Javan Felix, who has started all 11 games at the point and is averaging nearly 36 minutes per game.
Myck Kabongo's suspension under expedited appeal: Texas could hear back by Friday, which, depending on the results, means the Longhorn's top player could be reinstated just two days after being suspended for the entire season.
Naismith Memorial Hall of Fame releases 2013 Cousy Award watch list: The annual award is given to the nation's best point guard, and the list will be narrowed down to 20 in January. The notable omission is LIU-Brooklyn's Jason Brickman, who is averaging 11.0 points and 8.2 assists per game, a number that ranks fourth in the country.
MAAC to expand to 20 league games in 2013-2014: With the addition of Quinnipiac and Quinnipiac, the MAAC will now have 11 league members (Loyola is leaving for the Patriot League). This is why the MAAC announced on Thursday their intent to play 20 league games next season.
 
 
Hoops Housekeeping
– Marquette reinstated Todd Mayo after missing the first semester due to academics. The Golden Eagles desperately need Mayo's help, as they have struggled to score both inside and out. (Eye on College Basketball)
– With Jabari Parker making his college decision yesterday, CSN Chicago looks in to just how significant his foot injury could be (CSN Chicago)
– Over 55 scouts and NBA personnel were on hand to see North Texas and Tony Mitchell take on Lehigh and C.J. McCollum. Unfortunately for them, McCollum was ruled out before the game because of a nagging ankle injury. (Lehigh Valley Live)
 
 
Observations & Insight:
– Seth Davis' latest edition of "Hoop Thoughts" calls for a change in the way the NCAA operates. He also provides his weekend picks. It's a weekly must-read. (Sports Illustrated)
– The final verdict on North Carolina's scandal: It's academic, not athletic. (ESPN)
– The key to Kansas' success on Saturday against Ohio State will be how well the are able to slow down Deshaun Thomas (KUSports.com)
– I know it's not fair to compare Nerlens Noel to Anthony Davis. But well, his stats sorta do. (Courier Journal)
– Duke beat Elon last night, their second win in as many days. In doing so, they logged their non-conference home winning streak to 100 games. (The Dagger)
– Central Florida stud Isaiah Sykes logged himself a solid triple-double last night in the Golden Knights 88-63 win over Stetson. The junior guard scored 16 points, grabbed 11 rebounds and dished out 10 assists. (Orlando Sentinel)
– Tony Mitchell is still going to get drafted very high this summer. But we can forget about North Texas winning the Sun Belt and getting an automatic tournament bid. (Mid-Major Madness)
– The Big East is looking to build up the conference's western edge, wants to add UNLV, Fresno State, and possibly BYU. (New York Daily News)
 
 
Odds & Ends
– Smart move by Maryland assistants to get tournament incentives added into their contracts heading in to this season. As of right now, it looks like the Terps are a lock for the Big Dance. (Washington Post)
– Syracuse head coach Jim Boeheim and CBS analyst Doug Gottlieb have one of the most entertaining on-going feuds. In the latest installment of the ongoing series, Gottlieb stated that despite the 900 wins, Boeheim is not a great coach. he's a good coach, but he's not great. (Syracuse Post-Standard)
 
 
 Picture of the Day:
Jabari Parker, one of the nation's most sought-after recruits, reveals his college choice. (Chicago Tribune)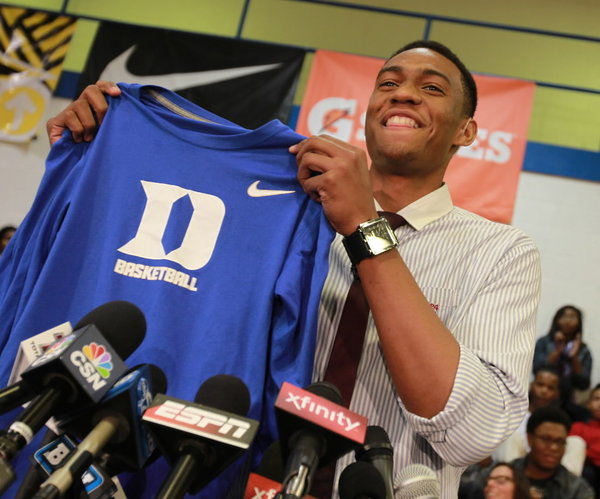 Dunks(s) of the Day:
Dunno how I missed this one from Wednesday. But man, North Carolina….Woof. BTW, what is my man in the top left doing there post-dunk? Is that "The Zorro"? (H/T @CamHops)
 
 
Video of the Day:
Future-Oregon Duck Jordan Bell broke a rim at the City of Palms tournament. No joke. Dude's windmill jam actually broke the rim.
[youtube=http://www.youtube.com/watch?v=TLyKMcopndA]
Do you like the new Morning Mix? Hate it? Have a suggestion or want something featured? Troy Machir will take all your praise, insults and inquiries via Twitter (@TroyMachir)