Where do we even begin today?
North Carolina got flat-out dominated by a not-so-good Texas team. The same not-so-good Texas team playing without Myck Kabongo, who has been awaiting word from the NCAA. At roughly the same time last night, the NCAA came down with its decision. It wasn't pretty.
But that's certainly not all that happened. The Crosstown Classic was renewed and restored. Maurice Creek got injured again. Jabari Parker will make his college decision later today.
I'm done trying to explain why we have a lot to get to. Just know that we have a lot to get to.
Lets hit the links.
Thursday's Top Games:
7:00 p.m. – Elon @ No. 1 Duke
8:00 p.m. – Lipscomb @ Memphis
8:05 p.m. – Lehigh @ North Texas
8:30 p.m. – Eastern Michigan @ No. 2 Michigan
9:00 p.m. – Cal-Poly @ Washington
11:00 p.m. -UC-Irvine @ USC
 
 
Read(s) of the Day:
This one isn't exactly hoops specific but it's definitely worth your time. Richard Deitsch of Sports Illustrated hands out his aunnal media awards for 2012. This is must-read stuff. Read it. (Sports Illustrated)
Read(s) of the Day:
A marvelous reaction piece from Eric Adelson on the crisp words spoken by Winthrop head coach Pat Kelsey following his team's loss to Ohio State on Tuesday. This is tremendous stuff. (Yahoo Sports)
 
 
Top Stories:
No. 23 North Carolina embarrassed by Texas: Texas is not a good team, especially without Myck Kabongo. This should tell you just how much the Tar Heels are struggling this season. Last night was ugly.
No. 11 Cincinnati outlasts Xavier in the renewal of the Crosstown Classic: Sean Kilpatrick scored 25 points and Cashmere Wright chipped in with 15 as No. 11 Cincinnati jumped all over Xavier in the second half, winning the sanitized Crosstown Shootout, err Crosstown Classic, 60-45.
CBT Podcast Episode Three: Troy Machir and Raphielle Johnson discuss the current state of west coast hoops and dish on thheir favorite Big East and Jim Boeheim moments.
Geno Auriemma sounds off on realignment: It was just a matte of time before the legendary UConn women's head coach voiced his opinion on the implosion of the Big East. And as expected, he had some choice words.
Holiday wish list for Duke Blue Devils: What exactly does the No. 1 team in the country need this holiday season? Daniel Martin has your answer.
Stetson Hatters provide the craziest buzzer-beater of the season: Just when everybody (including the play-by-play announcer) thinks the game is over, a coast-to-coast drive, air-ball and follow-up steals the show. My man Robbie Aaron kinda steals the show on the mic, too.
 
 
Hoops Housekeeping
– Jabari Parker will make his highly anticipated college decision later today. Here is the final word from many of the top recruiting experts in the country (MLive.com)
– Texas got a statement-win last night, beating North Carolina by 18 points. But while the Longhorns were smacking the Tar Heels, the NCAA was busy suspending guard Myck Kabongo for the entire season. It's laughable at this point. I'm so done with the NCAA. (Yahoo Sports)
– South Alabama coach Ronnie Arrow abruptly resigned on Wednesday. I believe this is the first coaching change of the season. (Jags Jungle)
– Indiana guard Maurice Creek is injured yet again, this time for an indefinite length. You just hate to see this happens. His heart is in it, but his body keeps failing him. (The Dagger)
– Syracuse University's athletic department media director Roger Springfield is no longer employed by the school and, according to a newspaper report, is being investigated by police. (CBS Sports)
 
 
Observations & Insight:
– Mick Cronin would be happy if the Crosstown Classic continued at an on-campus venue. the Bearcats head coach believe the rivalry game belongs to the city, and as such, should be held not for season ticket holders, but for the entire community. (GoBearcats.com)
– Some interesting quotes from Big East Commissioner Mike Aresco on what lies ahead for his league (The Washington Post)
– Fresh off a tough loss to UNLV, the UTEP Miners got a tough triple-OT win over Oregon in a game where the Ducks tried their hardest to give the game away (Addicted to Quack)
– Louisville routed Florida International last night. Why is this important? Because Rick Pitino squared off against, and defeated his son Richard's new team. (Lexington Hearld-Leader)
– Some clutch shots made down the stretch sealed Coppin State's first victory at the Towson Center in 20 years (Baltimore Sun)
– LIU-Brooklyn looked out of sync and out of sorts without Julian Boyd, and it showed. The Blackbirds lost to St. Peter's by 13. (Big Apple Buckets)
– Texas Southern's Omar Strong is a mid-major player that show be getting high-major praise. I love this kid. Dude can ball for days. (Mid-Major Madness)
– An awesome-read on the family life of Kansas forward Kevin Young. Really great stuff. Plus the family afros are incredible. (KUsports.com)
 
 
 Picture of the Day:
Father knows best, as Rick Pitino and the Louisville Cardinals defeated Richard Pitino and the Panthers of Florida International (Card Chronicle)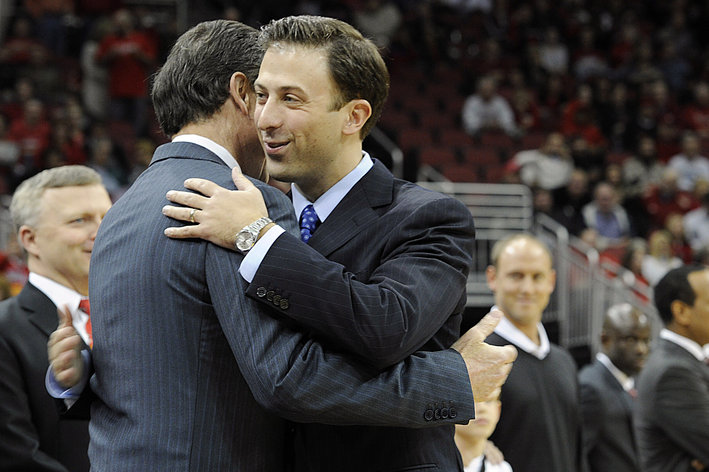 Dunks(s) of the Day:
Marquette's Jamil Wilson gets some face time because he followed up a miss. Remember that kids. Always crash the glass.
 
[youtube=http://www.youtube.com/watch?v=t-Y43HUz240]
 
 
Do you like the new Morning Mix? Hate it? Have a suggestion or want something featured? Troy Machir will take all your praise, insults and inquiries via Twitter (@TroyMachir)