We've got a pretty good slate of games on tap tonight, including the much-anticipated Crosstown Classic between Xavier and Cincinnati. The college basketball world continues to show their support to those who were involved in the horrific Sandy Hook Elementary School Shooting.
Lets hit the links.
Wednesday's Top Games:
7:00 p.m. – Cornell @ No. 1 Duke
7:00 p.m. – Florida International @ No. 5 Louisville
7:00 p.m. – Xavier vs. No. 11 Cincinnati
7:00 p.m. – Illinois State @ Dayton
7:30 p.m. – Ohio @ Massachusetts
8:05 p.m. – Tulsa @ No. 17 Creighton
8:00 p.m. – South Dakota State @ Belmont
8:00 p.m. – Oregon @ UTEP
9:00 p.m. – No. 23 North Carolina @ Texas
9:00 p.m. – Oakland @ West Virginia
10:00 p.m. – Pacific @ St. Mary's
10:00 p.m. – Northern Iowa @ No. 21 UNLV
11:00 p.m. – Ole Miss @ Loyola Marymount
Read(s) of the Day:
This is one of the best articles I've read all month and potentially all year. Jason King does a masterful job detailing the priceless tutelage provided by John Lucas to troubled players and coaches. If you read only one article today, make sure it's this. (ESPN)
Top Stories:
Providence honors Newtown victims with jersey, 26 empty seats: Providence played on Tuesday night and their way of honoring the memory of the victims was to wear the colors of Sandy Hook Elementary School. Many schools have done a marvelous job of honoring Sandy Hook and Newtown, but the good people at Providence should be applauded for their swift efforts.
VIDEO: How did Jim Boeheim make it to 900? Vin Parise joined NBC Sports' SportsTalk to break down exactly how Jim Boeheim made it to this spectacular point in his illustrious coaching career.
Holiday Wish List for Ohio State: In order for the Buckeyes to make consecutive Final-Fours, they will need to ask for more minutes for Shannon Scott and increased consistency from Lenzelle Smith and LaQuinton Ross.
Can Miami really be the second best team in the ACC? The Hurricanes have a front line big enough to compete with anyone in the league and has a balanced attack that features five players averaging double figures. Miami picked the right season to peak. With the rest of the ACC down, Jim Larranaga has enough talent to make a push to be the second best team in the league.
Hoops Housekeeping
– We're less than 48 hours away from finding out where Jabari Parker will attend college, and the father of the nation's top recruit doesn't know which school his son will choose. (ESPN Chicago)
– Wichita State's Ron Baker becomes third Shocker starter to miss time due to injury (Wichita Eagle)
– Louisville center Gorgui Dieng likely to sit out with injury until after New Year's Day (The Dagger)
– Duke redshirt freshman Marshall Plumlee is set to make his debut tonight when the Blue Devils take on Cornell. The youngest Plumlee brother had been sidelined with a stress fracture in his foot for the last two months (Rant Sports)
– Purdue reserve guard Jay Simpson will miss the rest of the 2012-2013 season due to a foot injury and will be eligible to seek a medical redshirt hardship waiver. (Lafayette Journal Courier)
Observations & Insight:
– A nice-read on Memphis' dunk machine D.J. Stephens, who has evolved from athletic project to senior leader. (Memphis Commercial Appeal)
– Nicole Auerbach spent some time in the Queen City and profiled the anatomy of a rivalry. (USA Today)
– A miscommunication between Keith Appling and Tom Izzo resulted in Bowling Green players being a little upset with the way the Spartans finished off their ten point victory over the Falcons. (MLive.com)
– Winthrop head coach Pat Kelsey spoke out about the Newtown shootings during his teams press conference following their loss to Ohio State last night. (Cincinnati.com)
– Former-Seton Hall head coach Bobby Gonzalez has some words of wisdom for currently suspended Rutgers head coach Mike Rice (SNY.tv)
– Joe Lunardi has some bracket concerns with the new unnamed Catholic League (ESPN)
– Jeff Borzello updates us on his Freshman of the Year awards. (Eye on College Basketball)
– Four midseason transfers that can provide an instant impact for their new teams. (The Dagger)
Odds & Ends:
– A "where are they now" on a bunch of players who were recruited by Billy Gillispie at Kentucky. (Eye on College Basketball)
– State Fair JuCo star Kenny-Red Chery has committed to Baylor. Future #AllNameTeam member for sure. (Our Daily Bears)
– Ten reasons why Bearcat fans hate Xavier. Don't hate on the Xavier popes. Those guys are the best. (Bearcats Blog)
– Aaron Craft's mom explains her son's trademark rosy red cheeks. (The Dagger)
– Kansas sophomore Naadir Tharpe did "The Robot" on the bench during the Jayhawks destruction of Richmond. (The Mock Session)
 Picture of the Day:
The Providence honored the victims of the Sandy Hook shooting during the Friars game against Colgate last night by memorializing 26 seats at The Dunkin' Donuts Center. (College Basketball Talk)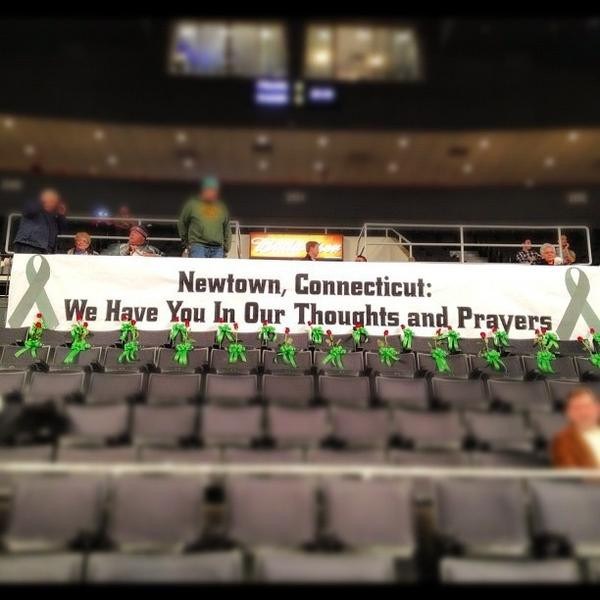 Dunks(s) of the Day:
Auburn's Chris Denson shut it down against Tennessee Tech last night. # GameOver.
[youtube=http://www.youtube.com/watch?v=llACo36g2vI&feature=youtu.be]
Video(s) of the Day:
This is the funniest faux Christmas infomercial you will ever see (The Basketball Jones)
[youtube=http://www.youtube.com/watch?feature=player_embedded&v=_XUT6L1ZEhI]
Video(s) of the Day:
Highlights from VCU's 32-point win over Western Kentucky, as seen on the NBC Sports Network
This video is no longer available. Click here to watch more NBC Sports videos!
Do you like the new Morning Mix? Hate it? Have a suggestion or want something featured? Troy Machir will take all your praise, insults and inquiries via Twitter (@TroyMachir)