Exam Week was pretty brutal, but we were rewarded with an excellent weekend of college hoops. We had two phenomenal games, a bevy of upsets, and a bunch of great plays, videos and quotes. In short, we have a lot to get to.
Lets hit the links.
Monday's Top Games:
7:00 p.m. – Detroit @ No. 4 Syracuse
7:00 p.m. – Maryland-Eastern Shore @ UConn
7:00 p.m. – IPFW @ No.22 Notre Dame
7:00 p.m. – Valparaiso @ Oakland
8:00 p.m. – USC-Upstate @ Baylor
8:00 p.m. – No. 20 UNLV @ UTEP
8:00 p.m. – South Carolina State @ No. 12 Missouri
9:00 p.m. – Cornell @ Vanderbilt
 
 
Read(s) of the Day:
Jay Bilas relates the NCAA to the Kardashians. Yup. Read it. (ESPN Insider)
Read(s) of the Day:
Pat Forde dishes on Butler walk-on Alex Barlow, who hit the biggest shot of his career to beat top-ranked Indiana on Saturday. Read it. (Yahoo Sports)
 
 
Top Stories:
Contributions both large and small set stage for Mark Lyons' gamewinner: Mark Lyons might get all the fanfare and press following his game-winning basket against Florida, but the Wildcats got contributions for various players, which ultimately set them up for success.
Florida's failure to close out halves is what cost them in Tuscon: The No. 5 Gators looked to be in position to vault themselves into the top-3 in the in country. But three turnovers in their final five possessions doomed the Gators, and the Arizona Wildcats capitalized.
From music scholarship to high-major basketball, Andrew Del Piero getting minutes at LSU: The 7-foot-3 walk-on is also a former tuba player in the LSU marching band. But the big-man has put in a lot of hard work and is now a contributing member of the Tigers' basketball program.
Mick Cronin sounds off on Big East realignment and defection of Catholic 7, says players should get paid: Cincinnati is currently in conference limbo thanks to the implosion of the Big East. Mic Cronin used the post game press conference following his team's win over Marshall as the perfect time to open up about realignment, along with paying players.
 
 
Hoops Housekeeping
– Reigning NEC player of the Year Julian Boyd tore his ACL against Rice on Wednesday and will miss the rest of the year. The injury to the LIU-Brooklyn star forward is the worst case scenario for a Blackbird team already struggling to find it's groove in the early season. (Blackbirds Hoops Journal)
– Former-UCLA big-man Josh Smith is interested in transferring to Georgetown or Kansas (Casual Hoya)
– Louisville sophomore forward Angel Nunez will be transferring out of school at the end of the semester (WDRB.com)
– Virginia Tech freshman forward Marshall Wood fractured a bone in his foot during the Hokies upset loss to Georgia Southern this weekend. The injury will not require surgery, but the team is now down to just seven scholarship players (The Washington Post)
– Rumors swirled last week about an arrest of Syracuse Sophomore Michael Carter-Williams for an incident at a local mall. Turns out he was busted for shoplifting (a robe and glove) by mall police, and the matter was handled internally. (College Basketball Talk)
 
 
Observations & Insight:
– Indiana's loss to Butler just reiterates that there just isn't a true dominant no. 1 team in the country (Eye on College Basketball)
– Butler's win over Indiana was as historic as it was well-timed. (Eye on College Basketball)
– the anatomy of Alex Barlow's game-winning shot against Indiana (Indianapolis Star)
– Memphis blew a first half lead and lost to Louisville in a tightly contested non-conference match-up. But don't blame the Tigers for falling flat or giving up. (Memphis Commercial Appeal)
– Rhode Island pulled off an upset win over SMU this weekend. But Larry Brown wasn't all that shocked. (Hoopville)
– Oregon State junior forward Devon Collier continues to emerge as a viable frontcourt threat for the Beavers (NW Sports Beat)
– A big shout out to Rutgers associate head coach David Cox, who coached the Scarlet Knights to victory on Saturday. Cox is filling in for Mike Rice while the head coach serves a three game suspension. I bring up Cox because believe it or not, he was one of the coaches of my freshman basketball team at St. John's College High School in 2000. He was also the school's Dean of Students. (Asbury Park Press)
– Dick Weiss does not think that the Rutgers program is headed in the right direction under Mike Rice. (New York Daily News)
 
 
Expansionocalypse:
– Seton Hall head coach Kevin Willard had some strong thoughts as well about the Big East break up (My Central New Jersey)
– Now here's something that doesn't get discussed too much: Where does South Florida end up in all this mess? (Voodoo Five)
– Cincinnati and UConn want to create their own conference that covers the entire continental United States (Deadspin)
– Creighton is being looked at as a potential member to the new basketball-only Big East Catholic-7 conference. But are the Bluejays the only team from the MVC that could be on the move? (Peoria Journal-Star)
– Jim Boeheim gives the best post-game press conference bar none. Following Syracuse's win over Canisius on Saturday the head coach gave another gem of a presser. Read the entire transcript which includes his thoughts on the implosion of the Big East and the Michael Carter-Williams shoplifting incident (The Citizen)
 
 
 Picture of the Day:
Butler's Big Blue II flashing a big smile after his team's huge win over Indiana at the Crossroads Classic.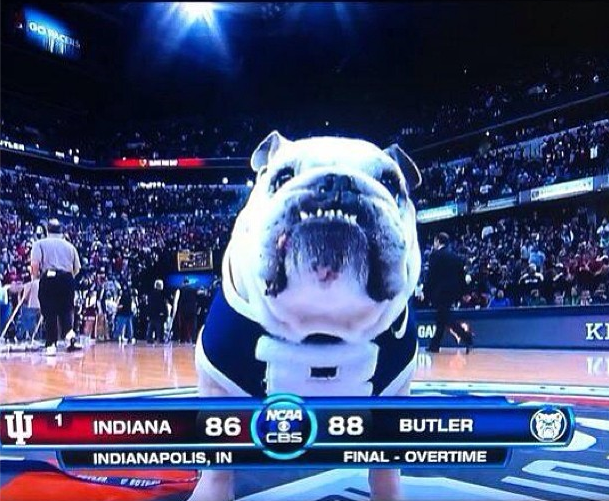 Dunks(s) of the Day:
Cincinnati stayed undefeated thanks to their 72-56 win over Marshall. But Elijah Pittman made sure the Bearcats didn't leave completely unscathed.
 
[youtube=http://www.youtube.com/watch?feature=player_embedded&v=iXFGuaxE8hc#at=18]
 
 
Do you like the new Morning Mix? Hate it? Have a suggestion or wanted something featured? Troy Machir will take all your praise, insults and inquiries via Twitter (@TroyMachir)