There are a grand total of eight games being played tonight between Division-I teams. That should probably tell you what were working with today. But just because the action on the hardwood has dried up momentarily doesn't mean the news cycle slows down.
Lets hit the links.
Thursday's Top Games: 
7:00 p.m. – No. 23 Wichita State @ Tennessee
7:00 p.m. – Middle Tennessee @ Belmont
10:00 p.m. – Jackson State @ Washington State
10:00 p.m. – Washington @ Seattle
 
 
Read of the Day:
Mike DeCourcy was tasked with the difficult assignment of ranking the top-35 March Madness moments that were featured in the NCAA's celebration of the tournament's 75th anniversary. Read it. (The Sporting News)
 
 
Top Stories:
CBT Podcast discusses whats going on with The Big East: Troy Machir and Daniel Martin discuss the best course of direction for the Catholic-7, the demise of BracketBusters, "Buy or Sell" on Illinois and North Carolina, and a sideline celebration debate for the ages.
Jabari Parker will decide on December 20th: The second ranked player in the class of 2013, The Simeon (Ill.) superstar, who is the second ranked recruit in the class of 2013 will choose between BYU, Duke, Florida, Michigan State and Stanford a week from today.
Rodney Williams throws down the first 360-slam of the season: Despite nearly breaking his back on the landing, Minnesota's resident high-flyer took off with rotation against North Dakota State.
Memphis' holiday wish list: The Tigers need toughness. Their star players need star power. The list is long for Josh Pastner's bunch.
Exam week essay on the practicality of advanced statistics: The use of tempo-free and advanced statistics has become more commonplace in recent years thanks to the work of guys like Ken Pomeroy and Dan Hanner. What is your opinion on the use of advanced statistics as analysis aids. What value do these metrics add to post-game evaluation in your opinion?
 
 
Hoops Housekeeping
– St. Joe's forward Halil Kanacevic was suspended two games for flipping "the double bird" at the Villanova student section during the finals minutes of "The Holy War" on Tuesday night. (SB Nation Philly)
– Creighton's Josh Jones, who passed out prior to the Bluejays game last week against Nebraska has been diagnosed with an atrial flutter and will miss the next month of play as he must undergo another open heart surgery. (Omaha World-Herald)
– Missouri and Arizona have agreed to a home-and-home series that will begin in at the McKale Center in 2015. (Kansas City Star)
– Minnesota freshman Wally Ellenson broke his left hand during an October practice. It was thought that the 6-foot-4 combo guard would take a redshirt season, but decided against in and logged his first minutes of the season against North Dakota State. (ESPN 1500 Twin Cities)
– There still is no timetable on when Virginia guard Jontell Evans will return to the starting lineup. (Washington Post)
– Bradley center Will Egolf underwent successful surgery on Wednesday to fix a broken nose he sustained in practice on Tuesday. (Peoria Star Journal)
– Alabama has lost more depth from their already thin frontcourt, as back-up center Carl Engstrom is done for the year with torn knee ligaments. (The Sporting News)
 
 
Observations & Insight:
– This broke late last night: Sources indicate that the "Catholic-7" is leaning towards breaking off from the Big East. No word yet if they will form their own hoops conference or will join the A-10. (ESPN)
– Marquette AD Larry Williams had some strong quotes regarding the potential disbanding of the "Catholic-7" from the Big East. (ESPN)
– A great-read on building success, the lure of the A-10, and the basketball brand. (Rumble in the Garden)
– More rumors on MAAC expansion. (Big Apple Buckets)
– Wait a minute? Gonzaga wants to leave the West Coast Conference? I don't know if I agree with that. (Slipper Still Fits)
– The Bilas Index has returned to rank the top-68 teams in the country (ESPN Insider)
– Did you know that the Boston Terriers have already suffered three losses this year at the hand of buzzer-beaters? (Daily Free-Press)
– Matt Norlander gets a bit wordy at the end, but provides os good numbers about John Calipari's favorability numbers in the state of Kentucky. (Eye on College Basketball)
– The key for Ohio State this season is getting production out of guys not named Craft or Thomas. Sophomore Sam Thompson is one of those guys who is starting to emerge as a legitimate scoring option for the Buckeyes. (Fox Sports Ohio)
– The shot-blocking numbers being put up by Kansas center Jeff Withey are bordering on "unimaginable". (Wichita Eagle)
– A "by the numbers" look at UConn's frontcourt and how they stack up against the competition. (Connecticut Post)
– A solid look at four Big-Ten coaches who have been impressive after a month of hoops. (Rush The Court)
 
 
Odds & Ends:
– West Virginia mascot cited for violation after using uniform's musket to kill bear. (College Basketball Talk)
– Another yearly rendition of "The six simple rules for storming the court". (Midwest Sports Fan)
 
 
Picture of the Day:
In case you needed a reminder on how to do a rivalry the right way, Kentucky and Louisville remind us. (Kentucky Sports Radio)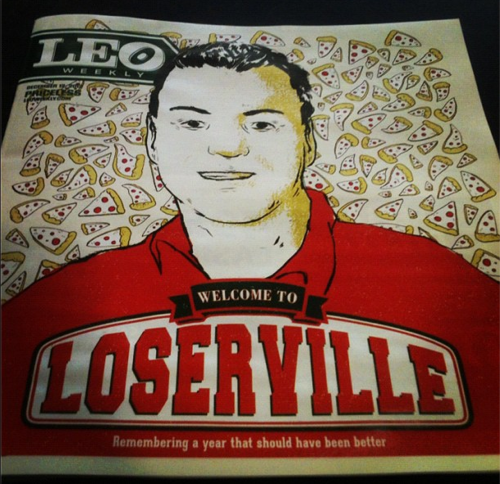 Dunk(s) of the Day:
I knew Jared Berggren was good, but I did not know he could do this.
 
[youtube=http://www.youtube.com/watch?v=292yUcnvnzM]
 
 
Do you like the new Morning Mix? Hate it? Have a suggestion or wanted something featured? Troy Machir will take all your praise, insults and inquiries via Twitter (@TroyMachir)