On day three of exam week, the Catholic-7 emerged as this big storyline of the day. Plus, there were some half-decent games played out on the hardwood. Remember, you have to take everything with a grain of salt during exam week. We're working with slim pickins here.
Lets hit the links.
Wednesday's Top Games: 
7:00 p.m. – Savannah State @ No. 7 Ohio State
7:00 p.m. – Towson @ Temple
8:00 p.m. – Monmouth @ Maryland
9:00 p.m. – DePaul @ Arizona
9:00 p.m. – UW-Green Bay @ Wisconsin
9:30 p.m. – Lamar @ Baylor
10:00 p.m. – Colorado @ Fresno State
10:35 p.m. – Oregon State @ Portland State
Read of the Day:
Halil Kanacevic flipped off the Villanova student section. It was stupid, it was dumb, it was regrettable, and it ultimately cost his team the game. Aaron Bracy provides a great-read on the 21-year old's mistake and reaction. We've all done stupid things before. But luckily for most of us, they didn't appear on national television. Read it. (Philahoops.com)
Top Stories:
Late Night Snacks: Trevor Mbakwe had his first big-time performance of the season, Siyani Chambers won the game for Harvard, and Halil Kanacevic flipped off the Villanova student section.
Villanova wins the Holy War, but St. Joe's is still blowing close games: Villanova displayed great toughness against the Hawks last night, but were helped out by some poor decision-making by St. Joe's down the stretch. The Hawks were the favorites to win the A-10 and have a solid win over Notre Dame under their belt. But still, this was St. Joe's game to win, and they lost.
Does it really make sense for the hoops schools to leave the Big East? As mentioned, the big story line from Tuesday was the reports that the catholic schools in the Big East want to break off and either start their own conference or join the Atlantic-10. But does either option really make sense?
Cincinnati e-mails show school administrators mulling options in Big 12, ACC: As the conference expansion landscape continues to change, Cincinnati continues to mull their options.
Properly evaluating Oklahoma State guard Marcus Smart: The freshman phenom is tearing up the Midwest  yet has been somewhat of a lightning rod for debate. Some say he's the best player in the country, others think he's not a good enough shooter. Rob Dauster breaks it down for you.
45 different scouts will be in attendance for North Texas vs. Lehigh: When the two mid-major programs square off next Thursday, 26 different NBA teams will have representatives on hand to watch North Texas' Tony Mitchell and Lehigh's C.J. McCollum.
Exam week essay on how to cure what ails Kentucky: Kentucky is currently battling through the roughest year of the John Calipari era. What is the root problem for the Wildcats and how, if at all, can it be remedied in order for the team to make their third-straight Final Four?
Hoops Housekeeping
– Butler freshman Chris Harrison-Docks is transferring to Western Kentucky. (Topper Talk)
– Fordham freshman Devon "Fatty" McMillan granted release, will transfer at the end of semester (SNY.tv)
– UNLV freshman DaQuan Cook was expected to take a redshirt season, but it looks like he will see meaningful minutes on Thursday in what will be his first game of the season (Las Vegas Sun)
Observations & Insight:
– Gary Parrish has the answers to all your questions regarding the potential departure of the non-football members of the Big East (Eye on College Basketball)
– The addition of the Catholic-7 to the A-10 would be a welcomed with open arms by VCU fans (VCU Ram Nation)
– The CAA is moving it's postseason tournament from Richmond to Baltimore, probably because Old Dominion and Viriginia Commonwealth are no longer members. (Baltimore Sun)
– This is still in the rumor stage, but it should be monitored: Mountain West to keep Boise State, SDSU; add Houston, SMU, Tulsa, BYU (Mountain West Connection)
– It was announced that the BracketBusters event will shut down after this season. With all the TV coverage availbile through ESPNU, NBCSN and CBSSN, the need for a platform for mid-majors is no longer needed. (ESPN)
– The NCAA honored all-time greats yesterday as part of 75 years of March Madness celebration (NCAA.com)
– Did anyone expect San Francisco to be this good? I know I didn't. (College Chalk Talk)
– Duquesne got a huge win last night against West Virginia, the first "signature win" of Jim Ferry's tenure in Pittsburgh (Pittsburgh Post Gazette)
Odds & Ends:
– Michael Carter-Williams states there was "a big misunderstanding" regarding the incident at a Lord & Taylor store at the Destiny USA mall. (Sporting News)
– T. Boone Pickens purchased remaining 4,000 tickets for Oklahoma State vs. Gonzaga game in order to fill out the arena (NewsOK.com)
Picture of the Day:
#FacePalm. Halil Kanacevic, please take note. If you are going to flip off the opposing team's student section, you must a) make sure you win the game, b) flip them off AFTER you've beaten their team or c) make your foul shots.  The St. Joe's forward did none of these and his team ultimately lost to Villanova 65-61 last night. (The 700 Level)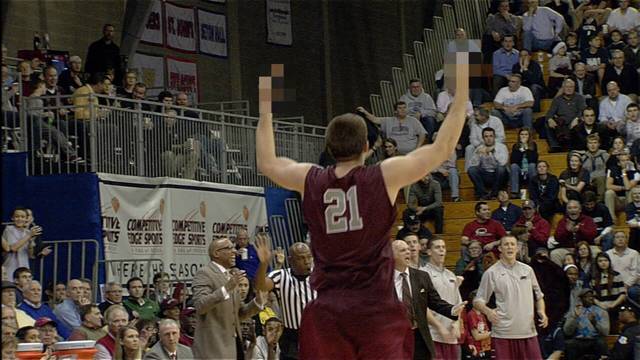 Dunk(s) of the Day:
Rodney Williams and Trevor Mbakwe spent a lot of time above the rim during the Golden Gophers in over South Dakota State last night. I love the 360-jam, but you gotta stay on your feet homeboy. (The Daily Gopher)
[youtube=http://www.youtube.com/watch?feature=player_embedded&v=xU1v2U4V838#!]
Video(s) of the Day:
A teaser trailer for the All Access: Inside Memphis video for Inside Memphis Basketball. I'm not sure when it's coming out, but man am I looking forward to it.
[youtube=http://www.youtube.com/watch?v=XUgmv1ll0rA&feature=youtu.be]
Do you like the new Morning Mix? Hate it? Have a suggestion or wanted something featured? Troy Machir will take all your praise, insults and inquiries via Twitter (@TroyMachir)