This week has been relatively light on hardwood action. There were only a small sampling of solid games on last night, and even fewer tonight. That being said, the flow of news and information has been as steady as ever, and with the unearthing of a bizarre idea to hold four college basketball games at the same time at "Jerry World", well, we've got a lot to get to before the weekend gets here.
Lets hit the links.
 
Friday's Top Games:
7:00 p.m. – Harvard @ Connecticut
8:00 p.m. – Iowa State @ Iowa
9:00 p.m. – Virginia Commonwealth @ Old Dominion (NBC Sports Network)
 
 
Read of the Day:
Seth Davis' Hoop Thoughts. Not exactly on the same level as Luke Winn's Power Rankings. But then again, not very many columns are. Just read it, OK? (Sports Illustrated)
 
 
Tweet of the Day:
Nothing says Grant Gibbs like 10 assists, 1 TO, and one scrum where he jumps in a pile and comes out with a loose ball. – @RobDauster
Tweet of the Day:
So this is likely to pick up steam here in the coming days…North Forest beat Lee 76-0 in girls basketball on Wednesday…. – @Ahverdejo
 
 
Top Stories:
Late Night Snacks: There were not a bunch of great games on the tube last night. However, Xavier and Vanderbilt put on a spirited battle at the Cintas Center that extended into free basketball, plus Nebraska and Creighton met up and threw down in a non-conference rivalry game.
Mark Hollis has the right idea, but it needs some tweaks: The Michigan State athletic director wants to stage four college basketball games at once at Cowboys Stadium. There are a list of reasons why four games at once doesn't and won't work, but the concept itself isn't that bad.
Christmas lights synced up to Christian Watford's buzzer beater: Yup. It's exactly what you think it is. Christmas lights synced up to Christian Watford's buzzer beater. Priceless.
Pac-12 isn't very good, but will get two NCAA tournament bids: For what seems like the tenth consecutive year, Pac-12 teams are struggling to meet expectations as a whole. That being said, Arizona and Colorado both appear to be penciled in to the NCAA tournament.
 
 
Hoops Housekeeping
– Two former-Detroit coaches claim they were wrongfully terminated in an effort by the university "to cover up the misconduct of others in the athletic department. (USA Today)
– Murray State basketball player Zay Jackson was indicted by a  grand jury yesterday on two charges related to a Sept. 9 incident in which he allegedly struck two people with his car. (WPDS Local)
– Creighton's Josh Jones was hospitalized prior to last night's game against Nebraska because he collapsed during pregame warm-ups. The guard had undergone heart surgery in 2007. (Detroit Free-Press)
– Highly touted Providence freshman Kris Dunn is expected to make his college debut before Christmas. (Eye on College Basketball)
– Fairfield head coach Sidney Johnson has agreed to an extension until 2019. (Big Apple Buckets)
– The status of UNLV forward Mike Moser remains day-to-day after MRI results on his injured hip came back negative. (Las Vegas Sun)
– Monmouth head coach King Rice has been issued a one game suspension by the university for his actions and comments critical of the officials during the Hawks game against Navy. (Press & Sun-Bulletin)
 
 
Observations & Insight:
– This is good news for us basketball traditionalists: Final Four likely to return to arena venues within five years (SNY.tv)
– The new Big East television deal might actually be worth $40-million less than what the conference originally thought. (New Jersey Star-Ledger)
– I love this take from Jeff Eisenberg. He agrees that Kevin Ollie has done a great job, but wants to see more before the university commits to him long-term. (The Dagger)
– The great Ken Pomeroy explains why a team's 3-point defense should not be defined by their opponent's 3-point percentage. (KenPom Blog)
– A great read on the continued development of Charleston's Adjehi Baru. Baru has an interesting back story and was a steal for Charleston. Now in his second year, the big man is making great strides to live up to the hype. (King Kresse)
– Michigan's Trey Burke reminds ESPN recruiting expert Raggie Rankin of Chris Paul. (ESPN)
– Duke coach Mike Krzyzewski is not a fan of conference realignment, in case you didn't already know. (Eye on College Basketball)
– Many of the top recruiting experts in the country expect Jabari Parker, the top recruit in the nation, to choose Duke. (EPSN)
– Glenn Logan explains why point guard play isn't the reason Kentucky is struggling, despite the popular opinion that it is in fact the issue. (A Sea of Blue)
– With early season success from Illinois-Chicago and Loyola (Ill.), it looks like Horizon League hoops is returning to relevancy in Chi-Town. (The Horizon League)
 
 
Lists & Rankings:
– John Gasaway does a brilliant job breaking down the top-25 best freshman in college hoops thus far. My only complaint is that Marcus Smart should be a bit higher than just No. 14. (ESPN Insider)
– An excellent breakdown of the best mid-major players in the month of November. (Mid-Major Madness)
– Jeff Goodman's Good N' Plenty column doesn't have a lot of direction to it, but it's a weekly must-read because of the information it provides. (Eye on College Basketball)
– The best and worst of the month from Big East newcomers. (Rush The Court)
– This is bound to create a small midwest frenzy: 10 reasons why Marquette has "Badger Envy" (Madtown Badgers)
– A mid-major power rankings update from Myron Medcalf. (ESPN)
 
 
Odds & Ends
– Sir Charles and Dickie-V calling games together? It could happen. (Awful Announcing)
– An excellent read on the common misconception that everyone who wears BYU gear is Mormon. (Vanquish the Foe)
– A solid Q&A with UCLA freshman Shabazz Muhammad, who still sees big things ahead for the Bruins. (Sports Radio Interviews)
 
 
Picture of the Day:
Detroit held a "Star Wars" night on Wednesday against Toledo. This is, in short, the single greatest promotional event in the history of collegiate athletics. #Fact. #LandoFTW. (Detroit Titans Athletics)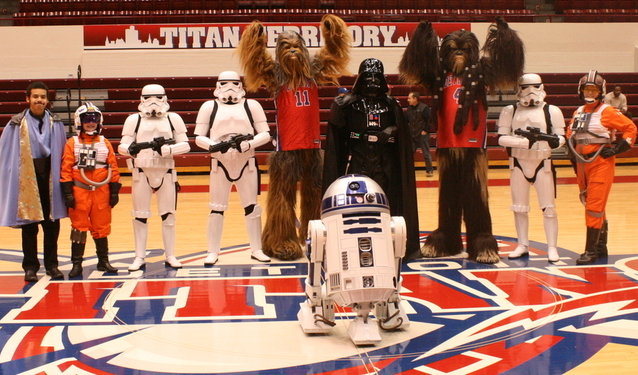 Dunk of the Day:
This may the only time all season I get to reference the very athletic conference I played in at college. Widener and Albright representin' The MAC! #D3MACtion. (That's Mid-Atlantic Conference to you non D-III folks). Watch the fan reactions. Classic.
 
[youtube=http://www.youtube.com/watch?v=KPScCwZaveQ]
Fun fact about Albright College. In 2009, the Lions were fortunate enough to have the freshman/senior brother combination of Phil and Derek Hall. Phil, the senior, was 6-foot-11. Derek, the freshman, was 6-foot-10. Tell me the last time you saw that at the mid-major D-III level? Answer: NEVER.
 
Do you like the new Morning Mix? Hate it? Have a suggestion or wanted something featured? Troy Machir will take all your praise, insults and inquiries via Twitter (@TroyMachir)