Andrew Wiggins (Huntington Prep/Thornhill, ONT, Canada), the nation's top recruit, took an official visit to Florida State this week. With Wiggins on campus, it gave all of FSU one more assignment to complete, before the fall semester comes to a close: go all out for Wiggins.
Last week, Wiggins announced he would visit Florida State for Wednesday's game against in-state rival Florida. The Gators went into Tallahassee and blew out the Seminoles 72-47 with Wiggins and his parents sitting behind the bench.
Outside of the bad home loss, the rest of Florida State did their best to make sure the 6-foot-7 Wiggins enjoyed his time in Tallahassee. According to Bob Ferrante of FoxSportsFlorida.com, reported that fans continued to chant "We want Wiggins" late into the game, while a cheerleader holding a sign that read "FSU has hotter girls" and another that said "Seminoles hunt Wildcats," referring to Kentucky, who is also considered a favorite for the Canadian native's services.
A picture circulating around Twitter, is of 16 Florida State female students dawning shirts spelling out "We want Wiggins."
While the students made Wiggins feel at home, Florida State welcomed back Wiggins' parents, both of which were star athletes a FSU. During halftime of Wednesday' game against Florida, a video played, highlighting the accomplishments of Mitchell Wiggins, a former NBA player and his wife Marita Payne-Wiggins, a silver medalist in track and field at the 1984 Olympic Games.
Along with Florida State and Kentucky, North Carolina, Kansas, and Ohio State are all in contention for Wiggins.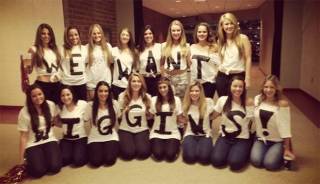 (Photo courtesy: @fdubski Twitter)
Terrence is also the lead writer at NEHoopNews.com and can be followed on Twitter: @terrence_payne