Monday provided very little action on the hardwood. But the news cycle kept on spinning, as two mid-majors are joining the conference realignment fray. Get ready for a full night of hoops with The Morning Mix.
Let's hit the links.
Monday's Top Games:
7:00 p.m. – Richmond @ Old Dominion (NBC Sports Network)
7:00 p.m. – Kent State @ Bucknell
7:00 p.m. – Georgia @ Georgia Tech
7:00 p.m. – Oklahoma @ Arkansas
7:00 p.m. – Texas vs. No. 15 Georgetown
7:00 p.m. – Western Carolina @ No. 13 Illinois
8:00 p.m. – Southeast Missouri State @ No. 12 Missouri
8:00 p.m. – South Dakota State @ No. 14 Minnesota
8:00 p.m. – Wyoming @ Illinois State
8:30 p.m. – Western Michigan @ No. 3 Michigan
9:00 p.m. – Siena @ St. Bonaventure (NBC Sports Network)
9:00 p.m. – No. 25 North Carolina State vs. Connecticut
9:00 p.m. – No. 5 Louisville @ Charleston
9:00 p.m. – Northwestern @ Baylor
9:30 p.m. – Southern Mississippi @ No. 8 Arizona
10:00 p.m. – St. John's @ San Francisco
10:00 p.m. – Nevada @ Pacific
11:00 p.m. – No. 22 UNLV @ Portland
Picture of the Day:
I guess this is an accurate depiction of a "Three-headed monster". (From @LemurFemur)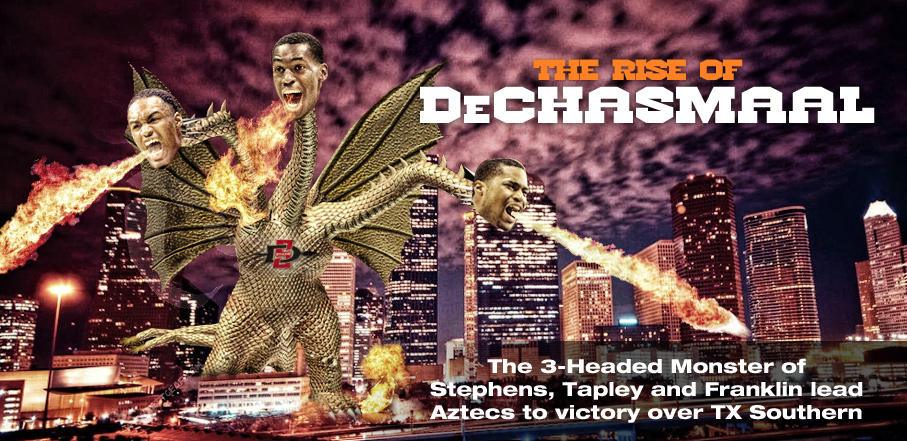 Read of the Day:
Statistician extraordinaire Dan Hanner drops some stellar knowledge on how the top-80 recruits have fared thus far this season. Make sure you read this. Hanner is always "must-read" material (RealGM.com)
Read of the Day:
Grantland provides an excellent piece on the tradition that Tom Crean is restoring at Indiana. Read it. (Grantland)
Top Stories:
Patience needed for South Carolina fans: NBC Sports College Basketball Insider Vin Parise explains why patience will be needed for Gamecock fans, and provides some insight on players he's watching out for.
Mark Lyons has 12 assists this year and 15 turnovers, is he Arizona answer at the point? The Wildcats sit at -0 and are ranked inside this top ten. They have a young and talented front court, but seem to be lacking an identity in the back court. The Xavier-transfer has struggled to distribute the ball. But maybe distribution by committee will work best for the Wildcats.
Handicapping the national scoring leader race: We may only be one month into the season, but five players have emerged and will likely battle it out to be the nation's top scorer this season. You've heard of C.J. McCollum, Isaiah Canaan, and Doug McDermott, but there are two sleepers to keep an eye on.
Late Night Snacks from Monday night: There was not a lot of action of the college hardwood last night. One 14 games were played. Of those 14, only nine featured Division I vs. Division I match-ups.
Jim Calhoun had cancer removal surgery in May: The former-UConn head coach revealed on Monday that he had surgery to remove a cancerous growth from his lungs during the off-season. His explanation can only be summed up as "Calhoun-like"
Hoops Housekeeping
– Highly touted class of 2014 big-man Karl Towns, who played for the Dominican National Team this summer, is schedule to make his college choice today, and is likely to choose Kentucky (Courier Journal)
– Former-Pittsburgh guard John Johnson has decided to transfer to Penn State (Victory Bell Rings)
– Clemson guard T.J. Sapp has announced his intentions to transfer from the Tigers program (Shakin' The Southland)
– Providence guard Bryce Cotton is doubtful for the Friars game against Rhode Island, while freshman Kris Dunn is unlikely to make his season debut (Friar Blog)
– Massachusetts center Cady Lalanne has been indefinitely suspended after weekend arrest at on-campus function (MassLive.com)
Observations & Insight:
– The non-football Big east schools would be thrilled if the bleeding stops soon (SNY.tv)
– Utah will honor the life of former head coach Rick Majerus by hanging his legendary white sweater in the rafters (ESPN)
– Thanks to a loaded field and a successful turnout, the Battle 4 Atlantis wants to remain the top preseason tournament in the country (Sports Illustrated)
– The NEC is getting raided by the MAAC, as Monmouth and Quinnipiac are set to make a move. Here's a look at some of the numbers behind the decision (Run the Floor)
– An excellent profile piece on the development of O.D. Anosike, both on and off the court (Albany Times-Union)
– Eamonn Brennan tells us who he would choose if he had to select one basketball player to stay all four years (ESPN)
– John Gasaway breaks down three unranked and under-appreciated teams that we shouldn't forget about (ESPN Insider)
– Jay Bilas and Chad Ford debate about the most talented teams in the nation (ESPN Insider)
– Jeff Eisenberg drops a solid list of the teams that have most exceeded expectations so far this season (The Dagger)
– The Memphis Tigers are a work in process. The energy and effort provided by freshman Shaq Goodwin is sure to pay off in the long run (Memphis Commercial-Appeal)
– Syracuse whipped Eastern Michigan last night. Jim Boeheim believes the early progress of Rakeem Christmas and Dajuan Coleman are crucial to Syracuse's chances this season (Syracuse Post-Standard)
– After an anemic showing against Tennessee, the Georgetown Hoyas look to rise above against Texas tonight in Manhattan (Washington Post)
– Is this really a question? I thought it was common knowledge that Florida forward Patric Young is grossly underutilized (Rush The Court)
– Will the Jackrabbits of South Dakota State provide a battle against their Golden Gopher foes from across the border? (From The Barn)
Odds & Ends
– Kirk Hanson has won more than 700 games as head coach at Central Bible College (NCCAA), but because of a merger with Evangel University, the three-time National Championship-winning coach will be out of a job (CSN Northwest)
– The LaSalle Explorers will wear slick throwback uniforms against Penn Stat in honor of their 1968-1969 squad that finished 23-1 (Philahoops.com)
– St. John's will face San Francisco tonight on the west coast. The Johnnies spent some of their free time in San Francisco helping out at a local food bank (Johnny Jungle)
– A look at the total expenses of A-10 basketball programs from last season (Duquesne Sports Blog)
Dunk of the Day:
I agree with the description. This angle doesn't do the dunk proper justice.
[youtube=http://www.youtube.com/watch?v=B5P4ONGKdbg]
Do you like the new Morning Mix? Hate it? Have a suggestion or wanted something featured? Troy Machir will take all your praise, insults and inquiries via Twitter (@TroyMachir)