First and foremost, our most heartfelt condolences go out to the Majerus family. College basketball lost one of it's all-time greats this weekend. If the sheer number of glowing articles written about his life this weekend weren't enough of an indicator, the reactions that flooded in showed that Rick Majerus may have been as universally liked as anybody in the history of college hoops.
R.I.P. Rick Majerus (2/17/1948 – 12/1/2012)
Let's hit the links.
Monday's Top Games:
7:00 p.m. – Eastern Michigan No. 6 Syracuse
8:00 p.m. – USC @ Nebraska
10:00 p.m. – Texas Southern @ No. 23 San Diego State
10:05 p.m. – Fresno State @ Long Beach State
Read of the Day:
I think the general consensus is that this is the best article written from the weekend regarding the life and times of Rick Majerus. Dozens of phenomenal articles were written this weekend about Majerus and the legacy he left, but this is the best. Read it. (St. Louis Post-Dispatch)
Read of the Day:
Seth Davis provides an entertaining and insightful piece about his experiences with coach Majerus. Read it. (Sports Illustrated)
Read of the Day:
A phenomenal compilation of Rick Majerus quotes. There is something in here for everyone. Read it. (KBrews.com)
Top Stories:
Seven angles of Cashmere Wright's buzzer-beater against Alabama: Cincinnati's Cashmere Wright hit a fade-away jumper over a 7-footer to beat Alabama on Saturday. A shot like this deserves seven different camera angles.
Dez Wells scores career high; Terrapins headed towards success: Nobody expected Maryland to be this good this soon. Thanks to a career-high 25 points from Dez Wells against George Mason, the Terps won their sixth consecutive game. With other ACC teams struggling, this could be the time for Maryland to make it's move.
Four Hofstra players arrested for burglary: Get this. They even robbed their head coach. One of the accused was granted a hardship waiver to play at Hofstra immediately. Following the hearing, a parent of one of the players took a swing at a cameraman. You can't make this stuff up.
College Basketball Talk releases monthly awards for November: Duke near unanimous vote for team of the month, Plumlee and Withey leading candidates for player of the month, everybody knew this was coming for UCLA.
Turnovers and poor shooting cost Florida State in their 61-56 loss to Mercer: The Seminoles seem to have taken a huge step back since last season. Michael Snaer is not playing anywhere near the All-American level we know he is capable of playing at. More importantly, the Seminoles now have two UGLY non-conferences losses on their resume.
Isaiah Armwood is thriving at George Washington: The former-Villanova forward is excelling in his new home, as evidence by his outstanding performance against Manhattan at the BB&T Classic on Sunday.
Observations & Insight:
– This is pretty neat. A few top college recruits chime in on their expansionocalypse thoughts. Rarely do we ever hear about conference expansion thoughts from the athletes, let alone ones that aren't even in college yet. (National Recruiting Spotlight)
– Oklahoma State's Le'Bryan Nash wants to become the NCAA leader in free-throw attempts (The Oklahoman)
– Kentucky's 55-game home winning streak came to an end on Saturday. As Gary Parrish explains, it was because the Wildcats still look like a "November basketball team". (Eye on College Basketball)
– Thanks to some inopportune fouling, the Washington Huskies were able to escape Cal-State Fullerton with a win (Seattle Times)
– Bucknell senior Mike Muscala doesn't get nearly the recognition he deserves. Scoring 29 points and grabbing 19 rebounds in a comeback win should he earn him some props. (Big Apple Buckets)
– It hasn't been easy for Mark Lyons, but after some early-season struggles, the Xavier-transfer is starting to set the tone at Arizona (Arizona Daily Star)
– Off to a 7-1 start, Larry Brown's SMU Mustangs are exceeding expectations (ESPN)
Odds & Ends
– I don't even know how to tease this for you. WikiLeaks. The Brig. Panties. March Madness. Judge for yourself (NBC News)
– We know Duke is the best team in the ACC. But who is second-best? (College Hoops Haven)
– Rick Majerus coached at Ball State, Marquette, Utah and Saint Louis during his illustrious career. He almost ended up coaching at San Diego State (San Diego Union-Tribune)
– A nice look at how Twitter reacted to UIC's upset win over Northwestern on Saturday (Horizon League Hoops)
Dunk of the Day:
After a month of action, we haven't seen too many guys throw it down better than Kansas' Ben McLemore
[youtube=http://www.youtube.com/watch?v=6cYwQWGHIyg]
Video(s) of the Day:
You won't find a better eye-roller than Mic Cronin (The Mock Session)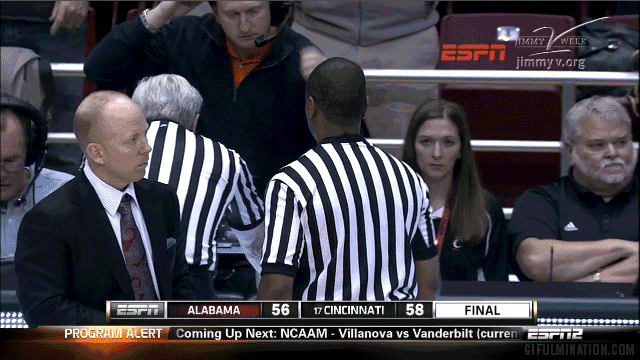 Do you like the new Morning Mix? Hate it? Have a suggestion or wanted something featured? Troy Machir will take all your praise, insults and inquiries via Twitter (@TroyMachir)