One of the reasons that I'll simply never be able to quit college hoops — even as it reaches the point where it's a professional sport in every aspect except compensation to the athletes while money-grubbing suits take a blowtorch to tradition pursuing the almighty TV dollar — is that there genuinely is a relationship between the thousands of people in the stands and the players on the court.
With the exception of schools like Kentucky and Indiana and North Carolina, the majority of the players on the team are simply just another kid that happens to go to that school. They live on your hall, they sit next to you in class, they held you up as you set your frat's keg stand record. It's a special relationship, one that you don't really find in any other sport.
The perfect example is what happened before Pitt took on Howard last week.
Cameron Wright's father passed away the morning of Pitt's season-opener. He played that night, mainly because he knew his dad — whom he had a great relationship with and who moved to Pittsburgh just to be able to see his son play — would have wanted him too.
Pitt's student section, The Oakland Zoo, caught wind of how much Wright was hurting, so on Tuesday night, they arranged to have a giant card put in his locker. On the front, it said "We ♥ You, Cam." On the back, it read "Your Pitt family is here for you." It was signed my members of the team and members of The Zoo: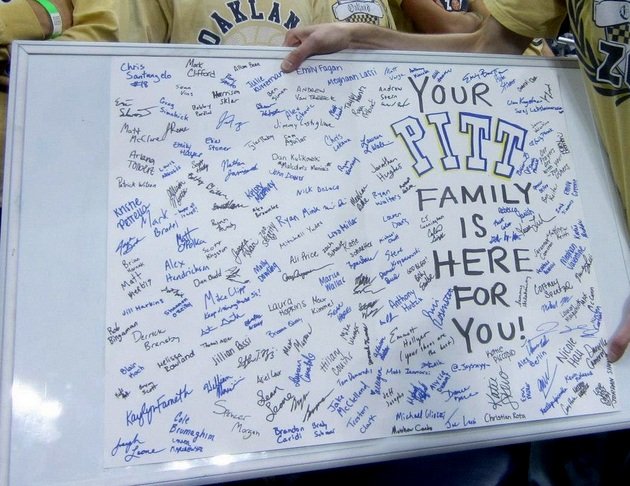 "It almost brought tears to my eyes, honestly, because I was so thankful for it," Wright told Jeff Eisenberg of The Dagger. "It just showed I have the support of all my teammates and my fellow students. It means a lot to me."
Rob Dauster is the editor of the college basketball website Ballin' is a Habit. You can find him on twitter @robdauster.