Make way for the Big Ten.  Led by No. 1 overall seed Indiana, four teams – including Michigan State, Ohio State, and Michigan – grab top three seeds in our 2013 NCAA Tournament preseason bracket projection.  Will that be true come March?  Nobody knows.  Crystal balls are always a little cloudy this time of year.
Here's what we do anticipate:
The Big Ten should be very strong at the top.  Wisconsin and Minnesota also appear to be tournament teams.  If a seventh team emerges, it could be Iowa, Northwestern, Illinois, or Purdue.  The Hawkeyes made a late push last season and make our initial bracket as a First Four participant.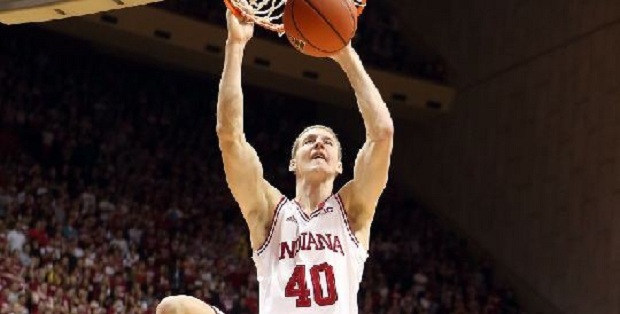 Duke, NC State, and North Carolina will wage a war in the ACC.  Any of the three could win it.  Florida State could also be a Top 25 team.
With the additions of VCU and Butler, the Atlantic 10 will be a deep, competitive league. Best guess: four to six teams will be in good position for at-large consideration by season's end. Seeding will be interesting. In our opening bracket, five A-10 teams make the field but all are seeded between lines 7-10.
Arizona and UCLA will lift the Pac-12.  Both are capable of long runs in the NCAA Tournament.  Another three or four teams will likey be in the at-large picture: Stanford, USC, California, and Washington are among those.
Staying West, how about UNLV and San Diego State?  Both are Top 20 teams.
Kentucky has reloaded with another stellar recruiting class.  Challengers include Florida and league newcomer Missouri.  Don't overlook Tennessee, either.  The Volunteers begin at No. 21 on the s-curve.
All Kansas does is win Big 12 titles and earn high seeds in March.  No reason for that to change.  Baylor will be in the hunt, too.
And then there's Louisville, Syracuse, and a host of Big East teams.  Cincinnati, Notre Dame, Marquette, and Pittsburgh will make life interesting for the Cardinals and Orange.
The Road to Atlanta begins Friday.  Here's to a great season of college hoops.
Find all of our season previews here  |  The year's burning questions  |  The Twitter must-follow list
Teams in CAPS represent the projected AUTOMATIC bid. Exceptions are made for teams that use an abbreviation (UTEP, BYU, etc). Records are for games against Division I teams only.
FIRST FOUR PAIRINGS – Dayton (First Round)
Northern Iowa vs. Colorado | East Region
Arkansas vs. Iowa | West Region
STONY BROOK vs. SAVANNAH STATE | South Region
VMI vs. PRAIRIE VIEW | Midwest
BRACKET PROJECTION …
EAST –

Washington, DC

MIDWEST – Indianapolis
Lexington
Dayton
1) LOUISVILLE
1) INDIANA
16) MERCER
16) VMI / PRAIRIE VIEW
8. Minnesota
8. St. Joseph's
9) Kansas State
9) Miami-FL
Salt Lake City
San Jose
5) San Diego State
5) Baylor
12) No. Iowa / Colorado
12) South Florida
4) Missouri
4) UCLA
13) DREXEL
13) ORAL ROBERTS
Kansas City
Austin
6) Tennessee
6) Notre Dame
11) Saint Louis
11) Colorado State
3) NC State
3) Florida
14) MONTANA
14) UTAH STATE
Auburn Hills
Philadelphia
7) Pittsburgh
7) Wisconsin
10) St. Mary's
10) West Virginia
2) Michigan State
2) DUKE
15) LIU BROOKLYN
15) MANHATTAN
WEST – Los Angeles
SOUTH – Dallas
Kansas City
Dayton
1) KANSAS
1) KENTUCKY
16) PRINCETON
16) STONY BROOK / SAVANNAH ST
8. Marquette
8. Texas
9) Temple
9) Georgetown
Salt Lake City
Austin
5) GONZAGA
5) MEMPHIS
12) Arkansas / Iowa
12) MURRAY STATE
4) UNLV
4) North Carolina
13) LONG BEACH
13) DAVIDSON
Auburn Hills
Lexington
6) Cincinnati
6) CREIGHTON
11) Oklahoma State
11) OHIO
3) Michigan
3) Ohio State
14) VALPARAISO
14) LEHIGH
San Jose
Philadelphia
7) Florida State
7) VCU
10) Butler
10) Stanford
2) ARIZONA
2) Syracuse
15) SOUTH DAKOTA ST
15) NORTH TEXAS
NOTES on the BRACKET: Indiana is the No. 1 overall seed followed by Louisville, Kentucky and Kansas.
Last Five teams in (at large): South Florida, Arkansas, Colorado, Northern Iowa, Iowa
First Five teams out (at large): Massachusetts, Maryland, USC, Iowa State, BYU
Next Five teams out (at large): Marshall, New Mexico, Illinois State, Northwestern, Alabama
Also considered: California, Oklahoma, Illinois, Virginia, La Salle, UTEP, Houston, Washington, Nevada, Purdue, Delaware, St. Bonaventure, Evansville
Here is the team breakdown by Conference …
Big East (8): Louisville, Syracuse, Cincinnati, Notre Dame, Pittsburgh, Marquette, Georgetown, South Florida
Big Ten (7): Indiana, Michigan State, Ohio State, Michigan, Wisconsin, Minnesota, Iowa
Big 12 (6): Kansas, Baylor, Texas, Kansas State, West Virginia, Oklahoma State
SEC (5): Kentucky, Florida, Missouri, Tennessee, Arkansas
ACC (5): Duke, NC State, North Carolina, Florida State, Miami
Atlantic 10 (5): VCU, St. Joseph's, Temple, Butler, Saint Louis
Pac 12 (3): Arizona, UCLA, Stanford
Mountain West (3): UNLV, San Diego State, Colorado State
West Coast (2): Gonzaga, St. Mary's
Missouri Valley (2): Creighton, Northern Iowa
Conference USA (1): Memphis
Conference leaders/champions … DREXEL (Colonial), DAVIDSON (Southern), OHIO (MAC), ORAL ROBERTS (Southland), LONG BEACH (Big West), MURRAY STATE (OVC), MANHATTAN (MAAC), MONTANA (Big Sky), UTAH STATE (WAC), SOUTH DAKOTA STATE (Summit), LEHIGH (Patriot), LIU BROOKLYN (NEC), MERCER (Atlantic Sun), PRINCETON (Ivy), VMI (Big South), SAVANNAH ST (MEAC), VALPARAISO (Horizon) STONY BROOK (America East), NORTH TEXAS (Sun Belt), PRAIRIE VIEW (SWAC)